Science
Podcasts and Downloads - The Infinite Monkey Cage. Zooniverse - Real Science Online. BOINC. ISS Space Station over Greece !!! Hellas!!! Imperial Festival. Materials, microbes, maths and medicine.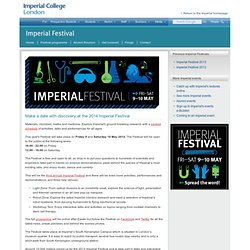 Explore Imperial's ground breaking research with a packed schedule of activities, talks and performances for all ages. This year's Festival will take place on Friday 9 and Saturday 10 May 2014. The Festival will be open to the public at the following times:16.00 - 22.00 on Friday12.00 - 18.00 on Saturday The Festival is free and open to all, so drop in to put your questions to hundreds of scientists and engineers, take part in hands-on science demonstrations, peek behind the scenes of Imperial's most exciting labs, and enjoy music, dance and comedy. This will be the third annual Imperial Festival and there will be even more activities, performances and demonstrations, and three new venues: What are confounding factors and how do they affect studies?
What are confounding factors and how do they affect studies?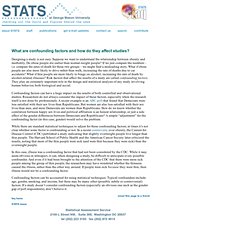 Designing a study is not easy. Suppose we want to understand the relationship between obesity and morbidity. Do obese people die earlier than normal-weight people? If we just compare the numbers – i.e. compare the rates of death for these two groups – we might find a misleading story. What if obese people are also more likely to drive rather than walk, increasing the rate of deaths due to car accidents? Bioethics.net | Where the World Finds Bioethics. Disaster mitigation: a community based approach. | POPLINE.org. Source: Oxford, England, Oxfam, 1989. x, 100 p.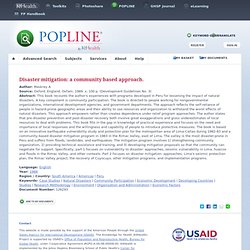 (Development Guidelines No. 3) APERTURE: Science Time: Portals. Podcasts and Downloads - Discovery. Helen Czerski - Contact.
Biology. Federation of American Scientists. Science and Technology. Museums. Space. Physics. The New Atlantis - A Journal of Technology & Society. Complexity Digest - Networking the Complexity Community. Nature Publishing Group : science journals, jobs, and information.
Science news and science jobs from New Scientist. History - Marie Curie.
Kanzi. Kanzi (born October 28, 1980), also known by the lexigram (from the character 太), is a male bonobo who has been featured in several studies on great ape language.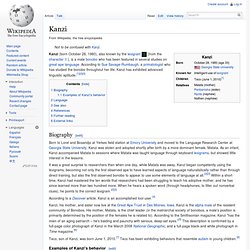 According to Sue Savage-Rumbaugh, a primatologist who has studied the bonobo throughout her life, Kanzi has exhibited advanced linguistic aptitude.[1][2][3] Biography[edit] Born to Lorel and Bosandjo at Yerkes field station at Emory University and moved to the Language Research Center at Georgia State University, Kanzi was stolen and adopted shortly after birth by a more dominant female, Matata. As an infant, Kanzi accompanied Matata to sessions where Matata was taught language through keyboard lexigrams, but showed little interest in the lessons. BBC Two - Horizon. Australia's Telerobot On The Web. IF you are enrolled in Mechatronics and Multibody Systems 319, please refer to this instruction sheet.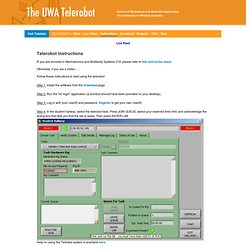 Otherwise, if you are a visitor....... Follow these instructions to start using the telerobot: Www.anthropologie.net. Koestler Parapsychology Unit. The Parapsychological Association. 2050 AD-2600 AD: How advances in technology may reshape humanity an illustrated speculative timeline of future technology and social change.
This document consists of two separate but closely related works: the Timeline (this page), and Perspectives.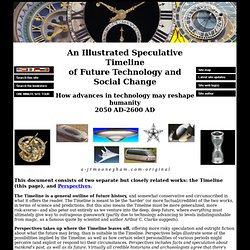 The Timeline is a general outline of future history, and somewhat conservative and circumscribed in what it offers the reader. The Timeline is meant to be the 'harder' (or more factual/credible) of the two works, in terms of science and predictions. Futurama Schrodinger. The Turing Digital Archive home page. MadLab - Manchester Digital Laboratory - home of creative community technology in Manchester.
AI Repositories and Resource Lists. CMU Artificial Intelligence Repository General AI CMU Artificial Intelligence RepositoryMaintained by Mark Kantrowitz <AI.Repository@cs.cmu.edu> NRC AI Page Including an excellent AI Resources List.Compiled by the Knowledge Systems Laboratory of the Institute for Information Technology at the National Research Council of Canada.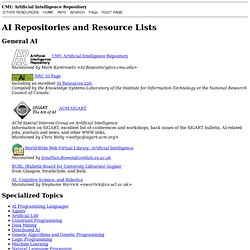 ACM SIGARTACM Special Interest Group on Artificial Intelligence Information on SIGART, excellent list of conferences and workshops, back issues of the SIGART bulletin, AI-related jobs, journals and news, and other WWW links.Maintained by Chris Welty <weltyc@sigart.acm.org> Www.dna.caltech.edu/courses/cs191/paperscs191/turing.pdf.
---