Science
We want you to know we use cookies to support features like login; without them, you're unlikely to be able to use our sites. By browsing our site with cookies enabled, you are agreeing to their use; read our newly updated privacy policy here to find out more. Sort by All Space Climate Humanities Nature Biology How do galaxies form?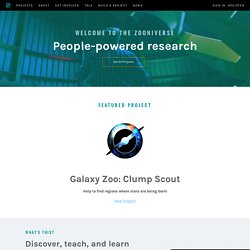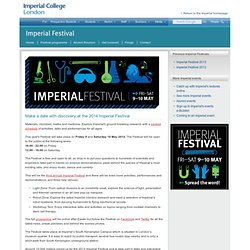 Materials, microbes, maths and medicine. Explore Imperial's ground breaking research with a packed schedule of activities, talks and performances for all ages. This year's Festival will take place on Friday 9 and Saturday 10 May 2014. The Festival will be open to the public at the following times:16.00 - 22.00 on Friday12.00 - 18.00 on Saturday The Festival is free and open to all, so drop in to put your questions to hundreds of scientists and engineers, take part in hands-on science demonstrations, peek behind the scenes of Imperial's most exciting labs, and enjoy music, dance and comedy. This will be the third annual Imperial Festival and there will be even more activities, performances and demonstrations, and three new venues:
Imperial Festival
Addressing the Ethical Challenges in Genetic Testing and Sequencing of Children Written by Ellen Wright Clayton, Laurence B. McCullough, Leslie G.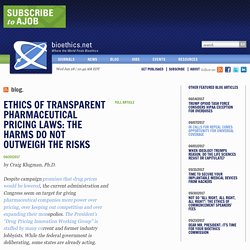 APERTURE: Science Time: Portals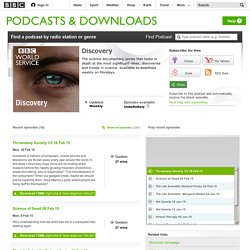 BBC - Podcasts and Downloads - Discovery
Peter Higgs 14 Apr 14 Mon, 14 Apr 14 Duration:27 mins Peter Higgs opens up to Jim Al-Khalili, admitting that he failed to realise the full significance of the Higgs boson and a theory that later changed the face of physics. Download 13MB (right click & "save target as / link as") Vikram Patel 07 Apr 14 Mon, 7 Apr 14 Duration:27 mins Jim Al-Khalili talks to psychiatrist Vikram Patel about the global campaign he leads to tackle mental health. Download 13MB (right click & "save target as / link as") Inside the Shark's Mind 31 Mar 14 Mon, 31 Mar 14 Duration:27 mins Western Australia is killing big sharks to prevent attacks on swimmers.
Helen Czerski - Contact
Science and Technology
The New Atlantis - A Journal of Technology & Society
St. Francis, Christian Love, and the Biotechnological Future by William B. Hurlbut The new Pope chose to name himself after Francis of Assisi, "the man of poverty, the man of peace, the man who loves and protects creation." As William B.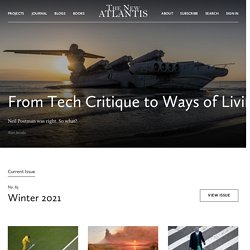 Complexity Digest - Networking the Complexity Community
LoginCart Advanced search Nature Publishing Group : science journals, jobs, and information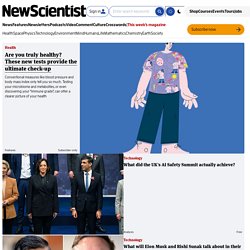 Cookies on the New Scientist website close Our website uses cookies, which are small text files that are widely used in order to make websites work more effectively.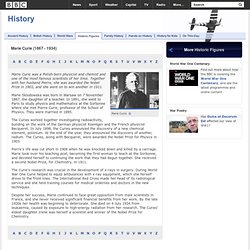 Marie Curie © Marie Curie was a Polish-born physicist and chemist and one of the most famous scientists of her time. Together with her husband Pierre, she was awarded the Nobel Prize in 1903, and she went on to win another in 1911. Marie Sklodowska was born in Warsaw on 7 November 1867, the daughter of a teacher. In 1891, she went to Paris to study physics and mathematics at the Sorbonne where she met Pierre Curie, professor of the School of Physics.
History - Marie Curie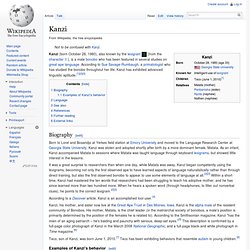 Kanzi
Kanzi (born October 28, 1980), also known by the lexigram (from the character 太), is a male bonobo who has been featured in several studies on great ape language. According to Sue Savage-Rumbaugh, a primatologist who has studied the bonobo throughout her life, Kanzi has exhibited advanced linguistic aptitude.[1][2][3] Biography[edit] Born to Lorel and Bosandjo at Yerkes field station at Emory University and moved to the Language Research Center at Georgia State University, Kanzi was stolen and adopted shortly after birth by a more dominant female, Matata. As an infant, Kanzi accompanied Matata to sessions where Matata was taught language through keyboard lexigrams, but showed little interest in the lessons.
BBC Two - Horizon
Australia's Telerobot On The Web
IF you are enrolled in Mechatronics and Multibody Systems 319, please refer to this instruction sheet. Otherwise, if you are a visitor....... Follow these instructions to start using the telerobot: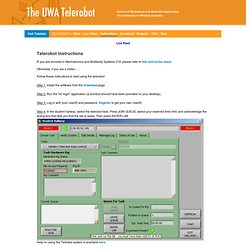 Koestler Parapsychology Unit
The Koestler Parapsychology Unit (KPU) is a research group based in the Psychology Department at the University of Edinburgh. Established in 1985, it consists of academic staff and postgraduate students who teach and research various aspects of parapsychology, including: - the possible existence of psychic ability - belief in the paranormal - the psychology of anomalous experiences - pseudo-psychic deception and self- deception - the social and historical relevance of parapsychology. Please explore the site to find out more about our work. Get KPU news and updates on twitter
The Parapsychological Association
This document consists of two separate but closely related works: the Timeline (this page), and Perspectives. The Timeline is a general outline of future history, and somewhat conservative and circumscribed in what it offers the reader. The Timeline is meant to be the 'harder' (or more factual/credible) of the two works, in terms of science and predictions.
2050 AD-2600 AD: How advances in technology may reshape humanity an illustrated speculative timeline of future technology and social change
Futurama Schrodinger
The Turing Digital Archive home page
MadLab - Manchester Digital Laboratory - home of creative community technology in Manchester
AI Repositories and Resource Lists
www.dna.caltech.edu/courses/cs191/paperscs191/turing.pdf