Education
Are we nearly there yet? : travel games for children
Car Travel Games for Kids - MomsMinivan.com - 101 Road Trip Games for kids and Things to do in the car on roadtrips.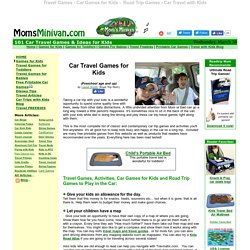 (Preschool age and up)by Laurel Smith (Road Trip Mom) Taking a car trip with your kids is a wonderful opportunity to spend some quality time with them, away from other daily distractions. A little undivided attention from Mom or Dad can go a long way toward a little person's happiness. It's sometimes nice to sit in the back of the van with your kids while dad is doing the driving and play these car trip travel games right along with them. This is the most complete list of classic and contemporary car trip games and activities you'll find anywhere.
Welcome to MAGNA Science Adventure Centre, Jnt 34, M1
Space settlement relevance Orbital space settlements will be located between the planets. While the Sun will provide ample reliable energy, there are essentially no material resources in the immediate vicinity. All materials will need to be transported from Earth, the Moon, the asteroids, comets, or other planets and their moons. Thus, the space colony designer may assume ample energy but must conserve materials. Therefore, the life support system of the colony should recycle all materials.
Closed Ecosystems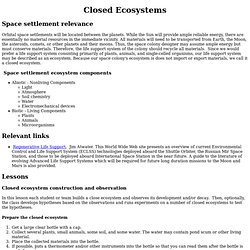 BBC/OU Open2.net - Science Shack
Dorling Kindersley - Illustrated Reference Publisher
2think.org - science, philosophy, etc. - book reviews, methodology examination, and more
Channel 4 learning - online education resources and activities for schools