Open Innovation
Innovative Discoveries from Research and Development Laboratories
En la primera edición de #TcInnovación celebrada ayer, tuvimos ocasión de ver la innovación desde varias perspectivas diferentes. Con experiencias reales, que nos permitieron percibir cómo algo tan conceptual va más allá de las palabras… Considerando la innovación como la búsqueda de soluciones a problemas reales, a través de los datos y su visualización, convertida en conocimiento de valor.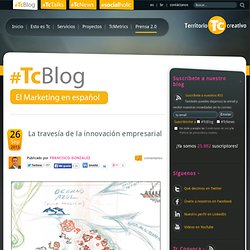 La travesía de la innovación empresarial
The Great Wide Open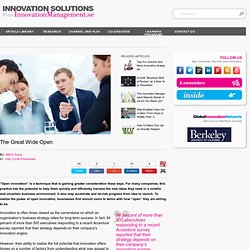 94 percent of more than 500 executives responding to a recent Accenture survey reported that their strategy depends on their company's innovation engine. Innovation is often times viewed as the cornerstone on which an organization's business strategy relies for long-term success.
A growing number of firms have realized that their innovation goals cannot be fully satisfied solely through their internal resources.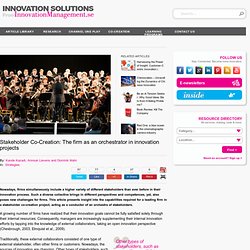 Stakeholder Co-Creation: The firm as an orchestrator in innovation projects
Innovación abierta suena muy 'pro', casi hipster se podría decir.
La innovación abierta no son los experimentos de Flipy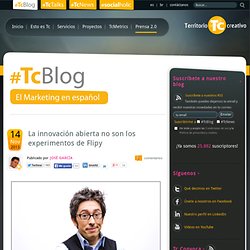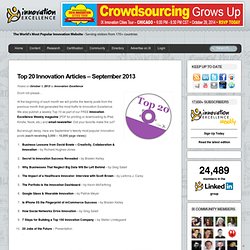 inShare16
Top 20 Innovation Articles – September 2013
Por favor lea más acerca el estudio de Andy Cosh y Joanne Jin Zhang aquí. En el Reino Unido se lanzó una encuesta a 12,000 empresas de las cuales 1,202 respondieron. Los autores clasificaron a las empresas encuestadas como pertenecientes a una de las tres categorías que tenían comportamientos y prácticas similares: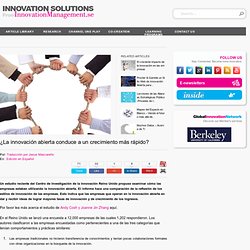 ¿La innovación abierta conduce a un crecimiento más rápido?
Data Analysis | The Global Innovation Index 2013
Data Analysis | The Global Innovation Index 2013
Nadie duda de que estemos en un entorno en constante cambio, de que la modernidad dura ya sólo un instante y de que lo único que permanece es la transformación.
La Empresa Abierta. Nuevos modos de gestión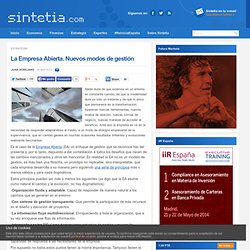 Reverse Thinking and Innovation
35 in Share 18 Trying to force yourself or your employees to magically come up with new ideas can sometimes prove pretty fruitless. Many employees already feel like they are trying their best and would gladly pitch an idea if they had one, yet as an administrator you feel that there are clearly areas where you can improve, they're just sometimes difficult to find.
White Paper: Innovation Culture - The Big Elephant in the Room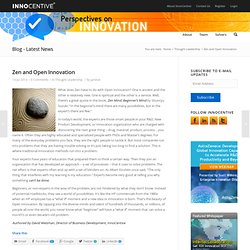 Blog | Zen and Open Innovation - InnoCentive Blog
What does Zen have to do with Open Innovation?
Eurapp | A study of the European apps economy
Part of the European Commission's "Startup Europe" initiative, Eurapp is a new project directed by the National University of Ireland Galway (Digital Enterprise Research Institute) and GigaOM. We recently spoke to John Breslin and Maciej Dabrowsky of NUI Galway about their recently launched Challenge which seeks ideas for initiatives focused on supporting European app companies in overcoming barriers and fostering growth. Hi John and Maciej, thanks for speaking to us today.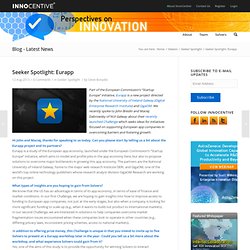 Blog | Seeker Spotlight: Eurapp - InnoCentive Blog
El dilema de la innovación corporativa
Varios artículos recientes hacen oficial lo que empleados y ex-empleados de Google ya habían comentado en algunos foros y otros aún desmienten: que la célebre "regla del 20%", vigente desde los orígenes de la compañía, ha dejado de funcionar.
How to the Commons economy can overcome its viceral opposite, the accumulative capitalist economy? Paradoxally, by creating a bridge between the two, explains Michel Bauwens in a discussion that emerged after the OuiShare Fest. A few weeks ago, Nadia El Imam from Edgeryders addressed an open letter to me that was a response to the closing keynote at the OuiShareFest in May 2013, where I presented a four-quadrant interpretation of the emerging collaborative economy, with four different value-laden models vying for supremacy but also already co-existing in the present.
Can the Commons compete with the for-profit economy?
Mapa de PlazaScience
This post was co-written by Kevin Robinson of San Diego State University. Many reports and articles lately have documented the change of tide in higher education today.
Where Innovation and Collaboration Can Start in Higher Education: Digital Ninja Workshops | Mediashift
It was a pleasure having Stefan Lindegaard share his views on open innovation best practices and the barriers innovators face in implementing them.
Innovation Culture: What we learned from our Webinar with Stefan Lindegaard | Perspectives on Innovation
El significado de innovar - Los libros de la Catarata
4 Libros gratis de Guy Kawasaki
A un Clic de las TIC | Telefónica Grandes Clientes
EMPRENDER DESDE LA INNOVACION
Scientific Data
Aggregift | Crowdfunded Group Gifting
FindingSharingOERs_reportFINAL - findingsharingoers_reportfinal1.pdf
OpenKnowledge | Innovation through collaboration
Metrics and Open Innovation: What Should We Measure?
EntreApps: comunicación y aplicaciones
Web. La Conversación 2013
Asociación de espacios de Coworking
Modelos de innovación abierta: Espacios y tiempos
Red Innova 2012, en libro electrónico
OpenMind 2012, en libro electrónico
Home
Synergy
Explore the opportunities of independent peer review | Rubriq
Six Techniques to Sharpen and Expand Your Innovation Instincts
Curando contenidos sobre Innovación de Enero-Febrero 2013 | None
Top 20 Innovation Articles – January 2013
Mapping Ignorance, un nuevo medio de difusión científica
rafael ventura: innovación abierta ¿Qué motiva la participación?
Breaking News
OpenMind
Cuaderno de Cultura Científica
El futuro de los sistemas de aprendizaje social: las comunidades de innovación
Retransmisión en diferido
Foro de Innovación, Economía y Calidad de Vida
TEDxMoncloa: "Rumbo al hemisferio derecho"
RWTH-TIM -- Technology and Innovation Management Group at RWTH Aachen University
ZZZINC
Innovation Management Game — Just another WordPress site
Information Systems and Innovation Group - Information Systems and Innovation Group - Academic groups - Research - Department of Management
LSE Information Systems and Innovation Group - Working Papers
de.scientificcommons
"Ciborra, Claudio"
Innovation through engagement
RWTH-TIM -- Technology and Innovation Management Group at RWTH Aachen University
Social Innovation Audio Lectures | Social Innovation Conversations
Innovation Management Game — Just another WordPress site
Centro de Innovación de BBVA. Informacion para Innovar y de Innovación