High School Resource
I hate life. -___-
P.S. I NEVER USE THESE. at all. Jun 21
It's a good start. You don't want to seem indecisive, though, so I might go into what you DO know about yourself and how you will use that to decide upon a major later. For example, you know that you enjoy writing reports, so you will want to find a major where you will be able to create formal reports on what you are studying...that can be many things, so it doesn't limit you, but it lets them know that you are actively looking at the things you do like. OR, You may like having ethical/moral/philosophical discussions with your peers.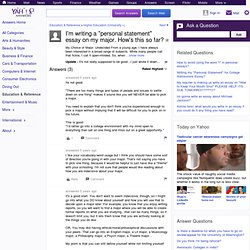 I'm writing a "personal statement" essay on my major. How's this so far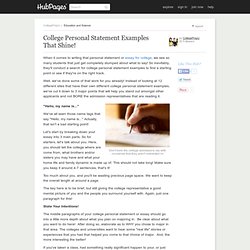 "Hello, my name is..." We've all seen those name tags that say "Hello, my name is..." Actually, that isn't a bad starting point! Let's start by breaking down your essay into 3 main parts. So for starters, let's talk about you. Here, you should tell the college where are come from, what brothers and/or sisters you may have and what your home life and family dynamic is made up of.
College Personal Statement Examples That Shine!
AP Pass - AP Test Score Calculators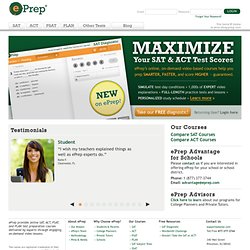 ePrep SAT, ACT, and PSAT Online prep courses
Student I wish my teachers explained things as well as ePrep experts do. Katie F. Clearwater, FL
Practice for the ACT Test with the "Real ACT Prep Guide"
Number2.com :: Free Online Test Prep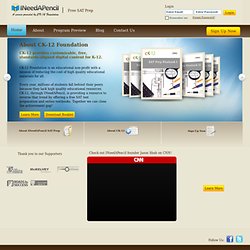 Free SAT Prep
About CK-12 Foundation CK-12 provides customizable, free, standards-aligned digital content for K-12. CK-12 Foundation is an educational non-profit with a mission of reducing the cost of high quality educational materials for all. Every year, millions of students fall behind their peers because they lack high quality educational resources. CK-12, through INeedAPencil, is providing a resource to reverse that trend by offering a free SAT test preparation and online textbooks.
SAT Preparation: The SAT Essay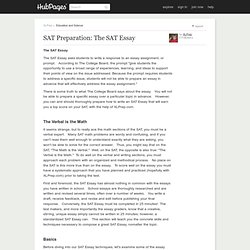 The SAT Essay The SAT Essay asks students to write a response to an essay assignment, or prompt. According to The College Board, the prompt "give students the opportunity to use a broad range of experiences, learning, and ideas to support their points of view on the issue addressed. Because the prompt requires students to address a specific issue, students will not be able to prepare an essay in advance that will effectively address the essay assignment." There is some truth to what The College Board says about the essay.
Test prep Questions for ACT' SAT and AP exams by Texas Instruments
Reading Question for Sunday, April 13th, 2014 PROSE FICTION: This passage is adapted from Elizabeth Bishop's short story "The Housekeeper" (©1984 by Alice Methfessel). What is the main insight suggested by the conversation in lines 69–83? F. The Curley family cries to manipulate Mrs. Sennett into doing what they want.G.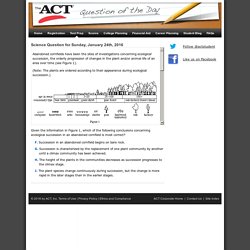 ACT Question of the Day for Monday, January 16, 2012
My College Options
The Complete Guide to College Financing and Admissions Click on a topic to view:Why CollegeWhy College – A Student Perspective The Application and Admissions Process The Application and Admissions – A Student Perspective Pre-College Planning Guide – A Step-By-Step Guide Admissions Check List Important College Admission Dates Appeals and Alternate Plans Finding the Right College For You Common Interview Mistakes Interview Skills Financial Aid Tips From the Financial Aid Director & Weblinks Finding Scholarships How To Win Scholarships Creative Options to Finance College Creative Options CLEP Tests (College Level Examination Program) Selecting A Major In College How To Succeed In College How To Succeed In College – A Student Perspective Living On or Off Campus – Living With A Roommate College Packing List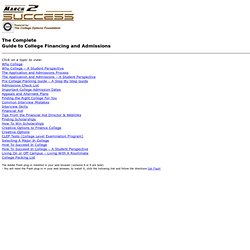 Your College Decision Headquarters ™ Find Your College Search more than 3,000 college profiles where you can quickly see admission facts, deadlines, majors and what campus life is like. Read Student Reviews How to decide which college is right for you? Read what college students are saying in more than 600,000 reviews.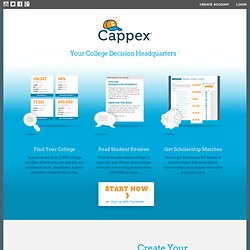 College Search Tool & University Selection Guide
CCS' Elementary Education Department to Hold Beginners' Day The Cumberland County Schools' Elementary Education Department will be holding two Beginners' Day events this year. To enroll your child in kindergarten, you will need to provide the school with the following items: Birth certificateShot recordCopy of child's physical examinationProof of parent/custodian address Children presented... Read More → 34th Annual Spring Orchestra Festival The 34th Annual Spring Orchestra Festival is scheduled for Tuesday, April 29 and Thursday, May 1 at the Cumberland County Crown Arena.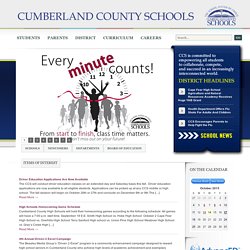 Cumberland County Schools - Fayetteville, North Carolina
Discover