Resource Links
Digital Citizenship: It's More Than a Poster! Let me begin with a huge disclaimer..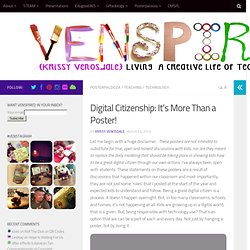 These posters are not intended to substitute for true, open and honest discussions with kids, nor are they meant to replace the daily modeling that should be taking place in showing kids how to be a great digital citizen through our own actions. I've always been open with students. Daily News Story. PBS NewsHour Extra helps teachers and students identify the who, what, when, where and why-it-matters of major national and international news stories.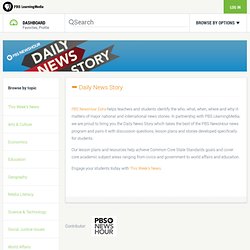 In partnership with PBS LearningMedia, we are proud to bring you the Daily News Story which takes the best of the PBS NewsHour news program and pairs it with discussion questions, lesson plans and stories developed specifically for students. Our lesson plans and resources help achieve Common Core State Standards goals and cover core academic subject areas ranging from civics and government to world affairs and education. Engage your students today with This Week's News. Teachers Handbook on Creative Commons and Copyright. September 1, 2014 Integrating technology in your classroom is not only about knowing the technicalities part of the process, it is also, most importantly, about knowing how and what to do with that technology.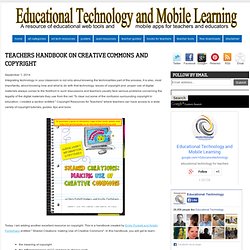 Issues of copyright and proper use of digital materials always comes to the forefront in such discussions and teachers usually face serious problems concerning the legality of the digital materials they use from the net. To clear out some of the confusion surrounding copyright in education, I created a section entitled " Copyright Resources for Teachers" where teachers can have access to a wide variety of copyright tutorials, guides, tips and tools. Today, I am adding another excellent resource on copyright. This is a handbook created by Emily Puckett and Kristin Fontichiaro entitled " Shared Creations: making Use of Creative Commons".
Folger's Shakespeare Library Releases 80,000 Images of Literary Art Into the Public Domain. Has a writer ever inspired as many adaptations and references as William Shakespeare?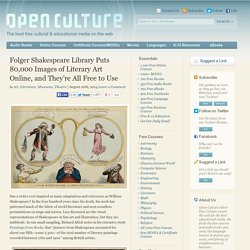 In the four hundred years since his death, his work has patterned much of the fabric of world literature and seen countless permutations on stage and screen. Less discussed are the visual representations of Shakespeare in fine art and illustration, but they are multitude. In one small sampling, Richard Altick notes in his extensive study Paintings from Books, that "pictures from Shakespeare accounted for about one fifth—some 2,300—of the total number of literary paintings recorded between 1760 and 1900" among British artists. In the period Altick documents, a rapidly rising middle class drove a market for literary artworks, which were, "in effect, extensions of the books themselves: they were detached forms of book illustration, in which were constantly assimilated the literary and artistic tastes of the time." Essay Map-A Handy Interactive Graphic Organizer to Help Students with Essay Writing.
August 18, 2014 Essay Map is one of my favourite web tools that I have been repeatedly recommending for teachers.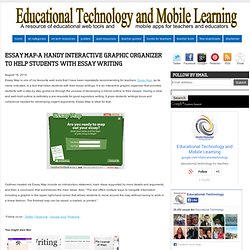 Essay Map, as its name indicates, is a tool that helps students with their essay writings. It is an interactive graphic organizer that provides students with a step by step guidance through the process of developing a robust outline to their essays. Having a clear and well-built outline is definitely a pre-requisite for good expository writing. It gives students' writings focus and coherence needed for developing cogent arguments. Essay Map is ideal for that. Common Craft Cut-outs: Now Available Individually. Visuals play an important role in how we communicate, but nice looking digital images can be a pain to find or create.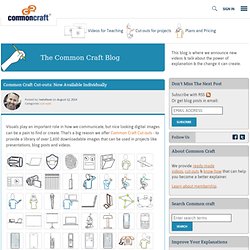 That's a big reason we offer Common Craft Cut-outs - to provide a library of over 1,600 downloadable images that can be used in projects like presentations, blog posts and videos. Until recently, our Cut-outs were only available through Common Craft membership (starting at $49 per year). Today, all Cut-outs are also available individually. High resolution PNG images are $0.99 and EPS vectors graphics are $1.49. Standard Form Resources | Mathematics, Learning and Technology. Coming across You're Getting Old, it struck me that the numbers generated by the site would be perfect for standard form exercises; put in a student's date of birth and even the young ones will have some big numbers reported!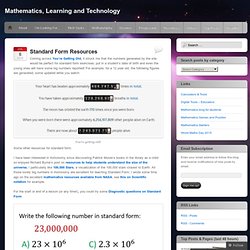 For example, for a 12 year old, the following figures are generated, some updated while you watch. You're getting old! A Treasure Trove of Digital Citizenship Resources for Teachers. May 8, 2014 With the increasing use of internet by our kids comes the risks that, if not addressed appropriately, would make this use disastrous.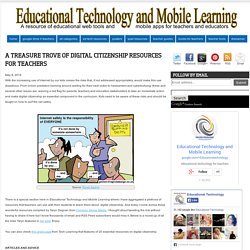 From online predators looming around waiting for their next victim to harassment and cyberbullying, these and several other issues are waiving a red flag for parents, teachers,and education stakeholders to take an immediate action and make digital citizenship an essential component in the curriculum. Kids need to be aware of these risks and should be taught on how to surf the net safely. There is a special section here in Educational Technology and Mobile Learning where I have aggregated a plethora of resources that teachers can use with their students to teach them about digital citizenship.
He-dictionary-shakespeare-may-have-owned-and-annotated. You surely heard plenty about Shakespeare's birthday yesterday.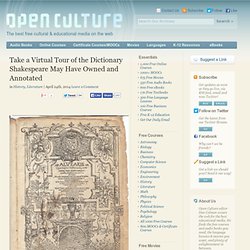 But did you hear about Shakespeare's beehive? No, the Bard didn't moonlight as an apiarist, though in his main line of work as a poet and dramatist he surely had to consult his dictionary fairly often. The question of whether humanity has an identifiable copy of such an illustrious reference volume gets explored in the new book Shakespeare's Beehive: An Annotated Elizabethan Dictionary Comes to Light by bookseller-scholars George Koppelman and Daniel Wechsler. In their study, they reveal that they may have come into possession of Shakespeare's very own copy of Baret's Alvearie, a popular classical quote-laden English-Latin-Greek-French dictionary the man who wrote King Lear would have found "the perfect tool, a honey-combed beehive of possibilities that may not have formed his way of thinking, but certainly fed his appetite and nourished his selection." Resources For Teaching About Drugs, Alcohol, and Addiction. Over the past few days, I've seen so much buzz on the internet about the death of Philip Seymour Hoffmann.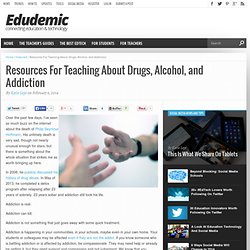 His untimely death is very sad, though not nearly unusual enough for stars, but there is something about the whole situation that strikes me as worth bringing up here. In 2006, he publicly discussed his history of drug abuse. Get Free Resources from National Schools Partnership! Have you heard of National Schools Partnership? They encourage business and other organisations to set up programmes that support schools. Teachers and schools can register on their site and take part in a range of different projects. Some of their current projects include: Walk with Mandela – Offers exclusive film clips, teachers' notes and worksheets based on the life of Nelson Mandela.Young Sports Reporter of the Year – A competition to support Literacy work in KS2 and KS3, linked to the Oxford and Cambridge Boat Race.Quest for Skills with Pokemon – A resource for KS2 pupils, that supports children's SPAG skills and uses the popular game to boost learning.Create a 'Happy Town' with your class – A citizenship programme for 7 to 11 year olds, offering lesson plans, teachers' notes, activity sheets and lesson starters.
By registering on their site, you will also get first refusal on any new projects that are developed. Acljdalziel. I am currently working as an eLearning Adviser in the North West of England, UK. Many of the resources that I produce, and/or curate, are under the name of ACLjohn. I believe that, by sharing, we can reduce the amount of effort we all put in to discover the same things or, even worse, make the same mistakes.
Shrove Tuesday. Numeracy: Functional Maths, General numeracy / maths Context: Catering Food Nutrition Level: E3, L1 Resource type: Investigation or project, Worksheet or assignment Six Functional Maths tasks based on a theme of cooking pancakes in a college canteen. Education for Employability (MLD) | technologies. What Is The Difference Between A Netbook, Notebook, Ultrabook, Laptop, & Palmtop? | technologies. Keen Talks | technologies. Home | London 2012 - Get Set | technologies.
General. Video. Sports-Leisure. Times HE - Plagiarism software. Software. Science. Safeguarding. Retail. Portals. Research & Reference. mLearning. Media. Mathematics. Legal. Music. 9 Tools Students Can Use to Create Music Online. Here are nine free tools that students can use to create their own music online. Loop Labs is a free service from Club Create for creating your own music mixes using existing music loops and your own recordings. To get started using Loop Labs select from one of nine sound loop libraries. Within each library is a selection of base instrumental sounds.
Land-Based. Information Advice & Guidance. Inclusion. Internet Buttons. ICT. Icebreakers. History-Genealogy. Health & Safety. Hardware. Family Learning. Geography. Functional Skills.
Green
Equality & Diversity. Gov & politics. English Lang-Lit. Engineering - Construction. eCPD. eAssessment. eAdministration. Course Design. Communication.
Automotive. Animation. Art. AclJohn's Webmix. Only2Clicks.
---