Resource Links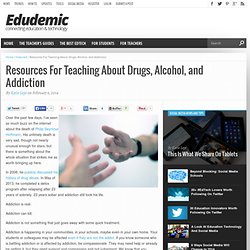 Over the past few days, I've seen so much buzz on the internet about the death of Philip Seymour Hoffmann. His untimely death is very sad, though not nearly unusual enough for stars, but there is something about the whole situation that strikes me as worth bringing up here. In 2006, he publicly discussed his history of drug abuse.
Resources For Teaching About Drugs, Alcohol, and Addiction
Get Free Resources from National Schools Partnership! | Teaching NewsTeaching News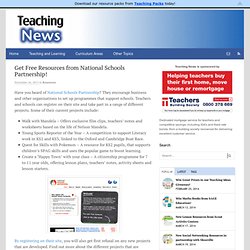 Have you heard of National Schools Partnership? They encourage business and other organisations to set up programmes that support schools. Teachers and schools can register on their site and take part in a range of different projects. Some of their current projects include: Walk with Mandela – Offers exclusive film clips, teachers' notes and worksheets based on the life of Nelson Mandela.Young Sports Reporter of the Year – A competition to support Literacy work in KS2 and KS3, linked to the Oxford and Cambridge Boat Race.Quest for Skills with Pokemon – A resource for KS2 pupils, that supports children's SPAG skills and uses the popular game to boost learning.Create a 'Happy Town' with your class – A citizenship programme for 7 to 11 year olds, offering lesson plans, teachers' notes, activity sheets and lesson starters. By registering on their site, you will also get first refusal on any new projects that are developed.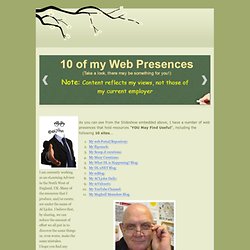 acljdalziel
I am currently working as an eLearning Adviser in the North West of England, UK. Many of the resources that I produce, and/or curate, are under the name of ACLjohn. I believe that, by sharing, we can reduce the amount of effort we all put in to discover the same things or, even worse, make the same mistakes.
Shrove Tuesday
Numeracy: Functional Maths, General numeracy / maths Context: Catering Food Nutrition Level: E3, L1 Resource type: Investigation or project, Worksheet or assignment Six Functional Maths tasks based on a theme of cooking pancakes in a college canteen.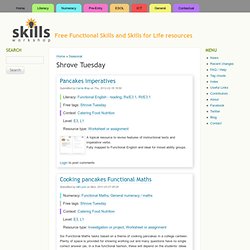 Education for Employability (MLD) | technologies
What Is The Difference Between A Netbook, Notebook, Ultrabook, Laptop, & Palmtop? | technologies
Keen Talks | technologies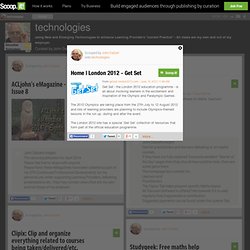 Home | London 2012 - Get Set | technologies
Get Set - the London 2012 education programme - is all about involving learners in the excitement and inspiration of the Olympic and Paralympic Games. The 2012 Olympics are taking place from the 27th July to 12 August 2012 and lots of learning providers are planning to include Olympics-themed lessons in the run up, during and after the event. The London 2012 site has a special 'Get Set' collection of resources that form part of the official education programme.
Times HE - Plagiarism software
9 Tools Students Can Use to Create Music Online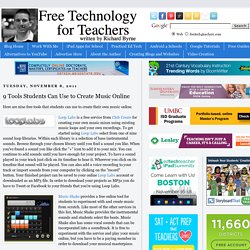 Here are nine free tools that students can use to create their own music online. Loop Labs is a free service from Club Create for creating your own music mixes using existing music loops and your own recordings. To get started using Loop Labs select from one of nine sound loop libraries. Within each library is a selection of base instrumental sounds.
Information Advice & Guidance
Internet Buttons
Icebreakers
Engineering - Construction
aclJohn's Webmix
Only2Clicks