First Full Face Transplant
After Six Years, Face Transplant Patient Reveals Final Look - Incredible Health - FOXNews.com - (Build 20100722150226) It's been nearly two years since Connie Culp underwent the world's first near total face transplant — and in that time, she has made incredible strides.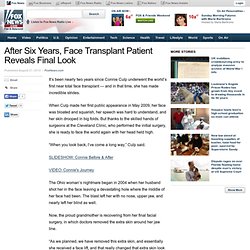 When Culp made her first public appearance in May 2009, her face was bloated and squarish, her speech was hard to understand, and her skin drooped in big folds. But thanks to the skilled hands of surgeons at the Cleveland Clinic, who performed the initial surgery, she is ready to face the world again with her head held high. Isabelle Dinoire - Wikipedia, the free encyclopedia - (Build 20100722150226) Isabelle Dinoire, born 1967, was the first person to undergo a partial face transplant, after her Labrador retriever mauled her in May 2005.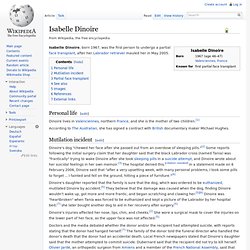 Personal life[edit] Dinoire lives in Valenciennes, northern France, and she is the mother of two children.[1] According to The Australian, she has signed a contract with British documentary maker Michael Hughes. Mutilation incident[edit] Dinoire's dog "chewed her face after she passed out from an overdose of sleeping pills. Face transplant - Wikipedia, the free encyclopedia - (Build 20100722150226) A face transplant is a medical procedure to replace all or part of a person's face.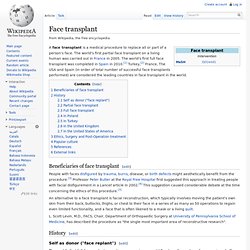 The world's first partial face transplant on a living human was carried out in France in 2005. The world's first full face transplant was completed in Spain in 2010.[1] Turkey,[2] France, The USA and Spain (in order of total number of successful face transplants performed) are considered the leading countries in face transplant in the world. Beneficiaries of face transplant[edit] An alternative to a face transplant is facial reconstruction, which typically involves moving the patient's own skin from their back, buttocks, thighs, or chest to their face in a series of as many as 50 operations to regain even limited functionality, and a face that is often likened to a mask or a living quilt. L. Maria Siemionow - Wikipedia, the free encyclopedia - (Build 20100722150226) Maria Siemionow (born 1950 in Krotoszyn) is a Polish surgeon at the Cleveland Clinic in Cleveland, Ohio.[1] She gained public notice in December, 2008, when she led a team of six surgeons in a 22-hour surgery, performing the first face transplant in the United States on Connie Culp.[2] She is currently Director of Plastic Surgery Research and Head of Microsurgery Training at the Cleveland Clinic.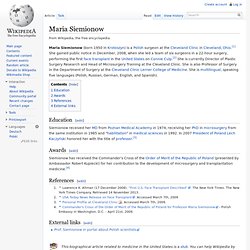 She is also Professor of Surgery in the Department of Surgery at the Cleveland Clinic Lerner College of Medicine. She is multilingual, speaking five languages (Polish, Russian, German, English, and Spanish). Education[edit] Siemionow received her MD from Poznan Medical Academy in 1974, receiving her PhD in microsurgery from the same institution in 1985 and "habilitation" in medical sciences in 1992. In 2007 President of Poland Lech Kaczyński honored her with the title of professor.[3] Connie Culp - Wikipedia, the free encyclopedia - (Build 20100722150226)
Connie Culp (born March 26, 1963[1]) is the first United States recipient of a face transplant, performed at the Cleveland Clinic in December 2008.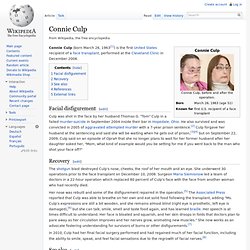 Facial disfigurement[edit] Recovery[edit] The shotgun blast destroyed Culp's nose, cheeks, the roof of her mouth and an eye. Face transplant patient: 'I'm not a monster' - Health - Health care - msnbc.com - (Build 20100722150226) CLEVELAND — When Connie Culp heard a little kid call her a monster because of the shotgun blast that left her face horribly disfigured, she pulled out her driver's license to show the child what she used to look like.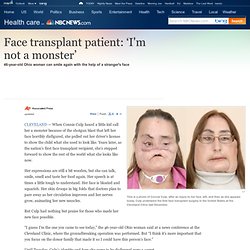 Years later, as the nation's first face transplant recipient, she's stepped forward to show the rest of the world what she looks like now. Her expressions are still a bit wooden, but she can talk, smile, smell and taste her food again.
---