Relations & Connections
Influence Networks ‹ OWNI. Where Does My Tweet Go? Bluenod | Visualize communities. Influence Networks: mode d'emploi. OWNI présente Influence Networks, un répertoire ouvert et sémantique des relations entre personnalités, institutions et entreprises.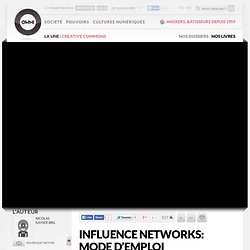 Chaque élément est noté selon sa crédibilité, si bien que le bruit reste distinct du signal. En octobre 2010, lors du Personal Democracy Forum de Barcelone, plusieurs journalistes d'investigation ont expliqué comment ils avaient débusqué des affaires de corruption en procédant à l'analyse de réseaux. L'un d'entre eux, Dejan Milovac, a enquêté sur un projet immobilier situé sur la côte du Monténégro. Il a décortiqué les réseaux financiers autour du projet et montré comment des politiciens locaux étaient de mèche avec les promoteurs qui saccagent le littoral.
ConnectedPRC. 1274372604_cac40_3.swf (Objet application/x-shockwave-flash) Network Visualization. NNDB: Tracking the entire world.
Who knows who. NNDB Mapper: Tracking the entire world. NNDB Mapper: Tracking the Entire World. NNDB Mapper [nndb.com] is an interactive visualization tool for exploring the connections between people in the Notable Names Database (NNDB), a huge data source containing the biographical details of over 34,000 persons for whom the public has demonstrated a permanent interest.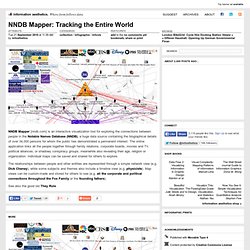 The online application links all the people together through family relations, corporate boards, movies and TV, political alliances, or shadowy conspiracy groups, meanwhile also revealing their age, religion or organization. Individual maps can be saved and shared for others to explore. The relationships between people and other entities are represented through a simple network view (e.g. Dick Cheney), while some subjects and themes also include a timeline view (e.g. physicists). Map views can be custom-made and stored for others to see (e.g. all the corporate and political connections throughout the Fox Family or the founding fathers). LittleSis - Profiling the powers that be. Proximity Search: Entry Page. Muckety - Mapping relations and measuring influence. NameBase. NameBase is a web-based cross-indexed database of names that focuses on individuals involved in the international intelligence community, U.S. foreign policy, crime, and business.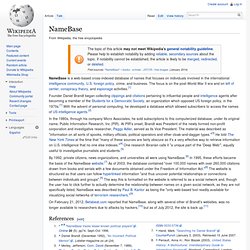 The focus is on the post-World War II era and on left of center, conspiracy theory, and espionage activities.[1] In the 1980s, through his company Micro Associates, he sold subscriptions to this computerized database, under its original name, Public Information Research, Inc (PIR). Hypertrout. Kumu | Harness the power of relationships.
Kumu. RelFinder - Visual Data Web. Are you interested in how things are related with each other?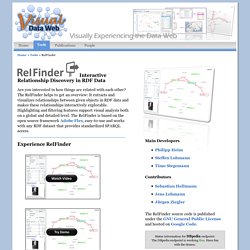 The RelFinder helps to get an overview: It extracts and visualizes relationships between given objects in RDF data and makes these relationships interactively explorable. Highlighting and filtering features support visual analysis both on a global and detailed level. The RelFinder is based on the open source framework Adobe Flex, easy-to-use and works with any RDF dataset that provides standardized SPARQL access. ViralSearch: Identifying and Visualizing Viral Content.
Analyzing the connections between friends and followers. Network Science. Navigator. Family Tree & Family History at Geni.com.
Find Connections between People and Companies. Truthy. Conspire. Theyrule.net. Interactive: Mapping the World's Friendships. Technology bridges distance and borders.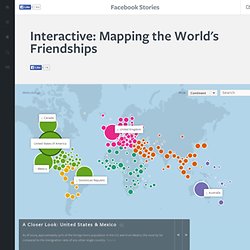 Individuals today can keep in touch with their friends and family in completely new ways — regardless of where they live. We explored these international connections through Facebook and found some trends — some predictable, some wholly unexpected, and some still inexplicable. Who can explain the strong link between the Democratic Republic of Congo, one of the poorest countries in the heart of Africa, and Ecuador? Chicago Lobbyists Force-Directed Graph Visualization. Created by Christopher Manning Summary This visualization includes the 50 highest paid lobbyists in Chicago, their clients, and the agencies they lobby.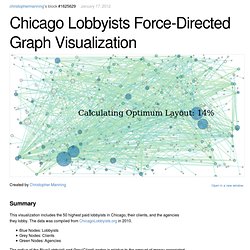 The data was compiled from ChicagoLobbyists.org in 2010. Discover the Networks.
---
paulalofs Nov 29 2013

i want all my relations working &connections to
---