Cultural Tour
Welcome to the British Museum
British Museum
Sir Hans Sloane, founder of the British Museum Though principally a museum of cultural art objects and antiquities today, the British Museum was founded as a "universal museum". Its foundations lie in the will of the physician and naturalist Sir Hans Sloane (1660-1753). During the course of his lifetime Sloane gathered an enviable collection of curiosities and whilst not wishing to see his collection broken up after death, he bequeathed it to King George II, for the nation, for the princely sum of £20,000.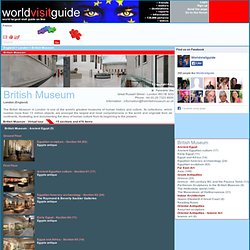 Musei Capitolini
español deutsch français italiano 日本語 한국어 русский 中文(简体) 旧版 português Hours (Main Building) Open 7 Days a Week Sunday–Thursday: 10:00 a.m.–5:30 p.m.
Home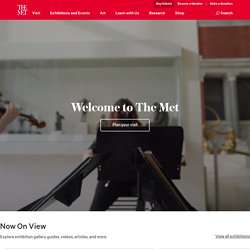 We Choose the Moon: Pre-launch
Tate: British and international modern and contemporary art
The Commons
Réunion des musées nationaux RMN - Banque d'images d'art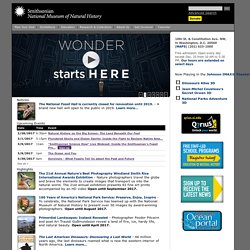 Laughing Owl, or Whekau (Sceloglaux albifacies) From The Extinction Website via Wikimedia Commons Wikimedia Commons Description says: Photographed (in the Wellington Region?) between 1889 and 1910 by Henry Charles Clarke Wright (1844-1936). "Trevor Worthy (an expert on the subject) has stated that the photo is of a bird that was in the captivity of Walter Buller.
Smithsonian Institution National Museum of Natural History NMNH
Réunion des musées nationaux Grand Palais
Museums By Country
Global Museum
Cité des Sciences - universcience.fr
Site officiel du musée du Louvre
Site officiel du Muséum national d'Histoire naturelle
Bienvenue sur le site du Parc de la Villette
Art culture musée expositions cinémas conférences débats spectacles concerts
Petit aide-mémoire des manifestations à l'usage des établissements scolaires 2012-2013
Agenda Culturel : Concert, Théâtre, Festival, Expo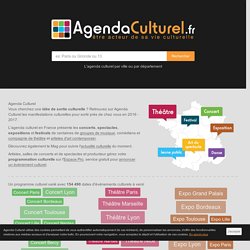 Agenda Culturel Vous cherchez une idée de sortie culturelle ? Retrouvez sur Agenda Culturel les manifestations culturelles pour sortir près de chez vous en 2014 - 2015.
Site officiel du château de Versailles
Sevilla 111 Gigapixels. World Record Panoramic Photo
Grand Versailles Numérique
Expo et visites virtuelles
Giza 3D - Dassault Systèmes
360 Venezia : another glance - 360 Venise : un autre regard - virtual tour of Venice - visite virtuelle de Venise | g i l l e s v i d a l
Lascaux
La découverte de Lascaux en 1940 a ouvert une nouvelle page dans la connaissance de l'art préhistorique et de nos origines. Œuvre monumentale, la grotte continue de nourrir l'imaginaire collectif et d'émouvoir les nouvelles générations du monde entier. C'est à ce haut lieu de la Préhistoire qu'est dédiée la nouvelle publication multimédia du ministère de la Culture et de la Communication, publication qui réactualise autant la forme que le contenu scientifique de ce site mis en ligne en 1998, à la lumière des dernières avancées de la recherche archéologique.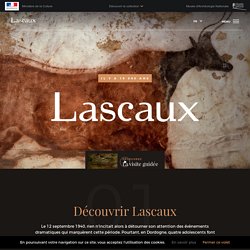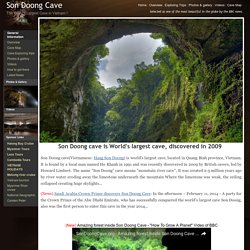 Son Doong Cave, Hang Son Doong - World's largest cave!
Son Doong cave is World's largest cave, discovered in 2009 Son Doong cave(Vietnamese: Hang Son Doong) is world's largest cave, located in Quang Binh province, Vietnam. It is found by a local man named Ho Khanh in 1991 and was recently discovered in 2009 by British cavers, led by Howard Limbert. The name "Son Doong" cave means "mountain river cave", It was created 2-5 million years ago by river water eroding away the limestone underneath the mountain Where the limestone was weak, the ceiling collapsed creating huge skylights... (News) Saudi Arabia Crown Prince discovers Son Doong Cave: In the afternoon – February 11, 2014 - A party for the Crown Prince of the Abu Dhabi Emirate, who has successfully conquered the world's largest cave Son Doong, also was the first person to enter this cave in the year 2014...
The Cave of Chauvet-Pont-d'Arc
1000s Of Museums Online : MuseumStuff.com
Morocco - Medina of Marrakech - Hassan II Mosque - Volubilis Egypt - Egyptian Museum of Cairo - Luxor Museum - Great Pyramid of Giza - Saqqara - Karnak - Abu Simbel - Philae - Medinet Habu - Edfu - Memphis - Hatshepsut Temple - King Valley - Nile Cruise - Aswan - Luxor United States New York - New York - World Trade Center - Central Park - Metropolitan Museum of Art - Museum of Modern Art de New York (MoMA) - Statue of Liberty - Ellis Island - Brooklyn Washington - National Gallery of Art Philadelphie - Philadelphia - Philadelphia Museum of Art Chicago - Chicago - Art Institute of Chicago Las Vegas - Las Vegas San Francisco - San Francisco - Alcatraz - California Palace of the Legion of Honor - San Francisco Museum of Modern Art (SFMoMA) - Asian Art Museum of San Francisco Los Angeles - Los Angeles - Los Angeles County Museum of Art - J. Paul Getty Museum - Norton Simon Museum of Art - Universal Studios Monterey - Monterey - Pacific Grove - Carmel
worldvisitguide.com
Portail:Musées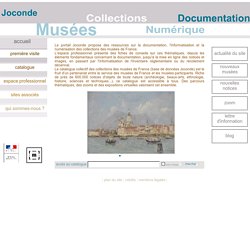 Ministère de la culture - Direction générale des patrimoines - Service des musées de France - Joconde, portail des collections des musées de France
Carpeaux Jean-Baptiste, Flore, détail, haut-relief, terre cuite, 1873, Paris, musée du Louvre département des Sculptures, © P. Philibert1/27 Laie de Cahors ; époque gallo-romaine ; Saint-Germain-en-Laye, musée d'archéologie nationale © Loïc Hamon2/27 Moiroux, asseau, acier fondu et bois taillé, Bourg-en-Bresse, musées des Pays de l'Ain, © Georges Alves ; Reproduction soumise à autorisation3/27 Liotard Jean-Etienne, M. Levett et Mlle Hélène Glavany en costume turc, huile sur carton, vers 1740, Paris ; musée du Louvre département des Peintures, © Michèle Bellot, R.G. Ojeda, P.
Les Grands Sites Archéologiques
BALITEMPLEEXPLORER.COM
The Maya Ruins Page
Site officiel de la tour Eiffel - monument de Paris (France)
Paris Secret