Algorithms
Les algorithmes génétiques - JM Alliot
Un article de Wikipédia, l'encyclopédie libre. Les algorithmes génétiques appartiennent à la famille des algorithmes évolutionnistes. Leur but est d'obtenir une solution approchée à un problème d'optimisation, lorsqu'il n'existe pas de méthode exacte (ou que la solution est inconnue) pour le résoudre en un temps raisonnable.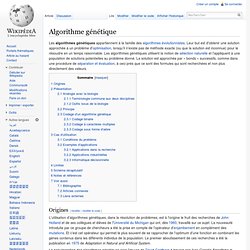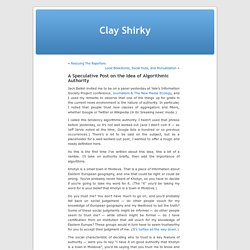 Jack Balkin invited me to be on a panel yesterday at Yale's Information Society Project conference, Journalism & The New Media Ecology, and I used my remarks to observe that one of the things up for grabs in the current news environment is the nature of authority. In particular, I noted that people trust new classes of aggregators and filters, whether Google or Twitter or Wikipedia (in its 'breaking news' mode.) I called this tendency algorithmic authority.
» A Speculative Post on the Idea of Algorithmic Authority Clay Shirky
Un article de Wikipédia, l'encyclopédie libre. L'algorithmique est l'ensemble des règles et des techniques qui sont impliquées dans la définition et la conception d'algorithmes, c'est-à-dire de processus systématiques de résolution d'un problème permettant de décrire les étapes vers le résultat. En d'autres termes, un algorithme est une suite finie et non-ambiguë d'instructions permettant de donner la réponse à un problème. Si les instructions d'un algorithme s'exécutent les unes après les autres, l'algorithme est dit séquentiel, si elles s'exécutent en même temps, il est parallèle.
Algorithmique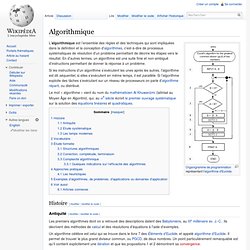 Optimisation et algorithmes génétiques - MAGNIN.plil.net
The Algorithmic Origins of Life - Sara Walker (SETI Talks)
Laboratory for Web Algorithmics
Relevant details can be downloaded here: Book 1: Parallel Processing in a Control Systems Environment, E Rogers & Y Li, Prentice Hall Series on Systems and Control Engineering, 1993, 364 pp, ISBN 0-13-651530-4. Book 2: Real-World Applications of Evolutionary Computing, S Cagnoni, R Poli, & Y Li, et al, Springer-Verlag Lecture Notes in Computer Science, 2000, 396 pp, Volume 1803/2000, Berlin, ISSN 0302-9743, ISBN 978-3-540-67353-8, DOI 10.1007/3-540-45561-2.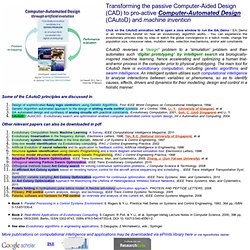 Click here for PhD projects in I
(Credit: BYU Photo)
A smart-object recognition algorithm that doesn't need humans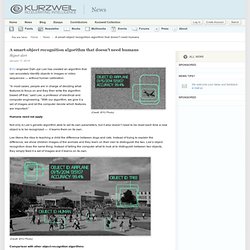 Complex systems made simple
Albert-László Barabási and Yang-Yu Liu, together with their collaborator Jean-Jacques Slotine at M.I.T., have developed a method for observing large, complex systems. In the image above, red dots represent sensor nodes, which are required to reconstruct the entire internal state of one such system. Image by Mauro Martino.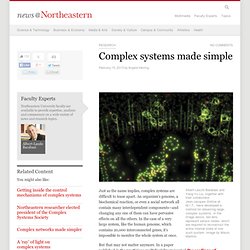 Pinterest's Founder: Algorithms Don't Know What You Want
The Rise of the Algorithmic Medium
A clustering algorithm based on swarm intelligence
The Top 10 Algorithms in Data Mining | eHow
[Illustration from http://www.hhs.gov/open/initiatives/hdi/] By some accounts the world's information is doubling every two years. This impressive if unprovable fact has got many people wondering: what to do with it?
Trust Is Not An Algorithm: Big Data Are Hot, But They Also Miss A Lot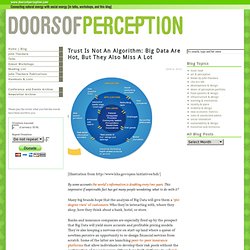 This web site is hosted by the Software and Systems Division, Information Technology Laboratory, NIST in collaboration with the FASTAR group. Development of this dictionary started in 1998 under the editorship of Paul E. Black. This is a dictionary of algorithms, algorithmic techniques, data structures, archetypal problems, and related definitions. Algorithms include common functions, such as Ackermann's function.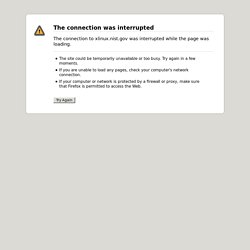 The following is a list of algorithms along with one-line descriptions for each. Combinatorial algorithms[edit] General combinatorial algorithms[edit] Graph algorithms[edit] Graph drawing[edit] Network theory[edit]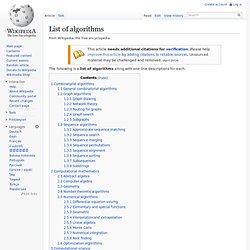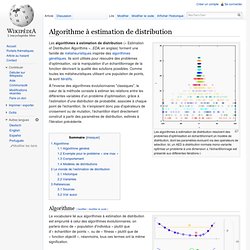 Un article de Wikipédia, l'encyclopédie libre. Les algorithmes à estimation de distribution résolvent des problèmes d'optimisation en échantillonnant un modèle de distribution, dont les paramètres évoluent via des opérateurs de sélection. Ici, un AED à distribution normale mono-variante optimise un problème à une dimension x, l'échantillonnage est présenté aux différentes itérations i. Les algorithmes à estimation de distribution (« Estimation of Distribution Algorithms », EDA, en anglais) forment une famille de métaheuristiques inspirée des algorithmes génétiques. Ils sont utilisés pour résoudre des problèmes d'optimisation, via la manipulation d'un échantillonnage de la fonction décrivant la qualité des solutions possibles. Comme toutes les métaheuristiques utilisant une population de points, ils sont itératifs.
Algorithme à estimation de distribution
Sorting Algorithms Are Mesmerising When Visualised
Please enable JavaScript to watch this video.
List of terms relating to algorithms and data structures
The NIST Dictionary of Algorithms and Data Structures is a reference work maintained by the U.S. National Institute of Standards and Technology. It defines a large number of terms relating to algorithms and data structures. For algorithms and data structures not necessarily mentioned here, see list of algorithms and list of data structures. This list of terms was originally derived from the index of that document, and is in the public domain, as it was compiled by a Federal Government employee as part of a Federal Government work. Some of the terms defined are:
La lecture de la semaine nous vient de The Atlantic et du toujours pertinent Alexis Madrigal (@alexismadrigal), le titre de son article "Contre l'idée que les algorithmes sont objectifs". "Quand un résultat provient d'un ordinateur sur la base de statistiques, cela doit être objectif, non ? Pas de biais possible, à la différence de notre jugement, nous Homo Sapiens défectueux. Image : Google News et les facteurs de classements de l'actualité. Mais, dans les faits, ce n'est pas vrai.
Inférence bayésienne
Un article de Wikipédia, l'encyclopédie libre. Le raisonnement bayésien s'intéresse aux cas où une proposition pourrait être vraie ou fausse, non pas en raison de son rapport logique à des axiomes tenus pour assurément vrais, mais selon des observations où subsiste une incertitude. On attribue à toute proposition une valeur entre 0 (faux à coup sûr) et 1 (vrai à coup sûr).
Un article de Wikipédia, l'encyclopédie libre. Un moteur d'inférence (du verbe « inférer » qui signifie « déduire ») est un logiciel correspondant à un algorithme de simulation des raisonnements déductifs. Un moteur d'inférence permet aux systèmes experts de conduire des raisonnements logiques et de dériver des conclusions à partir d'une base de faits et d'une base de connaissances. Les moteurs d'inférences peuvent implémenter :
Moteur d'inférence
Bayesian Network - AI Depot
Statistical inference
The Algorithm: Idiom of Modern Science
Human Workers, Managed by an Algorithm
Cours DEA J-M Fouet
How Algorithms and Editors Can Work Together to Burst the "Filter Bubble"
The Human Algorithm: Redefining the Value of Data
Filtrage bayésien du spam
Ken's Home Page
Bayesia - Prenez les bonnes décisions
algorithmes & Métaheuristique
About EPlex - Evolutionary Complexity Research Group at UCF
Bayes pour les nuls
Table Row Attributes 6
BayesiaLab & Bayesian Networks
Portail:Algorithmique
La Clé du Médium Algorithmique
In the Olympics of Algorithms, a Russian Keeps Winning Gold
Algorithms
HyperNEAT User's Page