Inspiration & Motivation
Why the words you say to yourself matter - Do Lectures
90% of All Self Help Books
How to succeed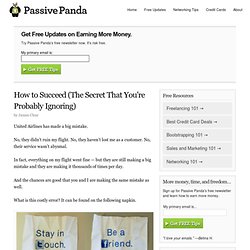 United Airlines has made a big mistake.
75 Ways to Show Love - For Healthy Relationships
If you're married or in a serious relationship, you're no stranger to the phrase, "I love you."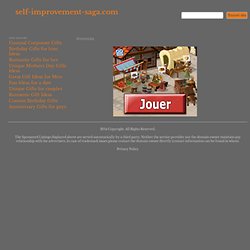 Keeping Yourself Motivated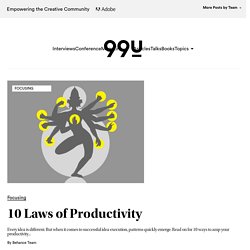 You might think that creatives as diverse as Internet entrepreneur Jack Dorsey, industrial design firm Studio 7.5, and bestselling Japanese novelist Haruki Murakami would have little in common. In fact, the tenets that guide how they – and exceptionally productive creatives across the board – make ideas happen are incredibly similar. Here are 10 laws of productivity we've consistently observed among serial idea executors: 1. Break the seal of hesitation.
10 Laws of Productivity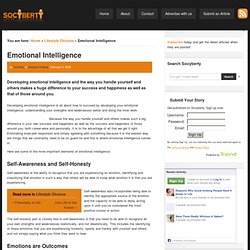 Developing emotional intelligence is all about how to succeed by developing your emotional intelligence, understanding your strengths and weaknesses better and doing the inner work.
Emotional Intelligence
Some people are always listened to.
Even Happier: How to Command Respect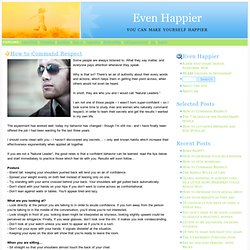 The Key Trait Successful People Have, and How To Get It
Top 7 Strategies To Become The Best At What You Do
Global Leadership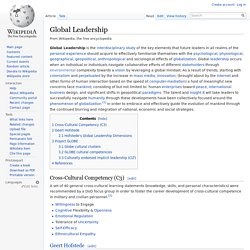 Cross-Cultural Competency (C3)[edit] A set of 40 general cross-cultural learning statements (knowledge, skills, and personal characteristics) were recommended by a DoD focus group in order to foster the career development of cross-cultural competence in military and civilian personnel.[2] Geert Hofstede[edit] Hofstede has performed research for several decades that continues to impact research in global and international arenas of global leadership. Hofstede's primary tenants of culture differentiation are summed up through his research more elaborately, but primarily consist of:[3] Hofstede's Global Leadership Dimensions[edit]
How to Meet your Higher Self
The first time I ever heard of a higher self was in Shirley Maclaine's book, Out on a Limb. I was young, though, and didn't really understand who this higher self person was, or what her importance to me might be.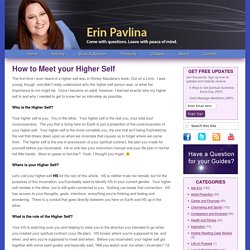 Embracing All of Life Instead of Resisting Pain
"Don't seek, don't search, don't ask, don't knock, don't demand – relax.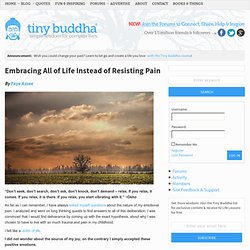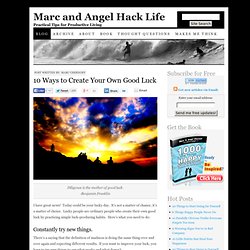 Email Diligence is the mother of good luck. -Benjamin Franklin
10 Ways to Create Your Own Good Luck
Motivational Speech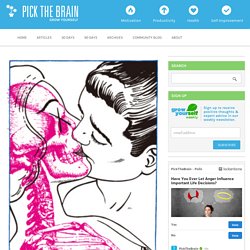 Fake it Till You Make it: 10 Ways to Feel Confident (Even When You Aren't)
"Original Fake" Photo Credit: courtesy of MashKulture
1. Totally embarrass yourself.After the publication of my book Reviving Ophelia, in 1994, I was invited to a prestigious party.
5 Mistakes Everyone Should Make
Make: Online | "Tips My Dad Says" Downloadable Card
Advice from Somewhere
Who Do You Want To Be? Create A Character Study For Your Ideal Self
"I pretended to be somebody I wanted to be until finally I became that person.
Plato's "The Allegory of the Cave"
"In fact, you get pretty good at understanding how the patterns in the show work, and everyone else chained up is like, 'Holy shit bro, how did you know that that tree was going to fall on that guy?' and you're like, 'It's because I fucking pay attention and I'm smart as shit.' You're the smartest of the chained, and they all revere you."
Contrary to popular belief, you don't have to make drastic changes in order to notice an improvement in the quality of your life.
60 Small Ways to Improve Your Life in the Next 100 Days
29 ways to stay creative
70 Reminders to Help You Break Any Barrier
How to Discover Your Life Purpose in About 20 Minutes
20 Things Life Is Too Short To Tolerate
Four Keys To Creating Products For The Lady Gaga Generation | Co.Design
How to get what you want from anyone
How to Get Just About Anything You Want
How to Get Everything You Want in Life
Addiction and Zen
Smile Into Your Organs: | Rejuvenation Lounge
PrioBook
15 Scientifically-Proven Things That Will Make You Happier
21 Suggestions for Success by H Jackson Brown, Jr.
Chad Goldwasser
Tiny Buddha
On Adapting to Sandpiles
8 Ways to Get Back in the Groove
img-thing (JPEG Image, 300x300 pixels)
10 Simple Truths Smart People Forget
Wisdom - Introduction on Vimeo