Food
Beet Salad with Goat Cheese Recipe. Smoky Sweet Potato Burgers with Roasted Garlic Cream and Avocado. Before we talk burgers, let me tell you what I'm doing.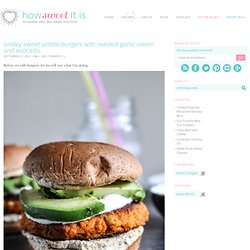 I'm eating some blueberry yogurt pretzels (which are oh-so awesome… but would be even awesomer if they were really coated in yogurt and not white chocolate disguised as yogurt) and drinking a san pellgrino aranciata that is spiked with um… vodka, malibu and tequila. With those pretty perfectly square ice cubes. Smoky Sweet Potato Burgers with Roasted Garlic Cream and Avocado. Simple Summer Salads & Side Dishes - iVillage. Thug Kitchen - StumbleUpon. Monte Cristo Benedict - Mother Day Brunch Special! How to Make a Rose Apple Tart. I love pie.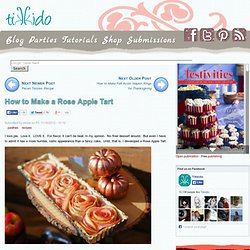 Love it. LOVE it. For flavor, it can't be beat, in my opinion. Cardamom cake with whole pears and white chocolate recipe. Poach the pears: In a large saucepan, combine the pears, wine, sugar, cloves, star anise, cardamom, and cinnamon and poach for 30 minutes over low heatTake the pears out of the liquid and set aside to cool.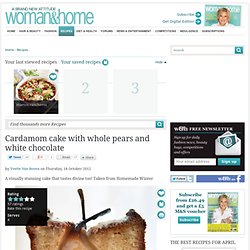 Add 2 ½ cups (500 ml) water to the poaching liquid and boil to reduce the liquid by half. Let coolMake the cake: Preheat the oven to 350°F (170°C)Using a hand mixer, beat the butter and sugar in a large bowl until creamy. Beat in the eggs one at the time. Don't add a new egg until the previous one is incorporatedSift the flour, cardamom, and salt over the batter and fold it inGrease a 9-by-5-inch (1.5 l) loaf pan and line it with parchment paper. Dulce de Leche Cake Recipe. Dulce de Leche Cake Ingredients 2-layer-size white cake mix recipe Dulce de Leche Cream recipe Whipped Cream Frosting.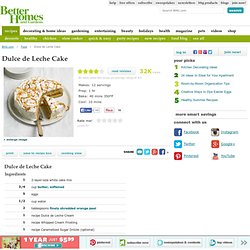 Dark Chocolate Flan Recipe. Stir Fry Crabs with Ginger and Scallions. Garlic Shrimp Recipe - Quick & Easy Garlic Shrimp. How To Make Coconut Shrimp. Dinner Tonight: Garlic Shrimp with Basil, Tomatoes, and Pepper Flakes | Serious Eats : Recipes - StumbleUpon. [Photo: Blake Royer] I'm not sure I'll ever quite tire of the magical combination of garlic and chile—when a recipe begins with a little olive oil and garlic and a pinch of crushed red pepper flakes, I know we're off to a good start.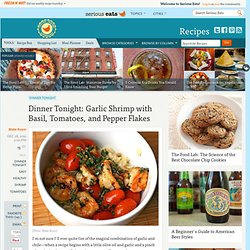 I'm even more inclined when the involved recipe requires about 10 minutes of cooking and hardly any chopping to boot. I pulled this one from So Easy by Ellie Kreiger, which is full of health-conscious recipes that pack a lot of flavor. Healthy it might have been, but more importantly, delicious. Grilled Prawns & Anchovy Butter – Culinary Musings | CULINARY MUSINGS. We've been on a "No Reservations" kick lately and in this household, anything Anthony Bourdain says, goes.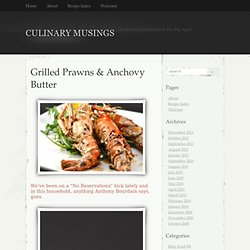 For a couple who doesn't even own a television, we seem to be watching an awful lot of the Emmy award-winning show. Well, I've got newsflash for all you Netflix members out there, Anthony Bourdain: No Reservations is on instant view for your computer! That's our little secret to keeping up with the globe-trotting, fellow Manhattanite Travel Channel host. Albeit, we're about 5 years trailing behind the band wagon but trust me, we are all caught up now.
Cooking Elite with Chef Evelyn : Spring Salad with Watermelon Relish & Shrimp. Mini Mexican Chili Bites. Last on my menu for Super Bowl Sunday are these bite sized Mexican Chili Cups packed with flavor, adapted from Dashing Dish.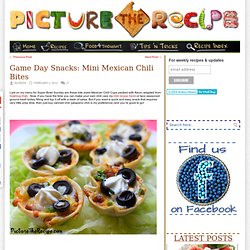 Now, if you have the time you can make your own chili (see my chili recipe here) or taco seasoned ground beef/ turkey filling and top it off with a dash of salsa. But if you want a quick and easy snack that requires very little prep time, then just buy canned chili (jalapeno chili is my preference) and you're good to go! Here the quick step by step on how to make them… Mini Mexican Chili Bites Ingredients: 3-4 Tortilla Shells 2 (15oz) Cans of Chili 1 Cup Shredded Cheese Small can of Black Olives (sliced) 3-4 Scallions/ green onions (finely sliced) 1/2 cup Sour Cream.
Carne Asada Recipe. Method 1 Lay the flank steak in a large non-reactive bowl or baking dish.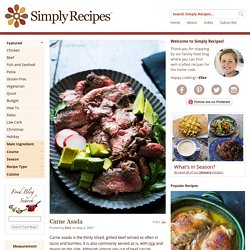 Combine marinade ingredients and pour the marinade over the steak. Sticky Balsamic Ribs - StumbleUpon. OK, Folks.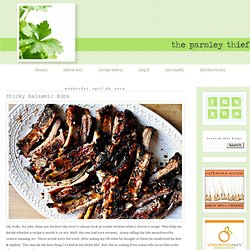 No joke, these are the best ribs ever!! I always look at reader reviews when I choose a recipe. Korean Beef Bulgogi Recipe, Video, and Cooking Tips at Epicurious.com. B eef Bulgogi sounds very foreign and exotic, but actually it's simply marinated beef wrapped in lettuce leaves.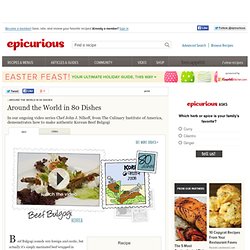 The Culinary Institute of America's Chef John J. Nihoff shows us how to make this authentic Korean recipe—thinly sliced sweet and savory sirloin, served with rice and a variety of condiments. Commonly called Korean barbecue in the U.S., "bulgogi" translates to "fire meat" in English. The term "refers to the way the meat is cooked, first marinated, then grilled over hot coals or an open fire," explains Jenny Kwak in Dok Suni: Recipes from My Mother's Korean Kitchen.
Bulgogi can also easily be cooked in a pan, as Chef Nihoff demonstrates in the videos. Dragon Dumplings - Kung Fu Panda, Chinese New Year, Feast of Fiction Ep. 5. Cajun Chicken Pasta. Note: Since this recipe is featured on the Food Network episode this morning, I'm bringing it to the front for easy reference. This really is one of my favorite recipes here on The Pioneer Woman Cooks, and I regularly hear from people who've made it with great success. Crowd-pleaser! This is an exceedingly yummy, decadent pasta dish with chicken, vegetables, and lots and lots of scrumptious carbs.
Roasted Bone Marrow Recipe - Food.com - 389334. Capozzelli Di Angnelli Italian Lamb's Head) Recipe - Italian.Food.com - 376344. Broiled or Grilled Veal Heart Recipe. Vegetarian Recipes. Tastes like apple pie! Smoothie with applesauce, almond milk, cashews, dates, and vanilla. Easy to make savory rustic tart with Granny Smith apples, walnuts, maple syrup, thyme and gorgonzola cheese Puff pastry mini-turnovers with a filling of apples, walnuts, Gorgonzola cheese, honey, and thyme.
Savory Indian-style coconut rice, with onions, garlic, grated coconut, cardamom, cloves, and cinnamon. Artichoke heart and leek frittata, perfect for spring! Shaved Zucchini Salad with Parmesan and Pine Nuts. Kay's Pumpkin Curry. I was facing a major challenge, a catch 22 almost: I wanted to create a vegetarian pumpkin recipe for Kayotic Kitchen. But here's the catch: my guy hates pumpkin.
No, he doesn't just dislike it, he hates it with a passion. Yogurt Mint Salad Dressing - Recipe for Yogurt Mint Salad Dressing. A bit of garlic and lemon juice—along with plenty of fresh mint—turns yogurt into a delicious, healthful salad dressing in a matter of minutes. You can also use Yogurt Mint Salad Dressing as a dip, or drizzle it on fresh veggies, such as cucumbers. Prep Time: 10 minutes.
RATATOUILLE! Feast of Fiction S2 Ep8. Pasta with Lemon & Garlic Cream. Wine Library TV: Gary Vaynerchuks daily wine video blog. PictureTheRecipe. Kitchen Helpers - StumbleUpon. I found these helpful charts last week and just had to share! Both of these beauties are from Chasing Delicious (aka one of the most fab foodie blogs out there)! Aren't they faaaaabulous?! Buy them here. (Note: There are lots of little charts like this online, but these are my favorites).
Beers Filling Up Through the Bottom! StumbleUpon. The best taco seasoning recipe ever — Celebrities, Current Events, Health & Fitness, Northwest Indiana Mom Blog - StumbleUpon.
---