Cool Shit
- StumbleUpon. The Evolution of the Rifle: From Muskets to the Assault Rifle | Machine Junky. Simple Ideas That are Awesome | DPS SHOW. Disappearing Sea Plant. The INTIMIDATOR Puzzle Pistol- Page 5. Preserving Fruit Flavors in Alcohol: Homemade Liqueurs | Growing A Greener World - StumbleUpon. When we discuss food preservation, we are usually talking about canning, dehydrating, freezing or fermenting.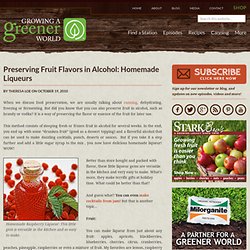 But did you know that you can also preserve fruit in alcohol, such as brandy or vodka? It is a way of preserving the flavor or essence of the fruit for later use. Neonflames - StumbleUpon. Chromoscope - View the Universe in different wavelengths - StumbleUpon. Airsoft Guns SHORTY USA - StumbleUpon. Solitude - 2010/2011 - A work in progress on the Behance Network - StumbleUpon. Your source of daily updated funny pictures and gifs. - StumbleUpon. World's first vertical forest. Broken CDs Transformed Into Iridescent Animal Sculptures | The Creators Project - StumbleUpon. With most of our music now in a digital format, neatly contained on our mobile phones and iPods, many of us have no doubt got lots of old CDs stacked up in garages, waiting to become miniature frisbees or coffee coasters or museum relics from a bygone era.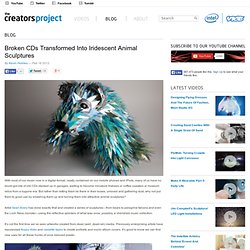 But rather than letting them lie there in their boxes, unloved and gathering dust, why not put them to good use by smashing them up and turning them into attractive animal sculptures? Artist Sean Avery has done exactly that and created a series of sculptures—from bears to peregrine falcons and even the Loch Ness monster—using the reflective splinters of what was once, possibly, a cherished music collection. It's not the first time we've seen artworks created from dead (well, dead-ish) media. Previously enterprising artists have repurposed floppy disks and cassette tapes to create portraits and iconic album covers. LuftWerks Luminous Field Lights Up Anish Kapoors Cloud Gate. If you like your public art with a dash of neon and a sci-fi aesthetic, then you'll like what multimedia designers LuftWerk have done to Anish Kapoor's Cloud Gate sculpture (nicknamed The Bean), which resides in Chicago's Millennium Park.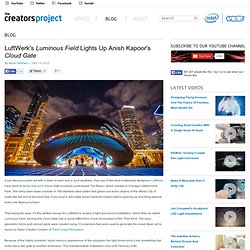 This shiny alien bean consists of 168 stainless steel plates that gleam out at the citizens of the Windy City. It looks like the sort of structure that, if you prod it, will make some hydraulic hisses before opening up and firing plasma bolts onto fleeing humans. That being the case, it's the perfect canvas for LuftWerk to project a light and sound installation, which they've called Luminous Field, turning this Cloud Gate into a visual effect from Close Encounters of the Third Kind. The neon geometric forms and colored grids were created using 10 projectors that were used to generate the visual feast, set to music by Owen Clayton Condon of Third Coast Percussion. Company Makes Custom Stuffed Toys Out of Childrens Drawings | Geekosystem - StumbleUpon. Child's Own Studio does something pretty neat: If you supply the studio with a drawing a child made, the studio will produce a stuffed toy using the child's drawing as the blueprint.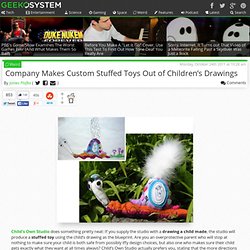 Are you an overprotective parent who will stop at nothing to make sure your child is both safe from possibly iffy design choices, but also one who makes sure their child gets exactly what they want at all times always? Child's Own Studio actually prefers you, stating that the more directions provided, the better. On the site's official FAQ, it is noted that there isn't a set price, and the studio will provide a quote once the child's drawing is received, though standard U.S. and Canadian shipping will cost $15.
The toy ends up being around 12 to 14 inches long on average, and the toy takes about 2 to 4 weeks to make once the payment is received, though rush orders are possible, there will be an extra fee for that. See Through Clothes Clothing IR X-Ray Vision Experiments IR Pass Filters, Infrared Lens for Sony NightShot 0lux X-ray Video Cameras Vision Cam Xray Digital Camcorders Film Voyuerism CCD 0 lux Panasonic NightView KAYA PF Hoya RM RM90 RM100 Shott RG RG - St. Suspending Water Without a Cup Trick - CollegeHumor Video - StumbleUpon. 15 Amazing Castles from Around the Globe - StumbleUpon.
Although designed and built for the prominent purpose of defense, today the castles seem like somewhat unrealistic constructions straight from the fairytale world.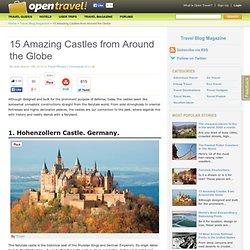 From solid strongholds to oriental fortresses and highly decorative palaces, the castles are our connection to the past, where legends mix with history and reality blends with a fairyland. This fairytale castle is the historical seat of the Prussian Kings and German Emperors. Its origin dates back to the Middle Ages - it was built in the 11th century, then completely destroyed in 1423 and reconstructed in 1461. Brilliant Balloon Animation - StumbleUpon. Riusuke Fukahori Paints Three-Dimensional Goldfish Embedded in Layers of Resin | Colossal - StumbleUpon. First: watch the video.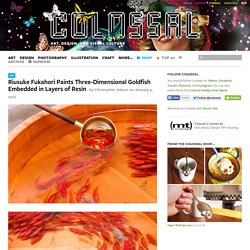 Japanese artist Riusuke Fukahori paints three-dimensional goldfish using a complex process of poured resin. The fish are painted meticulously, layer by layer, the sandwiched slices revealing slightly more about each creature, similar to the function of a 3D printer. I really enjoy the rich depth of the pieces and the optical illusion aspect, it's such an odd process that results in something that's both a painting and sculptural. Wonderful. SUPAKITCH &KORALIE Art - StumbleUpon. Transforming a Nintendo 64 into a Handheld Console - StumbleUpon. Free Adobe Flash and Java Games! Online Video Games! Internet Arcade!
Bruce Lee lights matches. [VIDEO] - StumbleUpon. Lofted Forest Home: Organic Curves & Natural Materials | Designs &Ideas on Dornob - StumbleUpon. Good things come to those who wait – particularly in a work of uniquely detailed and highly curved architecture.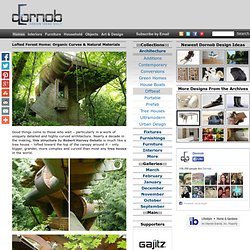 Nearly a decade in the making, this structure by Robert Harvey Oshatz is much like a tree house – lofted toward the top of the canopy around it – only bigger, grander, more complex and curved than most any tree house in the world. The perimeter of the structure is pushed out into the forest around it, curving in and out to create views as well as a sense of intimacy with the coniferous and deciduous tree cover. The wood and metal detailing is incredible in its variety and customization – each piece designed to fit a particular form and function. - StumbleUpon. 11 cheap gifts guaranteed to impress science geeks | DVICE - StumbleUpon.
Science comes up with a lot of awesome stuff, and you don't need a Ph.D, a secret lab, or government funding to get your hands on some of the coolest discoveries.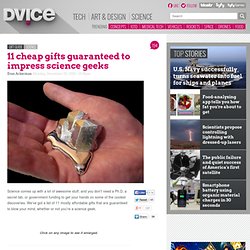 We've got a list of 11 mostly affordable gifts that are guaranteed to blow your mind, whether or not you're a science geek. Click on any image to see it enlarged. Still life: Bent objects & OWNI.eu, News, Augmented - StumbleUpon. UPDATE: The Return of Bent Objects Wires transform these objects from inanimate to hilarious works of art.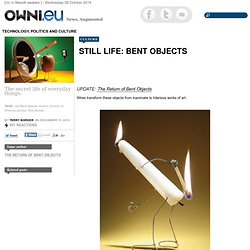 Little polish girl McDonalds as Sculpture Materials Yeah, this is where those come from Dancing Queens.
---