People
Sir Francis Bacon, 1st Viscount St. Alban,[a] Kt., QC (22 January 1561 – 9 April 1626) was an English philosopher, statesman, scientist, jurist, orator, essayist, and author. He served both as Attorney General and Lord Chancellor of England.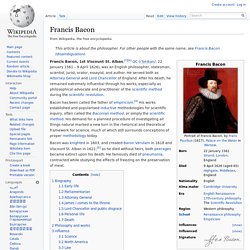 Francis Bacon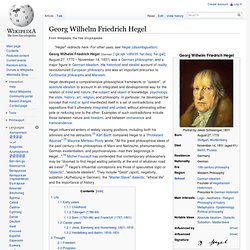 The birthplace of Hegel in Stuttgart, which now houses The Hegel Museum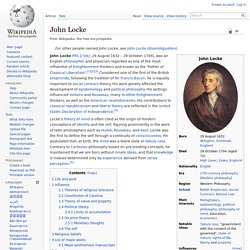 John Locke FRS (/ˈlɒk/; 29 August 1632 – 28 October 1704), widely known as the Father of Classical Liberalism,[2][3][4] was an English philosopher and physician regarded as one of the most influential of Enlightenment thinkers. Considered one of the first of the British empiricists, following the tradition of Francis Bacon, he is equally important to social contract theory.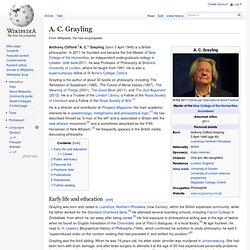 Anthony Clifford "A. C." Grayling (born 3 April 1949) is an English philosopher.
A. C. Grayling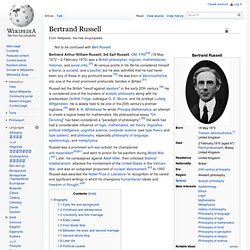 Bertrand Arthur William Russell, 3rd Earl Russell, OM, FRS[45] (18 May 1872 – 2 February 1970) was a British nobleman, philosopher, logician, mathematician, historian, and social critic.[46] At various points in his life he considered himself a liberal, a socialist, and a pacifist, but he also admitted that he had never been any of these in any profound sense.[47] He was born in Monmouthshire, into one of the most prominent aristocratic families in Britain.[48] Russell led the British "revolt against idealism" in the early 20th century.[49] He is considered one of the founders of analytic philosophy along with his predecessor Gottlob Frege and his protégé Ludwig Wittgenstein. He is widely held to be one of the 20th century's premier logicians.[46] He co-authored, with A.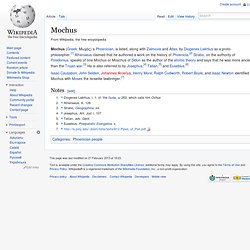 Mochus
Isaac Causabon, John Selden, Johannes Arcerius, Henry More, Ralph Cudworth, Robert Boyle, and Isaac Newton identified Mochus with Moses the Israelite lawbringer.[7]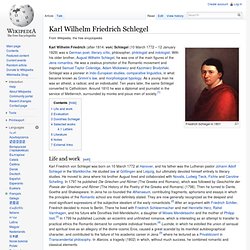 Friedrich Schlegel in 1801 Karl Wilhelm Friedrich (after 1814: von) Schlegel (10 March 1772 – 12 January 1829) was a German poet, literary critic, philosopher, philologist and indologist.
Karl Wilhelm Friedrich Schlegel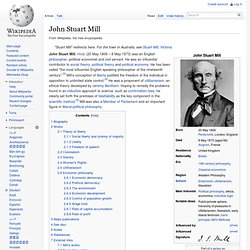 John Stuart Mill, FRSE (20 May 1806 – 8 May 1873) was an English philosopher, political economist and civil servant.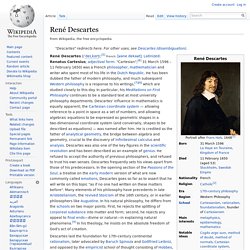 Descartes frequently sets his views apart from those of his predecessors. In the opening section of the Passions of the Soul, a treatise on the early modern version of what are now commonly called emotions, Descartes goes so far as to assert that he will write on this topic "as if no one had written on these matters before".
Thomas Hobbes
Hobbes was a champion of absolutism for the sovereign, but he also developed some of the fundamentals of European liberal thought: the right of the individual; the natural equality of all men; the artificial character of the political order (which led to the later distinction between civil society and the state); the view that all legitimate political power must be "representative" and based on the consent of the people; and a liberal interpretation of law which leaves people free to do whatever the law does not explicitly forbid.[3] He was one of the founders of modern political philosophy and political science.[4][5] His understanding of humans as being matter and motion, obeying the same physical laws as other matter and motion, remains influential; and his account of human nature as self-interested cooperation, and of political communities as being based upon a "social contract" remains one of the major topics of political philosophy.
Friedrich Wilhelm Nietzsche (/ˈniːtʃə/[42] or /ˈnitʃi/;[43] German: [ˈfʁiːdʁɪç ˈvɪlhɛlm ˈniːt͡sʃə]; 15 October 1844 – 25 August 1900) was a German philologist, philosopher, cultural critic, poet and composer. He wrote several critical texts on religion, morality, contemporary culture, philosophy and science, displaying a fondness for metaphor, irony and aphorism. Nietzsche's key ideas include the Apollonian/Dionysian dichotomy, perspectivism, the Will to Power, the "death of God", the Übermensch and eternal recurrence.
Karl Heinrich Marx (German pronunciation: [kaːɐ̯l ˈhaɪnʀɪç ˈmaːɐ̯ks], 5 May 1818 – 14 March 1883) was a German philosopher, economist, sociologist, historian, journalist, and revolutionary socialist.
Ludwig Josef Johann Wittgenstein (26 April 1889 – 29 April 1951) was an Austrian-British philosopher who worked primarily in logic, the philosophy of mathematics, the philosophy of mind, and the philosophy of language.[4] From 1939–1947, Wittgenstein taught at the University of Cambridge.[5] During his lifetime he published just one slim book, the 75-page Tractatus Logico-Philosophicus (1921), one article, one book review and a children's dictionary.[6] His voluminous manuscripts were edited and published posthumously.
Immanuel Kant (German: [ɪˈmaːnu̯eːl kant]; 22 April 1724 – 12 February 1804) was a German philosopher who is widely considered to be a central figure of modern philosophy.
Martin Heidegger (German: [ˈmaɐ̯tiːn ˈhaɪdɛɡɐ]; September 26, 1889 – May 26, 1976) was a German philosopher known for his existential and phenomenological explorations of the "question of Being".[6] Heidegger is known for offering a phenomenological critique of Kant.