Comics
Very Mint, Daily Comics, All Week Long. APOKALIPS - The greatest web comic of all time. 275 • Extra Ordinary. Ever After. Crespito - Doodlest. The Webcomic To End all Webcomics. CRÓNICAS PSN – Tira cómica diaria friki - Webcómic diario de humor protagonizado por treintañeros frikis adictos a los juegos de rol, los videojuegos, los cómics y la subcultura. Siento y Miento | No son chistes.
El castorcito valiente. Inverse Traditionality. Al Grito! Gorda Comics - Gorda Comics. Starcrossed - Where dating is out of this world. Nerd Rage - A comic about nerds raging over nerdy things - updated weekly. The GaMERCaT - Gamers Gonna Game. Freakleap.co.uk - comics by joe list. I know it's been a while since I posted up a load of comics, and for that I'm truly sorry.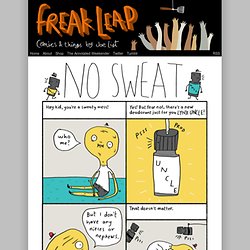 But I have been drawing comics, a bit. Since my last update I've been involved in three glorious publications, pictured above: To Be or Not To Be – Ryan North. The Annotated Weekender. Life Ain't No Pony Farm. Turbo Defiant - Free Online Graphic Novel. Josh Comic. SUPER EFFECTIVE. Comiques. Summer Song I actually first sketched out this comic last summer but didn't end up drawing it until now.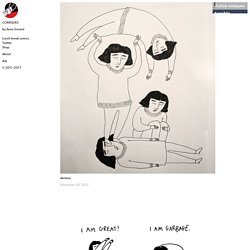 (& maybe I'm posting it prematurely but idc!!) 3 weeks agoMarch 20, 2014. Becky and Frank. Toonhole. JHall Bloop Bloop Relationship Comic - Don't You Wish Your Boyfriend Was As Hot As Me. Kawaii Not - the webcomic for cute gone bad. Minimumble - Jokes with pictures. Maximumble - comics for your brain machine. Noodle doodle. BABYCAT. F Minus Comic Strip on GoComics. The LeftyBosco Picture Show Comic Strip on GoComics. Peanuts Comic Strip on GoComics. Blue Milk Special - Star Wars cartoon parody.
Three Word Phrase, by Ryan Pequin. Two Guys and Guy - Updates on Mondays, Wednesdays and Fridays. Strange Brew Comic Strip on GoComics. Calvin and Hobbes Comic Strip on GoComics. GoComics. Last Place Comics - A Web Comic Infused with Snark, Sarcasm, and Unicorns! Married To The Sea - 2,000+ comics by Drew & Natalie Dee - Updates daily at midnight.
Toothpaste For Dinner - 2,600+ comics by Drew - Updates daily at midnight. Acero Tiburon - car. Updated Mondays. Gunshow - WWWR-R. KID A. Buttercup Festival by David Troupes. Adventuresome – comics on the internet – updated twice weakly - Completely Serious Comics - Saw: Xmas. KinokoFry: A Collection of Comics | Comics by Rebecca Clements, for the world! Sandra and Woo | Webcomic Online Comic Strip |
Piximix.com / Welcome to PIXIMIX! Comics about a cat who is also a doctor. Tall Penguin. Pancake pancake pancake. Roy's Boys - www.roysboyscomic.com. One Small Step - A webcomic by Joe Kandra. Karate Bears. Brawl in the Family. Walkbot.net | Comics and other stuff. Lead Paint Comics -
This is Indexed. The Abominable Charles Christopher - A Webcomic by Karl Kerschl. Buttersafe – Updated Tuesdays and Thursdays. Werebears and Only Children. JHall Pokemon - Arena Trap. Loading Artist - A webcomic by Gregor Czaykowski. Saturday Morning Breakfast Cereal. Comics and Animation! The Perry Bible Fellowship. Things Could Be Worse. Savage Chickens - Cartoons on Sticky Notes by Doug Savage.
Nedroid Picture Diary. Random nonsense 5 days a week. Submanga.com — manga online. BUNI - Buni is a dark comedy webcomic cartoon bunny. 310. A softer world: 685. Drive™: The SciFi Comic, by Dave Kellett. Timothy Winchester | A webcomic with dinosaurs and crying and things…
Comics, Quizzes, and Stories. INCIDENTAL COMICS. Rare Candy Treatment. Off Guard (Part2) With real cardboard! Antics. Professorial Density Function. UK Lectures!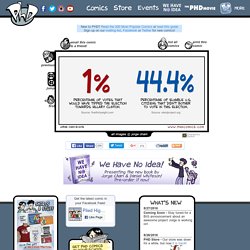 - The UK Lectures at St. Andrews, Warwick, Cambridge and Queen Mary were a success! Thanks to everyone who came out, it was great to meet you! More info here! New shirt! Twaggies — Because who doesn't like a visual? Endless Origami - Core. Bunsen. Romantically Apocalyptic - 45. Nómadas del Yermo / Webcómic Manga Post Apocalíptico | un webcomic post apocalíptico lleno de gallinas y de mierda. Natalie Dee: "America's Favorite Cracker". Explosm.net - Home of Cyanide & Happiness.
---