Married with ADD/ADHD
Get flash to fully experience Pearltrees
Adult ADD Relationships and How to Make Them Work In today's world, finding someone to love can be hectic. Work, school, children and dozens of other responsibilities and priorities leave little time for romantic relationships. Still, millions have found that one person to share their life with and among those million are those with Adult Attention Deficit Disorder or Attention Deficit Hyperactivity Disorder.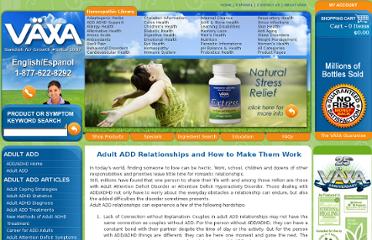 Relationships and Adult ADD All relationships present challenges at some point in time. ADD / ADHD can certainly have a unique impact within relationships. Kate Kelly, founder of ADDed Dimensions Coaching and author of You Mean I'm Not Lazy, Stupid or Crazy?! and The ADDed Dimension , notes that ADHD impacts every area of life, including intimate relationships.
Based upon the DSM-IV criteria and other screening measures for ADD/ADHD Reviewed by John M. Grohol, Psy.D. Use this quiz to help determine if you need to see a mental health professional for diagnosis and treatment of ADD or ADHD as an adult. Instructions: Simply answer the questions on how you have behaved and felt during the past 6 months . Take your time and answer truthfully for the most accurate results. Copyright 1997 - 2013 Psych Central.com.
"Music helps me concentrate," Mike said to me glancing briefly over his shoulder. Mike was in his room writing a paper for his U.S.
Not everyone fits inside the box we call the classroom and classroom structures--students and teachers included. Learn to allow students to hang out of the box a little...and allow yourself to do the same, when appropriate. As a teacher, I am called to advocate, not judge; I am called to encourage, not predict; I am called to learn my subject--my students . Students with ADHD cannot always change their behavior--I, as a teacher, can change mine.