Illustrations
Camille André. Character design | Lizzy wanders. In my previous post about the creation of Nott I showed some concept art of Nott's potential sidekick.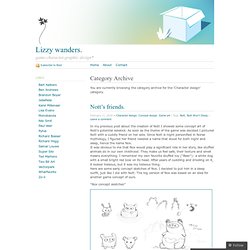 As soon as the theme of the game was decided I pictured Nott with a cuddly friend on her side. Since Nott is night personified in Norse mythology, I figured her friend needed a name that stood for both night and sleep, hence the name Nox. It was obvious to me that Nox would play a significant role in her story, like stuffed animals do in our own childhood. They make us feel safe, their texture and smell means everything. Coralie Vallageas. Lemon Pie. Concept Art World. Maëlle c. Los demonios de tony. Élian Black'Mor :: Road Book. Animalz. Blueberries/raspberries. The Shipwrecker - Time Lapse. Cameron Davis. Illustrations | Stephanie Hans. "Tako-DNA Club" Coliandre, le site de Xavier Collette.
Ultra-book de pauldrouin : Ultra-book. Nguyen Thanh Nhan on Behance. I do Illustration & Graphic Design.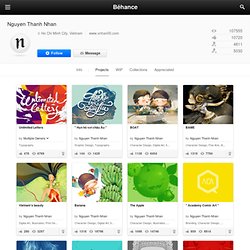 Born in 1990. I'm currently a student of Fine Art. ANNA ZILIZ ILLUSTRATIONS, graphisme et créations. Ludovic Jacqz. Graphic Please! Leamlu's Stuff. Lena s. Coups de cœur. Pattes de velours. -Coliandre. Gloubi boulga oui… alors pourquoi ce titre nous évoquant ce bon vieux Casimir ?
Parce que cet article va être un bon mélange de choses, comme ce bon vieux plat de l'île aux enfants. Donc un gros mélange, disais-je… mais un mélange de quoi? Stephane Fert Ilun. Illustration Pascal Phan : Ultra-book. Vdm. Site officiel de Paul Drouin - Dessinateur. Anne Cresci. Samuel Ribeyron : Ultra-book. The Little White Bat. Daniela Volpari. Pxlghost. Loish.net. Le Blog du Gunt. Dans le carton de nenent. Untitled. Mar After a pause to work on a commercial, the illustration for the Save & Destroy show still continue !
Hurry hurry, I need to finish it soon !! Après une petite pose pour travailler sur une pub je me remet sur l'illustration pour l'exposition le mois prochain à Zurich ! A Vintage Sky. Un monde vu d'en haut. HIME+YOU ヒメ+ユウ. Candybird. TROZOS. Grumpy star studio: words and art to warm the cockles of your heart by mel macklin.
Chiara zava. Oréli Dee Illustration | Graphiste Illustratrice Webdesigner Le Mans. Ntamak island. BEATRICE•PENCO•SECHI ..::blog::.. Sketch epidemic. -GFT- B.Kristell. Post-Apocalyptic Cover Illustration | Timelapse. Untitled. ::Stickerzlab:: Je ne suis pas très assidue en ce moment sur mon blog, et je m'en excuse!!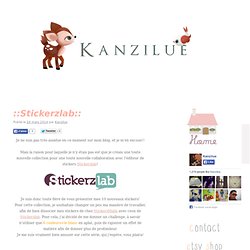 Mais la raison pour laquelle je n'y étais pas est que je créais une toute nouvelle collection pour une toute nouvelle collaboration avec l'éditeur de stickers Stickerzlab! Je suis donc toute fière de vous présenter mes 10 nouveaux stickers! Pour cette collection, je souhaitais changer un peu ma manière de travailler, afin de bien dissocier mes stickers de chez StickersMalin avec ceux de Stickerzlab. V E N U S D E A. Art. - m i s s t i g r i - Mais je reve... le blog de Kmye Chan. Clotilde Goubely. Vidéos de Ang Hell'one. "Ana" Autoretrato.
Barbara Canepa. Sky.Doll Le Site » Les Affiches. Une affiche par Crognotte Production et la librairie Crognotte Rieuse à Avignon Année : 2007 Format : 50 cm x 70 cm Tirage : 1000 exemplaires numérotés et signés Prix : 12 €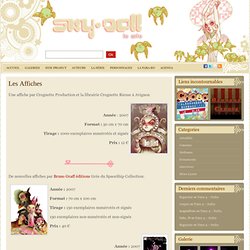 ÉCO... Jérémie Almanza et moi-même avons l'immmmmmense plaisir et l'honneur de vous présenter le tout nouveau livre de la collection "Métamorphose" intitulé : "ÉCO"... © Métamorphoses/Almanza/Bianco J'ai rencontré Jérémie à Angoulême il y a quelques années , par l'intermédiaire de Barbara Canepa.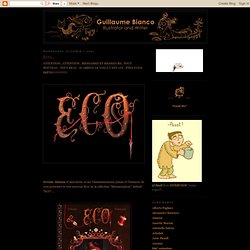 Lors d'un déjeuné , je me suis retrouvé assis à côté de lui, il m'a montré timidement quelques "trucs" comme il disait...Il s'agissait de sublimes dessins!!!! J'ai littéralement été "aspiré" par son univers...Désireux de me procurer un quelconque ouvrage de ce talentueux dessinateur , Je lui dis : Le blog de Benjamin Lacombe. Alberto Varanda-Univers graphiques. "Que je sois un passionné de Bande Dessinée, ce n'est plus à démontrer.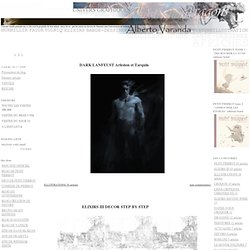 Mais arriver à faire partager cet engouement à la population d'un quartier, c'est une autre affaire. Et pourtant, au Centre Social du Vermandois, toute une équipe s'est mobilisée autour de ce projet. PETIT PIERROT. Blogging. Cuối cùng đã vẽ một con rắn dễ thương như ý định ban đầu.
Năm nay là năm tuổi của em gái, sẽ tốt nghiệp, xin việc, đi làm, người phụ nữ đảm đang hy vọng không gặp khó khăn gì. Nửa năm trời đã sung sướng làm thành phần không đáng noi theo của tuổi trẻ: ngại người, ngại ánh mắt dò xét, ở nhà kiếm tiền vừa đủ ăn cơm. Clovered » Untitled. Quelques recherches pour un projet personnel que je ressors des placards !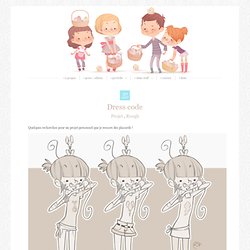 Je pars dans quelques jours en Sardaigne, voici un petit brouillon des vacances qui nous attendent ! Je vois tout trouble après 1/2 heure de lecture, je suis vieille ! Un vieux sketch retrouvé ce midi ! Vu ce matin dans un parc tout près de chez moi sur la route de l'atelier, un adorable garçon et son meilleur pote. C'était mignon de les voir jouer ensemble avant d'aller travailler ! Travaux – Paka Blog BD | Humour Noir | Ineptie Humoristique | Line Paquet - Illustratrice - News. ADOLIE DAY ILLUSTRATIONS. Du coloriage ! Lackadaisy Construction. Some notes about construction drawing that may or may not be helpful. This is in response to some questions from my tumblr blog. There are notes about Expressions here, and an old sort of drawing tutorial here that cover some of the same material. I'd also recommend to anyone trying to learn how to draw this way (or any way) to check out Andrew Loomis books.
They're old, but are still superior to most of the how-to-draw stuff you can find out there. Rad's Blog. Anne cresci Illustration * freelance illustratrice Lyon. Blogs détente. Boudoir Fantastique » DULBIE. MissTinguette. Mok's Blog. KowaKowa. Blog de Hugues Charlier.
---