Photography
Photography Tutorial: A Quick Guide to Understanding Your DSLR Camera. Hi guys!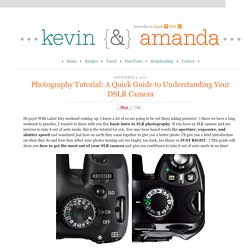 With Labor Day weekend coming up, I know a lot of us are going to be out there taking pictures! :) Since we have a long weekend to practice, I wanted to share with you this basic intro to SLR photography. If you have an SLR camera and are nervous to take it out of auto mode, this is the tutorial for you. You may have heard words like aperture, exposure, and shutter speed and wondered just how on earth they come together to give you a better photo. I'll give you a brief introduction on what they do and how they affect your photos turning out too bright, too dark, too blurry or JUST RIGHT. :) This guide will show you how to get the most out of your SLR camera and give you confidence to take it out of auto mode in no time! The D-Photo | Photography inspiration & articles | Camera gear | post processing. Conceptual photography inspiration from Brian Oldham.
Mysterious Italy by Giuseppe Desideri. Have you ever thought of creating your own responsive website?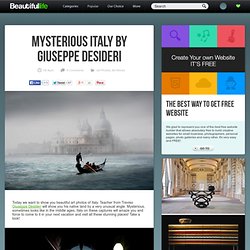 It could be your own personal webpage or your blog or even a site for your business? How about to create a website by yourself using one of today's most advanced website builder? Feel free to use the best website builder with wide opportunities allowing to create beautiful websites of different topics in minutes. Great variety of creative website templates, advanced drag-and-drop editor, mobile/tablet optimized versions, SEO features and all this is free. These 50 Photos Will Blow you Away. Great news today: we will start a series of showcases that are meant to make the jaws drop!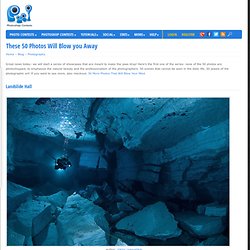 Here's the first one of the series: none of the 50 photos are photoshopped, to emphasize the natural beauty and the professionalism of the photographers. 50 scenes that cannot be seen in the daily life, 50 jewels of the photographic art! If you want to see more, also checkout: 50 More Photos That Will Blow Your Mind Landslide Hall Clouds on Fire. 48208_0_1208x1005.jpg (1208×1005) Portfolio - Underwater Photography.
Unrealistic nature photography. Icevolcano_fulle_big.jpg (1500×1000) Along_the_tracks_1_b.jpg (800×533) 25 Incredibly Detailed Black And White Portraits of the Homeless by Lee Jeffries. Lee Jeffries career began as a sports photographer, capturing the beautiful game of football in Manchester.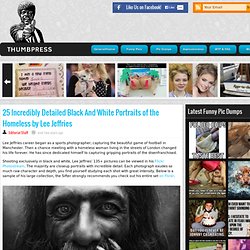 Then a chance meeting with a homeless woman living in the streets of London changed his life forever. He has since dedicated himself to capturing gripping portraits of the disenfranchised. Shooting exclusively in black and white, Lee Jeffries' 135+ pictures can be viewed in his Flickr Photostream. The majority are closeup portraits with incredible detail.
Each photograph exudes so much raw character and depth, you find yourself studying each shot with great intensity. A Trick Of The Light Highlighted In Starry Night. While an onlooker from outer space might be a bit confused to see planet Earth exploding with energy, we're just smitten about it.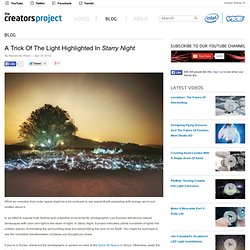 In an effort to expose both familiar and unfamiliar environments, photographer Lee Eunyeol transforms natural landscapes with color and light in the dead of night. In Starry Night, Eunyeol intricately plants hundreds of lights into unlikely places, illuminating the surrounding area and personifying the core of our Earth. You might be surprised to see the incredible transformation of places you thought you knew.
If you're in Korea, check out the photographs in person on view at the Gana Art Space in Seoul. Photography+by+Gregory+Crewdson+00.jpg (721×469) Out_of_the_darkness_h.jpg (1030×687) Animals Illuminated by the Sun. 265202e154f050ca102f5e0898574b85-d4gdepf.jpg (1200×570) Paint_war_berlin.jpeg (1600×1066) SVetter_1280.jpg (1280×686)
Underwater-photography.jpg (1000×1504) Double Exposures - Andre De Freitas. Marcelbednarzcherryblossomavenue.jpg (599×640) Baby chameleons photo. Random photo Submit your photo Stumble Thru animal photography.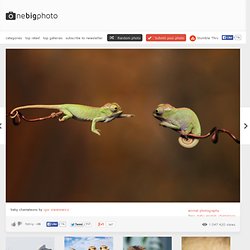 Zenfolio - Professional photo and video hosting for photographers and enthusiasts. International_fireworks_3_b.jpg (800×533) 5212_e382f85f391c77dcc87094e04f779596_2.jpg (541×650) 99 Excellent Examples of Forced Perspective Photography | Photography. Forced perspective is a technique that employs optical illusion to make an object appear farther away, closer, larger or smaller than it actually is.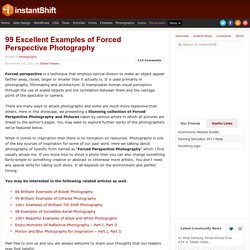 It is used primarily in photography, filmmaking and architecture. It manipulates human visual perception through the use of scaled objects and the correlation between them and the vantage point of the spectator or camera. There are many ways to attack photography and some are much more expensive than others. Silent World by Michael Kenna. The rare beauty found within Google street view | Fordoing. Echoes of War. Sergei Larenkov His photographs of the siege of Leningrad and St.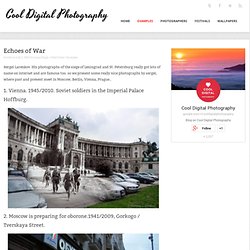 Petersburg really got lots of name on internet and are famous too. so we present some really nice photographs by sergei, where past and present meet in Moscow, Berlin, Vienna, Prague.. 1. Vienna. 1945/2010. National Geographic Photo Contest 2011. National Geographic is currently holding its annual photo contest, with the deadline for submissions coming up on November 30.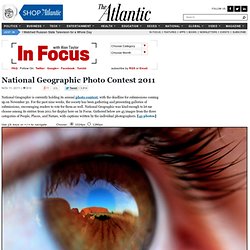 For the past nine weeks, the society has been gathering and presenting galleries of submissions, encouraging readers to vote for them as well. National Geographic was kind enough to let me choose among its entries from 2011 for display here on In Focus. Gathered below are 45 images from the three categories of People, Places, and Nature, with captions written by the individual photographers. [45 photos]
Incredible Wildlife Photography | Peachy Green. 8 Effects Every Photographer Should Know About. Most popular photography on StumbleUpon! Snake_River_Grand_Teton-National_Park_Wyoming_021.jpg (JPEG Image, 1600x1200 pixels) - Scaled (53.
---