Infographics & mindmap
Gallery | Create Infographics | Visual.ly. Confluence | An Interactive Visualization for Hollywood Movies. Map of Metal. Cartes publiques - MindMeister. Western Philosophy. Esempi Di Mappe | Le mappe del pensiero: dalle mappe mentali alle mappe concettuali per il project management, il knowledge management, il problem solving, il decision making, il decision taking, l'apprendimento organizzativo, l'apprendimento rapido, il w. Prima guerra mondiale.html. World History : HyperHistory. Infographics & Data Visualizations. Comment on Infographie gouvernance de l'information : Une vue systémique pour comprendre le pilotage de l'information by Jean-Pascal Perrein. A visual exploration on mapping complex networks. 12 Visualizations That Will Change the Way You View Scale in Your World. Scale is a simple concept.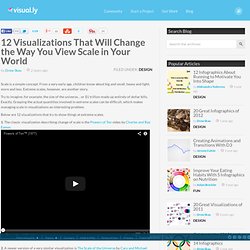 From a very early age, children know about big and small, heavy and light, more and less. Extreme scales, however, are another story. Try to imagine, for example, the size of the universe… or $1 trillion made up entirely of dollar bills. ChronoZoom. Top Tech Trends of 2011 (infographic) Stay Connected with Us!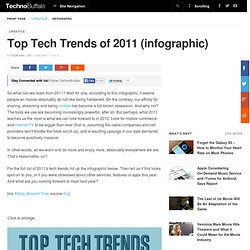 Follow TechnoBuffalo So what can we learn from 2011? Well for one, according to this infographic, it seems people en masse absolutely do not like being hardwired. 50 Great Examples of Data Visualization. Wrapping your brain around data online can be challenging, especially when dealing with huge volumes of information.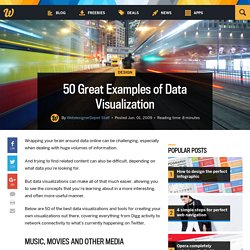 And trying to find related content can also be difficult, depending on what data you're looking for. But data visualizations can make all of that much easier, allowing you to see the concepts that you're learning about in a more interesting, and often more useful manner. Below are 50 of the best data visualizations and tools for creating your own visualizations out there, covering everything from Digg activity to network connectivity to what's currently happening on Twitter. Music, Movies and Other Media. 40 Useful and Creative Infographics. Information graphics (or infographics) are graphical depictions of data and information.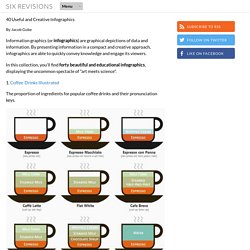 By presenting information in a compact and creative approach, infographics are able to quickly convey knowledge and engage its viewers. In this collection, you'll find forty beautiful and educational infographics, displaying the uncommon spectacle of "art meets science". 1. Coffee Drinks Illustrated The proportion of ingredients for popular coffee drinks and their pronunciation keys. What topics science lovers link to the most. Hilary Mason, chief scientist at bitly, examined links to 600 science pages and the pages that those people visited next : The results revealed which subjects were strongly and weakly associated.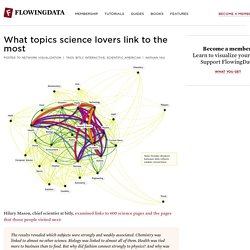 Chemistry was linked to almost no other science. Biology was linked to almost all of them. Health was tied more to business than to food.
---