I love the internet
Atlas Obscura | Wondrous, curious, and bizarre locations around
I had to write a piece for an arts grant application on what my current book is about. Here's what I wrote... I'll be writing and drawing a full-colour book, dynamically illustrated in the comic strip format, that explains the causes and consequences of the 2008 economic crash. It will look at how the market in derivatives, and especially credit swop derivatives, caused the crash in the financial markets. It will explain, clearly, and in some depth, what these derivatives are, how and why they were developed, and how bad debt in the US housing market brought down the system.
Darryl Cunningham Investigates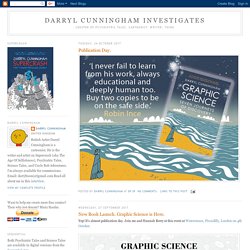 Packing all of your belongings into a U-Haul and then transporting them across several states is nearly as stressful and futile as trying to run away from lava in swim fins. I know this because my boyfriend Duncan and I moved from Montana to Oregon last month. But as harrowing as the move was for us, it was nothing compared to the confusion and insecurity our two dogs had to endure. Our first dog is - to put it delicately - simple-minded.
Dogs Don't Understand Basic Concepts Like Moving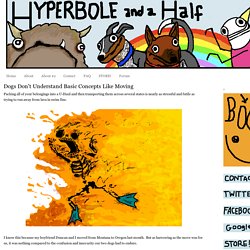 Television Tropes & Idioms
fail blog
Most Upvoted 293 votes TARDIS App? 76 votes Granbull the Fairy 65 votes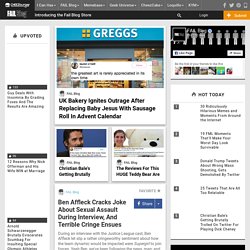 Failbooking – Funny Facebook Status Messages ( Failbook )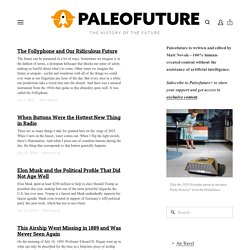 I've never thought of my allergies as a big deal. Sure, my peanut allergy has caused an emergency room visit here and there, and my dad used to pick me up from sleepovers because of my emphysema-like wheezing around cats. No big thing, right? But a few years back it seemed about time I went to see an allergy specialist and get a comprehensive list of the things my body hates. I found myself shirtless, laying on my stomach in the doctor's exam room with twenty pricks in my back (which isn't nearly as scandalous as it sounds). A constant tingle ran through my body, but all I could think about was how comically small the exam room table appeared under my enormous body.
Paleo-Future - Paleo-Future Blog
What happened in my birth year?
LEARN SOMETHING EVERY DAY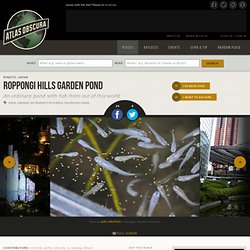 When the Roppongi Hills urban development project opened in 2003, it quickly wowed Tokyoites with its office towers, art museum, deluxe hotels, and prestigious shopping. The most curious part of the development, however, is not its flashy design or luxury buildings, but the small garden that separates the office and cinema complex from a local TV studio. Here, amid sunbathing office-workers and locals eating lunch, sits a quiet pond ringed by reeds and irises. The pond itself dates back to the late eighteenth century, but that's not all: The pond is filled with tiny silvery fish - fish from beyond this world. The pond's medaka - a species of small freshwater fish once common in flooded Japanese rice paddies but highly susceptible to pesticides and fertilizer run-off - are descendants of those bred aboard the 1994 Columbia Space shuttle before its fateful mission.
Roppongi Hills Garden Pond - Tokyo, Japan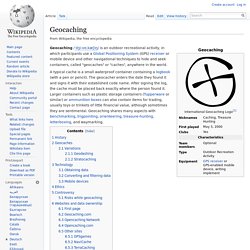 Geocaching
Geocaching /ˈdʒiːəˌkæʃɪŋ/ is an outdoor recreational activity, in which the participants use a Global Positioning System (GPS) receiver or mobile device and other navigational techniques to hide and seek containers, called "geocaches" or "caches", anywhere in the world. A typical cache is a small waterproof container containing a logbook where the geocacher enters the date they found it and signs it with their established code name. After signing the log, the cache must be placed back exactly where the person found it. Larger containers such as plastic storage containers (Tupperware or similar) or ammunition boxes can also contain items for trading, usually toys or trinkets of little financial value, although sometimes they are sentimental. Geocaching shares many aspects with benchmarking, trigpointing, orienteering, treasure-hunting, letterboxing, and waymarking. History[edit]
Cracked.com - America's Only Humor & Video Site Since 1958 | Cra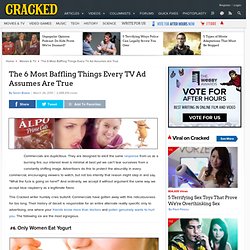 Commercials are duplicitous. They are designed to elicit the same response from us as a burning fire; our interest level is minimal at best yet we can't tear ourselves from a constantly shifting image. Advertisers do this to protect the absurdity in every commercial, encouraging viewers to watch, but not too intently that reason might step in and say, "What the fuck is going on here?"
The 6 Most Baffling Things Every TV Ad Assumes Are True | Cracke
The universe is full of weird substances like liquid metal and whatever preservative keeps Larry King alive. But mankind isn't happy to accept the weirdness of nature when we can create our own abominations of science that, due to the miracle of technology, spit in nature's face and call it retarded. That's why we came up with... What do you get when you suspend nanoparticles of iron compounds in a colloidal solution of water, oil and a surfactant? Did you guess Zima? The real answer is ferrofluids, though you should be proud if you just knew what "surfactant" was.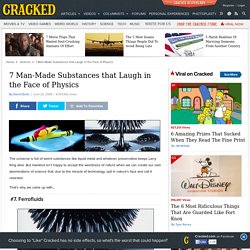 7 Man-Made Substances that Laugh in the Face of Physics | Cracke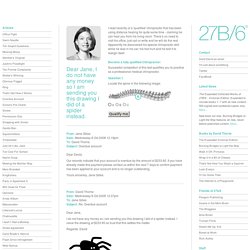 From: Jane GillesDate: Wednesday 8 Oct 2008 12.19pmTo: David ThorneSubject: Overdue account Dear David, Our records indicate that your account is overdue by the amount of $233.95. If you have already made this payment please contact us within the next 7 days to confirm payment has been applied to your account and is no longer outstanding.
7-leg spider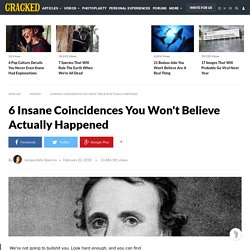 6 Insane Coincidences You Won't Believe Actually Happened | Crac
We're not going to bullshit you. Look hard enough, and you can find "amazing" coincidences anywhere. With a whole universe to work with, sometimes the stars are going to align just right. But, even cynical types like us have to admit that sometimes this stuff can get downright creepy.
R v Dudley and Stephens
R v Dudley and Stephens (1884) 14 QBD 273 DC is a leading English criminal case which established a precedent, throughout the common law world, that necessity is not a defence to a charge of murder. It concerned survival cannibalism following a shipwreck and its purported justification on the basis of a Custom of the Sea.[1] It marked the culmination of a long history of attempts by the law, in the face of public opinion sympathetic to castaways, to outlaw the custom and it became something of a cause célèbre in Victorian Britain. Facts[edit] On 5 July, the yacht was running before a gale, around 1,600 miles (2,600 km) northwest of the Cape of Good Hope. Though the weather was by no means extreme and the vessel was not in any difficulties, Dudley gave the order to heave to so that the crew could enjoy a good night's sleep. As the manoeuvre was completed, and Parker was sent below to prepare tea, a wave struck the yacht and washed away the lee bulwark.
THE MIGNONETTE. - Article Preview - The New York Times
So, the headlines say somebody else has died due to video game addiction. Yes, it's Korea again. What the hell? Look, I'm not saying video games are heroin. I totally get that the victims had other shit going on in their lives.
5 Creepy Ways Video Games Are Trying to Get You Addicted | Crack
Dolphin play bubble rings
Updates » February, 2010 Fuck the Karate Kid Tuesday, February 16th, 2010
John Dies at the End » Fuck the Karate Kid
It's happened. The first complaint about the content of My First Dictionary... the book. Fortunately, bookstore owner and blogger Josie Leavitt – who describes her encounter with an unhappy customer in the article "A Censorship Issue" over at Publishers Weekly – is the level-headed sort, and recognizes that it's simply wrong to let one person decide what books other people can and cannot read. But I can sympathize with her niggling feeling of uncertainty when faced with an upset parent. While part of me feels secretly thrilled to have enraged a likely member of the self-righteous brigade, I don't set out to genuinely distress anyone. Actually, I began MFD with the hope of making you laugh.
My First Dictionary
6 Slacker Behaviors That Science Says Are Good For You
The Most Officialest SkiFree Home Page
I proposed by hacking Chrono Trigger
Omegle
Chat with God Online
Como me fudi no show do Loser Manos
'We're All Gonna Die - 100 meters of existence'
Paris 26 Gigapixels - Interactive virtual tour of the most beaut
Stuff for Smart Masses
[Geeks are Sexy] Technology News - We make technology sexy!
SheldonShirts.com - The Big Bang Theory TV T-Shirts, Shirts Worn
aM laboratory
The Swinger
Your World of Text
Wired News
Boing Boing
Fox-Tossing: Lessons in horrific/ridiculous history - Boing Boin
Stand By Me | Playing For Change | Song Around the World
Vimeo, Video Sharing For You
RecordBrother
StarWars the baroque version on the Behance Network
www.dontclick.it
Instants! Collection
Botaoteca
Tudum pá