Web content
Magnum Photos. News. 13 more things that dont make sense. Cookies on the New Scientist website close Our website uses cookies, which are small text files that are widely used in order to make websites work more effectively.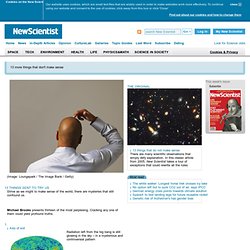 To continue using our website and consent to the use of cookies, click away from this box or click 'Close' Burning Man 2010 on the Behance Network. The Worlds of David Darling. Fukushima Radiation Moving Steadily Across Pacific | Disinformation. Teams of scientists have already found debris and levels of radiation far off the coast of Japan, one year after the nuclear disaster at Fukushima.
Reports are now suggesting that nuclear radiation has traveled at a steady pace. That contaminated debris and marine life could reach the US coast as soon as one year from now, depending on ocean currents.Radiation from Fukushima's nuclear disaster is appearing in concentrated levels in sea creatures and ocean water up to 186 miles off of the coast of Japan.
The levels of radiation are 'hundreds to thousands of times higher than would be expected naturally' according to Woods Hole Oceanographic Institution (WHOI). Researchers are questioning how the radioactive accumulation on the seafloor will effect the marine ecosystem in the future. 55 Magnificent Natural Waterfalls. Color flip .com by rafaël rozendaal, 2008, collection of sébastien de ganay. Ichthyosaur Page Home. Dinosaurnews Webzine. The Bone Room | Curious Expeditions. Wordorigins.org. 9 newly discovered species: Phobaeticus chani stickbug. The Shrike - On the Cutting Edge Exhibition. Bizarre animals that are new to science - Image 9. Old species, new insights It's not only new species that can amaze scientists.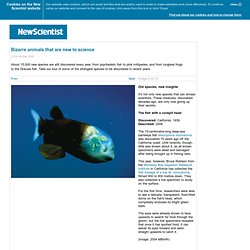 These creatures, discovered decades ago, are only now giving up their secrets. The fish with a cockpit head Discovered: California, 1939 Described: 2009. Logy Magazine. As corals continue to decline in abundance around the world, researchers are turning their attention to a possible cause that's almost totally unexplored – viral disease.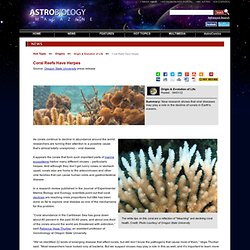 It appears the corals that form such important parts of marine ecosystems harbor many different viruses – particularly herpes. And although they don't get runny noses or stomach upset, corals also are home to the adenoviruses and other viral families that can cause human colds and gastrointestinal disease. In a research review published in the Journal of Experimental Marine Biology and Ecology, scientists point out that coral declines are reaching crisis proportions but little has been done so far to explore viral disease as one of the mechanisms for this problem. StumbleUpon. The Online Literature Library - StumbleUpon. The Experimental Food Society Spectacular. *rugenius in food+drink , 11:58 From our London based editor, Justine Aw… Some fun highlights from this year's Experimental Food Society Spectacular exhibition housed in Brick Lane's Old Truman Brewery!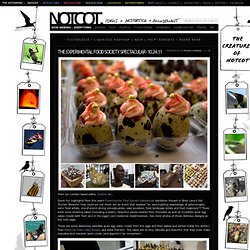 How could we not check out an event that boasted "an awe‐inspiring assemblage of jellymongers, sonic food artists, one‐of‐a‐kind dining conceptualists, cake sculptors, food landscape artists and food magicians"? Monster octopi with scores of extra tentacles ~ Pink Tentacle - StumbleUpon. In nature, it is quite rare to encounter octopi with extra tentacles (or "arms," for the purists), but a pair of aquariums in Japan's Mie prefecture have some extraordinary specimens on hand.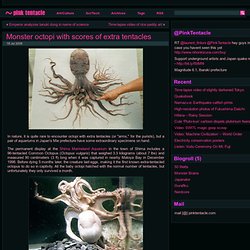 The permanent display at the Shima Marineland Aquarium in the town of Shima includes a 96-tentacled Common Octopus (Octopus vulgaris) that weighed 3.3 kilograms (about 7 lbs) and measured 90 centimeters (3 ft) long when it was captured in nearby Matoya Bay in December 1998. Before dying 5 months later, the creature laid eggs, making it the first known extra-tentacled octopus to do so in captivity. All the baby octopi hatched with the normal number of tentacles, but unfortunately they only survived a month. 96-tentacled octopus laying eggs. The Lost America | Mind Junker - StumbleUpon. The Lost America America, One of the Most Powerful Continent in World as well as, the Most Modernized and Advanced Continent of Today.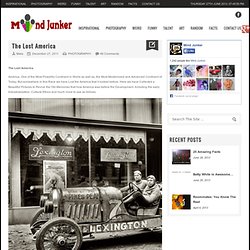 But somewhere in this Race we have Lost the America that it looked before. Here we have Collected a Beautiful Pictures to Revive the Old Memories that how America was before the Development. Including the early Industrialization, Cultural Ethics and much more to see as follows. Robert Hookes Micrographia - StumbleUpon. Great inns open only to those with good hiking shoes. Repost: Cookie-Cutter Cat Not as Cute as the Name Sounds. [This is a repost of an essay I originally published October 27, 2011.]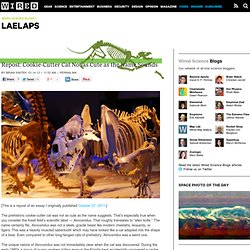 The prehistoric cookie-cutter cat was not as cute as the name suggests. That's especially true when you consider the fossil felid's scientific label — Xenosmilus. Find Dinosaur Pictures - Illustrations of Dinosaurs - Dinosaurios - Dinosaur Art - StumbleUpon. Strange Science: Dinosaurs and Dragons. Despised in the West and revered in the East, dragons have a long history in human mythology.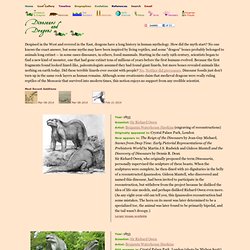 How did the myth start? No one knows the exact answer, but some myths may have been inspired by living reptiles, and some "dragon" bones probably belonged to animals long extinct — in some cases dinosaurs, in others, fossil mammals. SeaPics.com | Ocean Wildlife Nature Pictures | Stock Photo Agency. Largest Star Ever Discovered. Two Suns? Twin Stars Could Be Visible From Earth By 2012 - StumbleUpon. By Dean Praetorius | HuffingtonPost.com Earth could be getting a second sun, at least temporarily.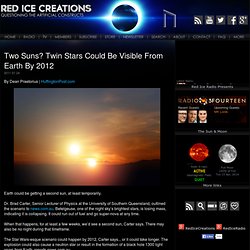 Dr. The Naked Scientists Online, Science Podcast and Science Radio Show - StumbleUpon. Humans Killed off Australian Herbivores | Wildfire & Landscape Changes | Effects of Colonization. Humans landed on the shores of Australia more than 45,000 years ago. The land they encountered was full of huge plant-eating animals, such as the 6,000-pound rhinoceros wombat and giant kangaroo.
Sadly, things would soon change. Soon after humans settled on Australia, some 55 giant animal species vanished from Australia, with various theories, from climate change to human hunting, put forth to explain the extinction. Now, researchers have discovered that the arrival of these humans was likely the driver of intense changes to the region, which led to the annihilation of Australia's giant herbivores and drastic changes to the habitat that turned a patchy, shrub-filled landscape into a fire-prone grassy eucalyptus forest. "People turn up in Australia and it's quite soon after that you start to see this series of events unfolding," study researcher Christopher Johnson, of the University of Tasmania in Australia, told LiveScience. Worlds largest telescope underway, scientists definitely observe big bang -- Engadget. Once again astronomers are observing formative explosions, but this time a little bit closer to home. Three million cubic feet of planet earth is being blasted from the Chilean Andes as work on what will be the world's largest telescope begins.
The location is the Carnegie Institution's Las Campanas Observatory, and the project is a collaboration between South Korean, Australian and American institutions to create the Giant Magellan Telescope. The first mirror segment is just being completed, and is so precise, it matches its optical prescription to within a millionth of an inch. The project will cost $700 million once complete, small change we say for a chance to glimpse light from the edge of the Universe. Comments. Venus, Jupiter & Moon Conjunction | How to Watch Online. Two bright planets in the evening sky, Venus and Jupiter, will put on a nice celestial show on Sunday (March 25), and NASA is inviting people to talk about it online as it happens. This weekend, Venus and Jupiter will shine together in the western sky, and the slim crescent moon will also play a part in the celestial show. The agency is hosting a webchat Sunday from 8 to 10 p.m. EDT (0100 to 0300 GMT March 26), during which participants can discuss how Venus and Jupiter are aligned in the sky.
Melissa McGrath, chief scientist in the Science & Technology Office at NASA's Marshall Space Flight Center in Huntsvilla, Ala., will also be on hand to answer questions about the skywatching event, which astronomers call a conjunction. What are gravitational waves Video - 5min.com - StumbleUpon. 31 National Geographic Photos. Get the FlatPix UI Kit for only $7 - Learn More or Buy Now National Geographic has been on the forefront of photography for over100 years. Their timeless images taken all over the world will live on as some of the best nature and human photography of all time. The examples listed below are only from the past 3 years of National Geographic Magazine and are just a sample of some of the breathtaking images captured in the magazine.
All images courtesy of National Geographic Magazine. Internet Archive: Digital Library of Free Books, Movies, Music & Wayback Machine. Knots, ties and splices; a handbook for seafare... Nanotechnology. SyNAPSE: a cognitive computing project from IBM Research - United States - StumbleUpon. What's New at The Luminous Landscape. Photos of Sakurajima volcano ~ Pink Tentacle - StumbleUpon.
Wreck Diving the Mysterious Ghost Fleet of Truk Lagoon [33 PICS] - StumbleUpon. Photoblogs.org - The Photoblogging Resource. Wire Photographer of the Year: Mauricio Lima - Photo Essays. Articles. L E N S C R A T C H. Vimeo, Video Sharing For You. Posterous Spaces. World Press Photo Of The Year 2010 TotallyCoolPix.
---