Food
Hasselback Potatoes. These Hasselback potatoes looks beautiful, don't' they?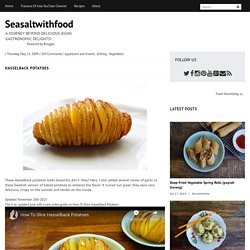 Here, I also added several cloves of garlic to these Swedish version of baked potatoes to enhance the flavor. It turned out great, they were very delicious, crispy on the outside and tender on the inside.. Updated: November 26th 2013 This is an updated post with a new video guide on How To Slice Hasselback Potatoes. Chocolate Banana Upside Down Cake. If you've ever eaten bananas with chocolate - ah, yes, there's the old-fashioned Banana Split - you know they are the best of friends.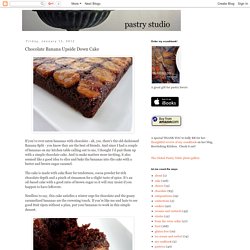 And since I had a couple of bananas on my kitchen table calling out to me, I thought I'd pair them up with a simple chocolate cake. And to make matters more inviting, it also seemed like a good idea to slice and bake the bananas into the cake with a butter and brown sugar caramel. The cake is made with cake flour for tenderness, cocoa powder for rich chocolate depth and a pinch of cinnamon for a slight taste of spice. It's an oil-based cake with a good ratio of brown sugar so it will stay moist if you happen to have leftovers. Buttermilk Blueberry Breakfast Cake. I swear buttermilk is magic.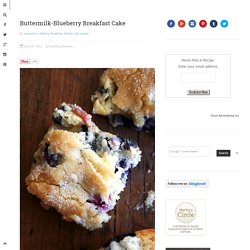 I've dwelled on this before. Buttermilk seems to turn everything to gold. Super-moist, super-delicious gold. Web's Best: Desserts for Dudes. For some inexplicable reason, dessert has never been seen as a man's game.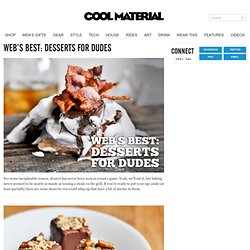 Yeah, we'll eat it, but baking never seemed to be nearly as manly as tossing a steak on the grill. If you're ready to put your ego aside (at least partially) here are some desserts you could whip up that have a bit of macho in them. Thug Kitchen. 50 Amazingly Helpful Time-Tested Tips for the Kitchen. You know all of those helpful kitchen-related suggestions that old-timers are so willing to share with the younger generations?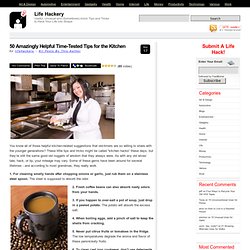 These little tips and tricks might be called "kitchen hacks" these days, but they're still the same good old nuggets of wisdom that they always were. As with any old wives' tale, hack, or tip, your mileage may vary. Some of these gems have been around for several lifetimes - and according to most grandmas, they really work. 1. 27 Ways To Make Your Groceries Last As Long As Possible. Gnocchi of a Different Color. 34 Insanely Simple Two-Ingredient Recipes. Top 25 Skinny Recipes 2012. As we come to the year's end, I can't help but reflect on the highs and lows of 2012, and try to imagine what 2013 will bring.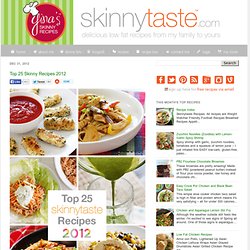 Today is a gift we should grasp with both hands, and remember that our faith, family, health, our home sweet homes, and the food on our table are all we really need; everything else in life is a bonus! But looking back, there were lots of Skinnytaste highlights this year, the top of the list was a book deal with Clarkson Potter – woohoo!!! Alexandra's kitchen. Can you remember one-third cup?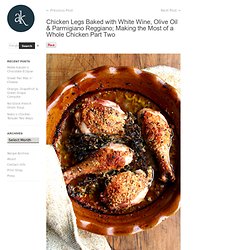 That's really all you need to know in order to make this recipe: one-third cup olive oil, one-third cup white wine, one-third cup freshly grated Parmigiano Reggiano. Garlic and thyme are nice additions but optional. Just whisk everything together, season the chicken with salt and pepper, throw it in a 450ºF oven and you're done. Crispy skins. Tender meat. One Bowl Vanilla Cupcakes For Two. Let's face it: sometimes we all need a dessert that only makes two servings.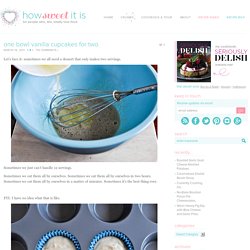 Sometimes we just can't handle 12 servings. Sometimes we eat them all by ourselves. Sometimes we eat them all by ourselves in two hours. Sometimes we eat them all by ourselves in a matter of minutes. Sometimes it's the best thing ever. The Delicious One Bite Foods. The One bite food is ideal for any kind of parties.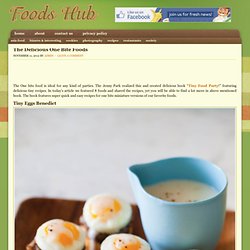 The Jenny Park realized this and created delicious book "Tiny Food Party!" Featuring delicious tiny recipes. In today's article we featured 8 foods and shared the recipes, yet you will be able to find a lot more in above mentioned book. The book features super quick and easy recipes for one bite miniature versions of our favorite foods. Tiny Eggs Benedict. Wines of France - A guide to French wines. Recipes for Health - Spaghetti Squash With Garlic, Parsley and Breadcrumbs. Hot & Melty Baked Camembert. Recipes» Hot & Melty Baked Camembert Trust me when I say, there is nothing more decadent than this spicy, sweet, salty, smokey, wooden box of gooey goodness.It's one of the easiest starters you will ever make, and I guarantee you will be greeted with oohs and aahhs as you place it on the table, followed by a satisfied silence as your guest(s) tuck in.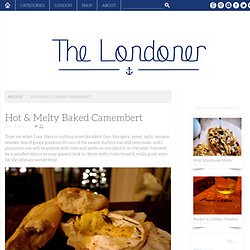 Sweet Potato Gnocchi. I quickly emailed my recipe for homemade gnocchi to Jill last week, certain she could master a version made with sweet potatoes. I knew I had given the task to the right woman because after two attempts, she's made a version of sweet potato gnocchi that looks absolutely perfect. Thanks, Jill! No-Knead Pumpkin Rolls with Brown Sugar Glaze. Fall isn't really here until the first batch of pumpkin breakfast rolls are out of the oven, don't you agree? We love pulling them apart while still warm, and breathing in that spicy pumpkin-scented steam. We save the soft middle for last and then lick all the glaze from our fingers.
This no-knead version is perfect for making ahead. The Kitchn Recipes. Recipes and Cooking Inspiration – Kitchen Daily. Almost-Famous Frozen Yogurt Recipe : Food Network Kitchens. Cinnamon Sugar Pull-Apart Bread. Looks yummy, right? And let me tell you, this cinnamon bread really is yummy! Immensely! I am actually so impressed by it that I would call it a gift from heaven. Okay, maybe not exactly from heaven since the original recipe was born in Joy the Baker's kitchen. But that place actually, when I think about it, is a kind of little heaven… on earth. Food. Scottish Farmhouse Eggs | Ahoy! | Portland Maine DIY Blog. Honey Mustard Chicken with Bacon and Mushrooms. "This is probably my favorite way to eat chicken." That's a quote from my husband the last time I made Honey Mustard Chicken with Bacon and Mushrooms for dinner. Marinate some chicken breasts in honey, mustard, and lemon, then top with bacon, mushrooms and cheese… How could that go wrong? I love to serve this dish with a side of oven fries and a crisp lettuce salad.
It's a meal full of flavor! Begin by making the marinade for the chicken. Yummly | The best site for recipes, recommendations, food and cooking. Cold-Brewed Iced Coffee. How to Cook. Potluck Recipe Ideas - Roasted Cauliflower and Carrot Salad Recipe. Grilled Pear Bruschetta. The Muffuletta Sandwich - No-Cook Recipes. Watermelon Lime Sorbet Slices. Easy Quinoa Recipes. A Cozy Kitchen. 7 Romantic Meals For $10 Or Less. Magic Sauce Recipe.
---