JAZZ
1963 - The Third Castle Lager Jazz Festival :: The Blue Notes. Deprecated: Assigning the return value of new by reference is deprecated in /data01/mfowler/public_html/wp-settings.php on line 512 Deprecated: Assigning the return value of new by reference is deprecated in /data01/mfowler/public_html/wp-settings.php on line 527 Deprecated: Assigning the return value of new by reference is deprecated in /data01/mfowler/public_html/wp-settings.php on line 534 Deprecated: Assigning the return value of new by reference is deprecated in /data01/mfowler/public_html/wp-settings.php on line 570 Strict Standards: Declaration of Walker_Page::start_lvl() should be compatible with Walker::start_lvl(&$output) in /data01/mfowler/public_html/wp-includes/classes.php on line 1199 Strict Standards: Declaration of Walker_Page::end_lvl() should be compatible with Walker::end_lvl(&$output) in /data01/mfowler/public_html/wp-includes/classes.php on line 1199.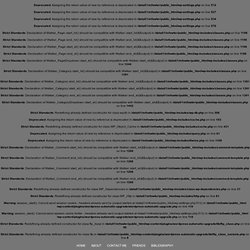 INDIA NAVIGATION
YUSEF LATEEF. Jazz forums - The best jazz discussion forum on the web! <div class='message error'><strong>Javascript Disabled Detected</strong><p>You currently have javascript disabled.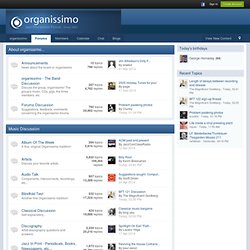 Several functions may not work. Please re-enable javascript to access full functionality. </p></div><br /> Toggle About organissimo... Clifford Jordan. The explosion of creative freedom that characterized jazz in the late 1950s and 1960s was just one step in the process of musicians taking control and responsibility for their lives.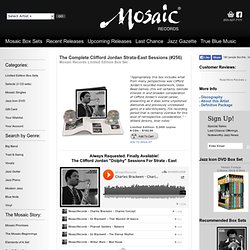 Promoting, owning and distributing their own product were other obvious results. Rent parties and private releases may have been a part of the music scene forever, but in the 1970s, on the heels of the "black power" movement, self-sufficiency started to look like a crusade. BigO Audio Archive. These recordings are part of the BigO Audio Archive covering albums that circulate among collectors and music fans.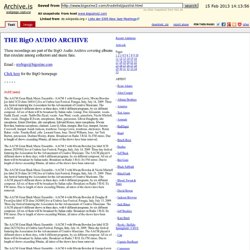 Email - mybigo@bigozine.com Click here for the BigO homepage JAZZ [misc] The AACM Great Black Music Ensemble - AACM 1 with George Lewis, Mwata Bowden [no label 1CD dime 260161] live at Umbria Jazz Festival, Perugia, Italy, July 14, 2009. Three day festival featuring the Association for the Advancement of Creative Musicians. Free jazz and jazz related list or kinda like jazz or something like jazz page... Artists in Jazz Archive | WKCR 89.9FM NY. Log in Live Broadcast Som do BrasilTune in: RealAudio or MP3 Stream Home > Archives > Artists in Jazz Archive.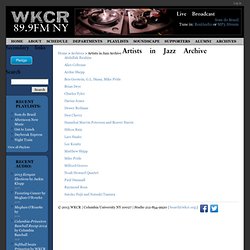 The Unit: Cecil Taylor In 1978 | Burning Ambulance. Dr. Martin Luther King, Jr On The Importance Of Jazz | WCLK. On the Importance of Jazz Dr.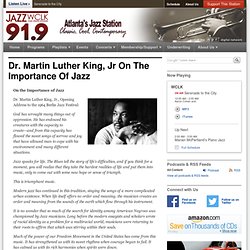 Martin Luther King, Jr., Opening Address to the 1964 Berlin Jazz Festival: Cannonball Adderley - Intro + The Black Messiah. Advice From the Master: Thelonious Monk Scribbles a List of Tips for Playing a Gig. We're fascinated by lists.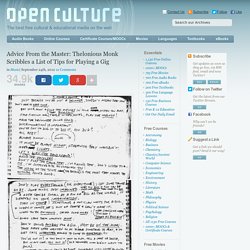 Other people's lists. Even the ones left behind in shopping carts are interesting (Jarlsburg, Gruyere and Swiss? Must be making fondue.) But it's the lists made by famous people that are the really good stuff. Randy Weston. Randy Weston (born April 6, 1926, in Brooklyn, New York), is an American jazz pianist and composer, of Jamaican parentage.[1] He was described by Marian McPartland as "one of the world's great visionary pianists and composers".[2] Weston's piano style owes much to Duke Ellington and Thelonious Monk (he has paid direct tribute to both on the "portraits" albums), but it is highly distinctive in its qualities: percussive, highly rhythmic, capable of producing a wide variety of moods.[3] Biography[edit] Early life[edit] Weston was raised in Brooklyn, where his father, Frank, owned a restaurant [4].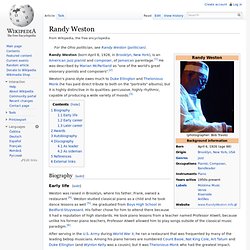 NEW DOUBLE CD SET ~ SPIRIT DRIVEN ~ NOW AVAILABLE!! ~ JORGE SYLVESTER ACE COLLECTIVE New Double CD Set ~ SPIRIT DRIVEN ~ ~ ~ ~~~~~ NOW AVAILABLE!!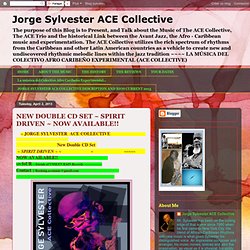 ON foUR ~ friends of UNSEEN RAIN Records ~~~~~~~~~~ Contact : Booking.acemusic@gmail.com "The silent stars, prevailing winds, and powerful surface currents that have together pointed the way to the Caribbean for untold generations have set in to motion a uniquely layered and nuanced human adventure, admixing myriad populations, languages, and cultures. From this crossroads and crucible of identity and diversity that so profoundly invalidates crude notions of nationalistic "Exceptionalism", emerges the core inspiration for this music and the evolving DNA of its connectedness".
My Name is Albert Ayler [Free Jazz][Documentary][Swedish Subtitle Svenska][00:01:18] Ornette Coleman & Prime Time - Story Tellers 1987. Www.jazzbridge.org. Max roach Drum Solos!!!! The Coda. To escape the cold that makes me feel old this week I took another trip up to Trumpet Mountain.I walked into the main hall and heard Clifford Brown practicing in a room inside.I stood outside his door and listened.The stuff he was playing was way,way past running down chord changes.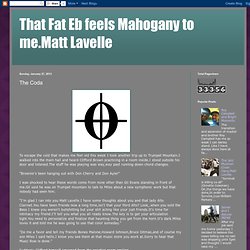 "Brownie's been hanging out with Don Cherry and Don Ayler" I was shocked to hear these words come from none other than Gil Evans standing in front of me.Gil said he was on Trumpet mountain to talk to Miles about a new symphonic work but that nobody had seen him. "I'm glad I ran into you Matt Lavelle.I have some thoughts about you and that lady Alto Clarinet.You have been friends now a long time,isn't that your third Alto?
Stephen Haynes. Looking Back II: Jeanne Lee and Gunter Hampel. Gunter Hampel New York Orchestra New York, NY This is the second in a series of posts that will look back at a number of important periods/events in my development as an artist. Thelonious Monk - Live in '66, Full Concert. Solo Monk - Thelonious Monk [FULL ALBUM] [HQ] The frayed edges | Office Naps. The post-War decades were golden times for the torch-y, late-night jazz vocal. Swing-style jazz retained some of its earlier mainstream popularity but, by the late '40s and '50s, big bands were shrinking, their relevancy plateauing. Out of practical necessity, and certainly in terms of its cultural currency, smaller-group jazz, especially bop, was ascendant.
The modern, jazz-inflected vocal ballad would achieve some sort of apotheosis in this time. Nextbop. L.I.T. : Ornette Coleman. Paris, October 9, 1969. Wayne Shorter - Fee-Fi-Fo-Fum. Stride Magazine. <!--- add article and author details ---> Subtitled, 'Essays On Modern Jazz', you may expect these pieces to be 'academic '. However, they are anything but. And that's refreshing. Byard Lancaster, Jazz Alto Saxophonist, Dies at 70 - SH Forums. Free jazz funk from Philly: Sounds of Liberation and Byard Lancaster. Recently, I was listening to a reissue of Sounds of Liberation's self-titled 1972 LP, due out on Feb. 16; I have an advance copy for purposes of review (set for print in Signal to Noise, #57). Porter Records has unearthed what was long the province of only the most dedicated collectors. The septet included Dwight James (drums), Khan Jamal (vibraphone), Byard Lancaster (alto sax), Rashid Salim (conga), Monnette Sudler (electric guitar), Omar Hill (percussion), and Billy Mills (electric bass).
It occurred to me while writing that not only was I unfamiliar with all of these musicians, but I was completely ignorant of the fact that Philadelphia had its own fertile jazz scene in the 1970s. What appealed to me in Sounds of Liberation was the combination of funk and Ayler-like mysticism, so I took the time to find out if its contributors had any other recording history; to my surprise, many of them were quite accomplished players who had led numerous sessions from the seventies on.
Found photos - Bud Powell's funeral procession | garage hangover. These photos are of Bud Powell's funeral procession on August 8, 1966. I've added a few more photos since I first put these on the site. These come from an unknown photographer's collection – see my other pages of photos from the Apollo Theater and of Moondog, Jimmy Nottingham and street musicians in Harlem, Greenwich Village and Central Park. Dan Morgenstern reported on the funeral for Down Beat's September 22, 1966 issue: In the lead was Harlem's own Jazzmobile, appropriately draped for the occasion, and carrying a jazz band … the members were Benny Green, trombone; John Gilmore, tenor saxophone; Barry Harris, piano; Don Moore, bass; Billy Higgins, drums, and at the last moment, Lee Morgan, trumpet.
First came "Now's the Time" and then, perhaps more appropriately, "'Round Midnight", followed by two Powell tunes, "Bud's Bubble" and "Dance of the Infidels".The music stopped when the cortege reached the church. Ric Colbeck: 'a player of exceptional power and complexity' McCoy Tyner - Ebony Queen.
JAZZ CLUBS
BIG RED MEDIA, INC. YOU SEE WHAT I'M TRYING TO SAY. Paul Motian trio- live in Bremen 13/9 /1977. The floating world: Goodbye, Paul Motian. Eric Person & Metamorphosis "Justification" Get a Gig Online. It's Free. | GigMaven. Mwandishi. CCAO: Nicole Mitchell and Blakk Earth Ensemble. International Archives For The Jazz Organ (IAJO) Don Cherry/Blood Ulmer/Rashied Ali. Dr. Michael White - Give it up (gypsy second line) Paulgonsalves. Siddhartha Mitter. Search & Restore. Justice for Jazz Artists!
Go Trio ~ Jazz ala Americana. Welcome to - Travellin' Light. The Center for Jazz Studies at Columbia University. Jazz Blogwatch. Birka Jazz - Vinyl LP Jazz Records - Rare and Collectable. Welcome to Crazy Jazz - Supplying Jazz on Compact Disc by Mail Order since 1988. Jazzionado Jazz News (jazzionado) Jason Moran and the Black Stars session with Sam Rivers | The Jazzcat. Warren Benbow 'Time Code' Project | New York, NY | Jazz. Billy Bang Quintet - Live at the Knitting Factory. Ron Sunshine - Jazz, Blues and Funky R&B from New York City. Fuchsia Swing Song - THE GIG. Www.apap365.org/press/Documents/JazzPR-FINAL.pdf. "Edgar Varèse and the Jazzmen" (MP3s. Ric Colbeck Leader Entry.
Jazz. Best Free Podcasts. Chad Fox (foxfreeimprov) Music Over Mind Dot Org ::: Tomorrow's Music Heard Today. Sistas' Place | Home. The University of the Streets. Craig S. Harris. Oliver Lake. George Russell. Brandon Ross bei Myspace Musik - Kostenlos MP3s anhören, Bilder & Musikvideos ansehen. Gunter Hampel. GunterHampel's Channel. AllAboutJazz.com. Sonny Fortune: MarsJazz Booking Agency. Ahmed Abdullah. Lee-santa. JazzData.info - The John Coltrane Reference - Updates - 1966. Transition (John Coltrane album) Elvin Jones shootings in Zachariah (1971) Coltrane Firsthand: Temple University, Philadelphia PA , November 11, 1966. A Birthday Supreme (John Coltrane would have turned 85 today) | Ottawa Citizen Blogs.
Michael Musillami Trio with Mark Feldman - "Brooms" (1 of 2) Mike Baggetta Quartet: Momentum. Christophe Deghelt (degheltprod) Scrivere di jazz. Giuseppe Mavilla (scriveredijazz) Engine Records: Just Say No to Dumbass Music. Jazz Inside Magazine (JazzInsideMag) The Charles Lloyd Blog. Jazzwax.com. Garrison Fewell | Creative Music. Miles Davis Interviews. Leon Thomas - Spirits Known and Unknown (1969) The Jazz Session.
---