Gen science
Home - Practical Biology. This website is for teachers of biology in schools and colleges.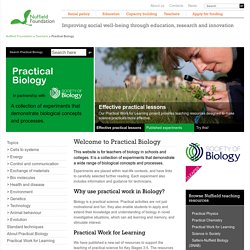 It is a collection of experiments that demonstrate a wide range of biological concepts and processes. Experiments are placed within real-life contexts, and have links to carefully selected further reading. Each experiment also includes information and guidance for technicians. Biology is a practical science. Practical activities are not just motivational and fun: they also enable students to apply and extend their knowledge and understanding of biology in novel investigative situations, which can aid learning and memory, and stimulate interest. UPD8. Do you want more engagement, understanding and skill development in science?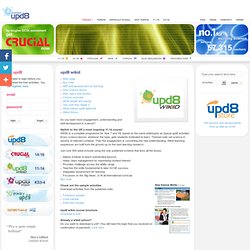 Switch to the UK's most inspiring 11-14 course! WIKID is a complete programme for Year 7 and Y8, based on the same philosophy as topical upd8 activities. Crime Scene Investigation. Education resources to support teachers and promote science in the curriculum. The AstraZeneca Science Teaching Trust. Homework High - Science. To find the answer to your question, either browse a category on the far right, or type in your question to the search box Write your question here Search for an answer This is not a keyword search so please be as specific as possible.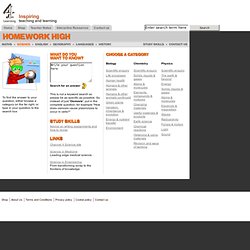 So instead of just 'Osmosis', put in the complete question, for example "How does osmosis cause plasmolysis to occur in cells? " Advice on writing assignments and how to revise. KS3 Science: How Science Works. Links 4 Science: Useful KS3 Science Links - Resources for Teachers. KS3 Science Blog. • Wednesday, May 13th, 2009 Here is an excellent resource area for How Science Works We have a dedicated Global Community website, with a focus on issues affecting local, national and international issues…. www.mywebschool.org/postnuke • Thursday, April 30th, 2009.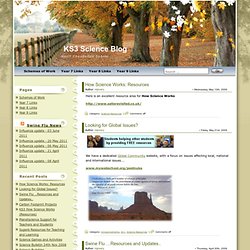 Key Stage 3 - Educators. NT Science Poweroint presentations for key stage 3. Science word search puzzles matched to KS3 QCA units. The Standards Site: Science at key stage 3. This scheme shows how the science programme of study for key stage 3 can be translated into manageable units of work.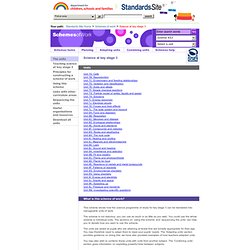 The scheme is not statutory; you can use as much or as little as you wish. You could use the whole scheme or individual units. The sections on 'using this scheme' and 'sequencing the units' can help you to decide how you want to use the scheme. The units are aimed at pupils who are attaining at levels that are broadly appropriate for their age. Scibermonkey. Top picks A lesson plan exploring issues of measurement, such as precision, range of values, uncertainty or error, repeat measurements and mean values.
Force applied to a load can produce ? KS3 Science Revision - Resources for School Year 7. GCSE Bitesize - OCR Gateway Science. GCSE SCIENCE - The Best Revision for CHEMISTRY and PHYSICS. Top 10 Scientific Music Videos | Wired Science. Oracle think quest senses. As of July 1, 2013 ThinkQuest has been discontinued.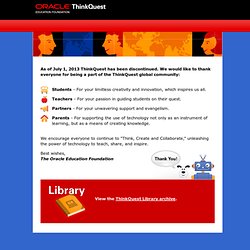 We would like to thank everyone for being a part of the ThinkQuest global community: Students - For your limitless creativity and innovation, which inspires us all. Teachers - For your passion in guiding students on their quest. Partners - For your unwavering support and evangelism. Parents - For supporting the use of technology not only as an instrument of learning, but as a means of creating knowledge. Earth 100 Million Years From Now. MAKE HOMEMADE SCIENCE TOYS AND PROJECTS. Powers of Ten. Based on the film by Charles and Ray Eames. An Eames Office Website. Scientific American. Science: Lab Safety. Global rating average: 0.0 out of 50.00.00.00.00.0 These sites are about laboratory safety and how to use use lab equipment.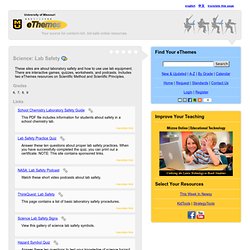 There are interactive games, quizzes, worksheets, and podcasts. Includes two eThemes resources on Scientific Method and Scientific Principles. SCIENCE - FREE Presentations in PowerPoint format, Free Interactives & Games for Kids. Science PowerPoints / Lessons / Units for Educators and Homeschool Parents. NSTA Learning Center. Virtual Microscope. Andy Darvill's Science site: Home. Gateway to 21st Century Skills. WELCOME to DOC BROWN'S SCIENCE Biology Chemistry Physics gcse igcse A level HOMEPAGE docbrown chemhelp iphone ipad notepad notebook netbook epad tablet android NOT apps.
Awesome Science Teacher Resources. ScienceDays. Differentiator - free web app to help teachers differentiate using Blooms Taxonomy. The Differentiator is a simple web app that helps you create objectives based on Bloom's Taxonomy.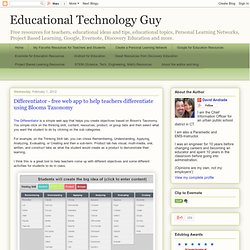 You simple click on the thinking skill, content, resources, product, or group tabs and then select what you want the student to do by clicking on the sub categories. For example, on the Thinking Skill tab, you can chose Remembering, Understanding, Applying, Analyzing, Evaluating, or Creating and then a sub-term. Science Matters.
Yah, I know some of us are winding down from schooling for the summer months, but I can't help but stay on the lookout for resources I know I'm going to be needing again all too soon.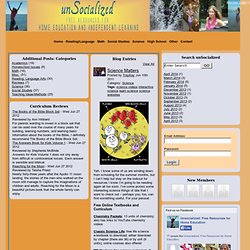 I've come across some interesting science things of late that I want to check out – perhaps you, too, can find something useful. For your perusal: Freebies :: Terrific Science. Lesson and Lab Exchange Choose from hundreds of free, downloadable science lessons shared by Terrific Science staff and program graduates.
National Chemistry Week These free, downloadable science activities are great for quick classroom experiences or fun student take-homes. For in-depth lessons and more detailed science explanations, see the source books listed for each activity or schedule one of our hands-on workshops. BBC One - Bang Goes the Theory - Hands-on Science. Thousands of Free Lesson Plans and Educational Resources for Teachers | Verizon Thinkfinity.org. 50 EdTech Resources You May Have Missed-Treasure Chest Jan 23 2011. Welcome to this week's Treasure Chest of 50 EdTech Resources You May Have Missed. I try to post some of the more interesting topics and resources that I've come across during the past week. This week, I'm in a bit of a fun-loving mood so let's start off with this site and see if you can do it!
Do Nothing for 2 Minutes I hope you enjoy! Featured. Science Animations. KS3 Bitesize: Science.
---