Humor
Exploring the Mysteries of the Mind with the Sims 3. Every scientist dreams of a world without ethics.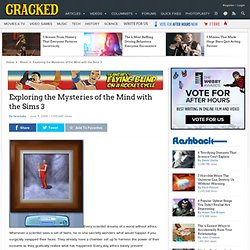 Whenever a scientist sees a set of twins, he or she secretly wonders what would happen if you surgically swapped their faces. They already have a chamber set up to harness the power of their screams as they gradually realize what has happened. Every day, ethics barely prevent experiments like this from being carried out. Life to do list | Funny humor. 14 Things That Never Happen In Real Life. Relativity. HUMOR: Chicken Philosophy. WHY DID THE CHICKEN CROSS THE ROAD???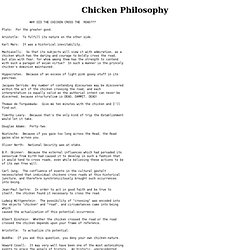 Plato: For the greater good. Aristotle: To fulfill its nature on the other side. Karl Marx: It was a historical inevitability. The worst thing about Valentine's Day. 25 Epic Fail GIFs. Thanks to CompuServe and their animated Graphics Interchange Format (GIF), watching fails has never been more satisfying, or educational.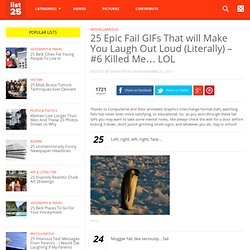 So, as you skim through these fail GIFS you may want to take some mental notes, like always check the wall for a door before kicking it down, don't punch grinning street signs, and whatever you do, stay in school! About David Pegg After helping found the United Nations, the United States, and United Airlines, David consigned himself to a transient life of writing lists and sleeping on park benches.
Facebook Changes We'd Actually Want To See. If you had a dollar for every person who posted their hatred of the new Facebook layout, you'd be able to give Mark Zuckerberg a run for his money.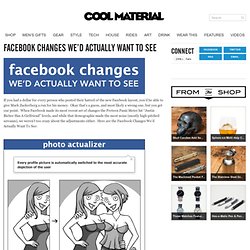 Okay that's a guess, and most likely a wrong one, but you get our point. When Facebook made its most recent set of changes the Preteen Panic Meter hit "Justin Bieber Has A Girlfriend" levels, and while that demographic made the most noise (mostly high-pitched screams), we weren't too crazy about the adjustments either. Here are the Facebook Changes We'd Actually Want To See: FAIL: Facebook is not Google or is it? Expectations vs. Reality (16 Pics) | When Insults Had Class - Maryannaville? Famous Movie Quotes as if Spoken by a Proper Englishman | Slacktory | The only site on the internet. Salutations, internet ne'erdowells.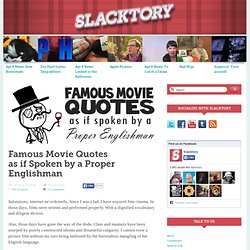 Since I was a lad, I have enjoyed fine cinema. In those days, films were written and performed properly. With a dignified vocabulary and diligent diction. Patrick is doing The Ugly Dance. My World and Welcome... Funny Pages: Handy Latin Phrases. Non calor sed umor est qui nobis incommodat.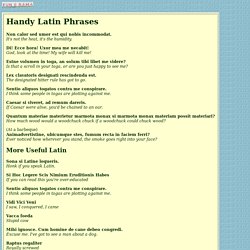 It's not the heat, it's the humidity. Di! They Will Never Have A Girlfriend. Dear blank, please blank. Random funny pictures.
Kids/Men & Women. Pictures. American Trash. Animals are Dumb.
---