Special Types of Gardens
Permaculture- A Beginner's Guide. Gardening Australia - Fact Sheet: Step-by-Step No Dig. Presenter: Melissa King, 30/05/2003 Why get to work with heavy tools that require a lot of physical labour, when you could let nature do the work for you.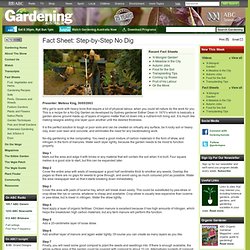 This is a recipe for a No-Dig Garden as developed by Sydney gardener Esther Dean in 1970's which is basically a garden above ground made up of layers of organic matter that rot down into a nutrient-rich living soil. Building a Vegetable Garden – Natural Gardening – Preparing a Vegetable Garden. The No Dig Garden is built on top of the ground, so you can start building a vegetable garden anywhere.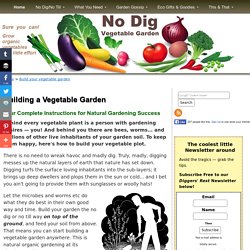 This is natural organic gardening at its simplest and best. Preparing a vegetable garden of this sort is extremely attractive for those sites that have poor soil or invasive weeds. It's also a great way to build a garden for those that can't, or don't want to, dig a good size vegetable garden! Follow the natural gardening no dig diagram below, but first thing of course is to choose the site. In the Garden Online - Colleen's Picks - Ten Vegetables You Can Grow in Shade. It's a common misconception that the only site to grow vegetables in s one that's in full sun.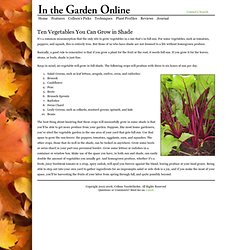 For some vegetables, such as tomatoes, peppers, and squash, this is entirely true. But those of us who have shade are not doomed to a life without homegrown produce. Basically, a good rule to remember is that if you grow a plant for the fruit or the root, it needs full sun. Growing a Healing Garden | Mama Knows. Rating: 7.9/10 (9 votes cast) When you visit your local market or garden centre, check out their herb selection.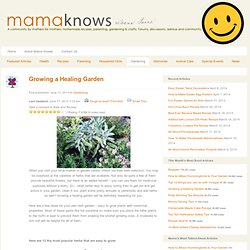 You may be surprised at the varieties of herbs that are available. Not only do quite a few of them provide beautiful flowers, but there is an added benefit – you can use them for medicinal purposes without a worry. So – what better way to enjoy spring then to get out and get active in your garden, clean it out, plant some pretty annuals or perennials and add herbs as well?
Introduction to Straw Bale Gardening. GardenPool.org | How we turned an old backyard swimming pool into a self-sufficient garden in a desert city.
---