Funny
Hola Soy German (video todos los viernes)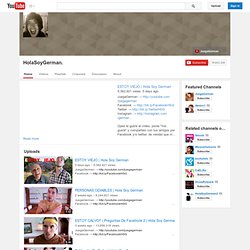 Welcome to YouTube! The location filter shows you popular videos from the selected country or region on lists like Most Viewed and in search results.To change your location filter, please use the links in the footer at the bottom of the page. Click "OK" to accept this setting, or click "Cancel" to set your location filter to "Worldwide".
I'm an alcoholic garden gnome with a taste for comic books and hip-hop music. I've also been known to produce a few successful shows. For film / television / personal appearances / press inquiries please contact 3 Arts Entertainment. Thank you.
Iron Man 2 | Expérience de Réalité Augmentée
Le site inutile du jour
Internet est rempli de sites qui ne servent à rien. Mais alors, vraiment à rien. Et c'est pour cela qu'on les aime, ces sites.
Mec, passe moi une bière !
Il fait beau, il fait chaud, c'est le temps idéal de prendre une petite bière… Il y a deux qui ont décidé de ne pas faire comme tout le monde en se passant des bières avec style. Dans la vidéo qui suit, les deux compères se passent des bières façon « badass » , avec une nonchalance presque insolente, bref, ils ont la classe. La vidéo est sortie depuis le 8 juin dernier déjà, et culmine à environ 2,5 millions de vues.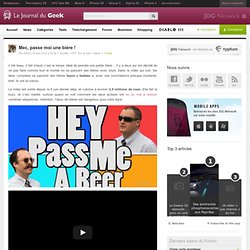 unnamed pearl
Ouahhh, la bouche du babe trop mignon... garantie sans Photoshop !!! Madbabies.com
Chasse d'eau Flush Tracker - World Toilet Day
Siri et moi
Photos non contractuelles
Paye Ta Raie
normal day
Cramé-Craché - La Banlieue Vous Piège
Comment préparer 121 cocktails en 8 secondes
Kobe and the Jackass Crew
Post'it War
Meat Tank – Epic Meal Time The best defense is a strong offense, which means that our meat tank will annihilate the onslaught of haters! NEW videos every week! SUBSCRIBE!!! Watch our new howto cooking show Handle It! http://youtube.com/user/howtohandleit Check out the cook book: http://shop.epicmealtime.com and the cooking arsenal: http://smart.epicmealtime.com Read More »
Epic Meal Time - Videos