Garden
Pest and disease
Figs. ABC Message Board - Gardening Australia - Messages. Strawberry segment What an enjoyable segment on plant propagation by Josh.Just thought I'd bung up a few notes on strawberries and some images of how to propagate them etc.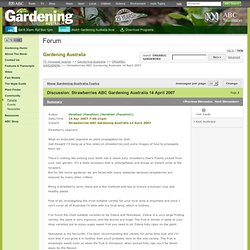 There's nothing like sinking your teeth into a sweet juicy strawberry that's freshly picked from your own garden. It's a taste sensation that is unforgettable and brings an instant smile to the recipient.But for the home-gardener we are faced with many obstacles because strawberries are enjoyed by many other critters. Being a strawberry lover, there are a few methods and tips to ensure a bumper crop and healthy plants. Welcome to Winter Hill Tree Farm. Botanica - Horticulturalist & General Gardener for Strata, Residential, Commercial - North Shore Sydney.
Feeding citrus by Aussie Organic Gardening. Native Plants of Sydney. Welcome to the Plants of Sydney website.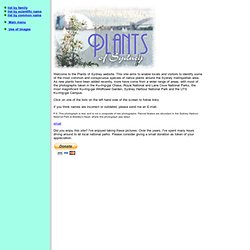 This site aims to enable locals and visitors to identify some of the most common and conspicuous species of native plants around the Sydney metropolitan area. As new plants have been added recently, more have come from a wider range of areas, with most of the photographs taken in the Ku-ring-gai Chase, Royal National and Lane Cove National Parks, the most magnificent Ku-ring-gai Wildflower Garden, Sydney Harbour National Park and the UTS Ku-ring-gai Campus. Click on one of the lists on the left hand side of the screen to follow links.
If you think names are incorrect or outdated, please send me an E-mail. P.S. Plant Prices & Available Stock at Downes Wholesale Nursery.
Knowledge Centre - Netafim. Lucerne, also known as alfalfa, is a perennial legume in the pea family cultivated as a forage crop.Lucerne has a high feed value, and is therefore a popular crop in dairying businesses, either as hay, silage or in a grazing situation.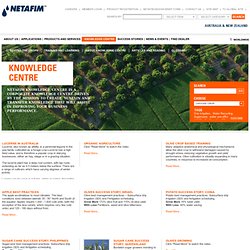 The lucerne plant has a deep root system, with tap roots extending as far as 4.5 meters below the surface. There are a range of cultivars which have varying degrees of winter activity. Lucerne can be sown in autumn, winter or spring, depending on the variety and conditions. A particular lucerne crop is referred to as a "stand". A stand of lucerne will generally last from three to eight years.
Veggies
Gardening - Better Homes and Gardens. Hardwood Sleepers | Hardwood Garden Stakes | New Hardwood Sleepers. AAA Grade Sleepers Used AA Grade Sleepers Used A Grade Sleepers Used B Grade Sleepers Used Hardwood Stakes Concrete Sleepers Charcoal.
Gardening Australia - Fact Sheet: How To Manage Citrus Trees. Sophie talks citrus management tips.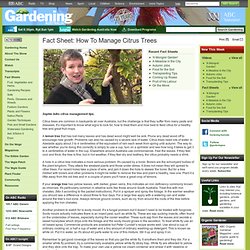 Citrus trees are common in backyards all over Australia, but the challenge is that they suffer from many pests and diseases. It's important to know what signs to look for, how to treat them and how best to feed citrus for a healthy tree and great fruit crops. A lemon tree that has lost many leaves and has dead wood might well be sick.
Bromeliads
Cymbidium Orchids Care, Growing Hints and Diseases, Repot and Fertilise. Remember that cymbidiums produce three types of bulbs: 'back bulbs' those without foliage are there to store food 'old bulbs' bulbs with leaves that may produce flowers 'lead bulbs' these are the new bulbs that produce vigorous growth and large flower spikes.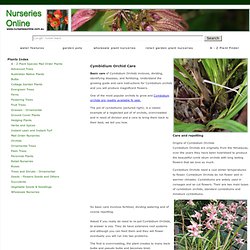 When dividing cymbidiums aim to have a lead bulb and one or two 'back bulbs', the back bulbs provide the energy needed for a new division of cymbidiums to thrive. After dividing remove any dead roots and leave the newly divided cymbidiums to harden for a day or two in a cool place. Repot cymbidiums in an orchid or specialist cymbidium potting mix.
Garden maintenance providers
Olive trees. Lilly Pilly - The Best Australian Native Hedge Plant | The Australian Garden Hedge. Ah, where to start with the humble, but wonderful, Lilly Pilly!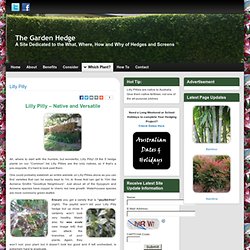 Of the 5 hedge plants on our "Common" list Lilly Pillies are the only natives, so if that's a pre-requisite, it's hard to look past them. One could probably establish an entire website on Lilly Pillies alone as you can find varieties that can be easily kept to 1m, to those that can get to 10m like Acmena Smithii "Goodbye Neighbours". Just about all of the Syzygium and Acmena species have copper to cherry red new growth.
---