Garden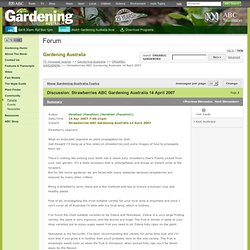 ABC Message Board - Gardening Australia - Messages
Strawberry segment
Plant Prices & Available Stock at Downes Wholesale Nursery
Olives Please use the links below to jump to specific information: Growing olives organically Organic growing is when your system emulates nature in its interconnectedness.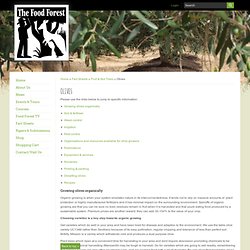 Olives » The Food Forest
Gardening Australia - Fact Sheet: Olives
Presenter: Sophie Thomson, 27/05/2006 Sophie visits an olive grove near Adelaide The olive tree is the oldest cultivated tree in existence and can live for thousands of years. It can survive poor soils, with little water, and its hard, thin leaves are adapted to prevent water loss, so it's an extremely hardy and forgiving tree. Olives flourish where there is good drainage and cool winters, with hot dry summers without humidity. That's most of Southern Australia.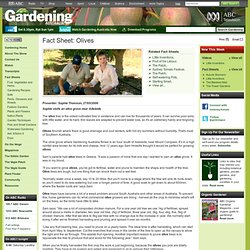 Welcome to Winter Hill Tree Farm
garden maintenance providers
Feeding citrus by Aussie Organic Gardening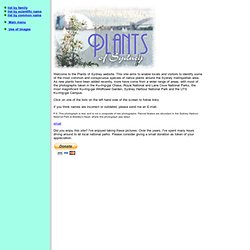 Native Plants of Sydney
Welcome to the Plants of Sydney website. This site aims to enable locals and visitors to identify some of the most common and conspicuous species of native plants around the Sydney metropolitan area. As new plants have been added recently, more have come from a wider range of areas, with most of the photographs taken in the Ku-ring-gai Chase, Royal National and Lane Cove National Parks, the most magnificent Ku-ring-gai Wildflower Garden, Sydney Harbour National Park and the UTS Ku-ring-gai Campus. Click on one of the lists on the left hand side of the screen to follow links. If you think names are incorrect or outdated, please send me an E-mail. P.S.
Strawberry growing information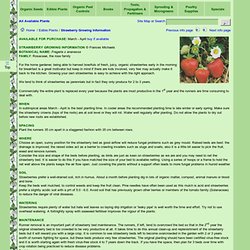 AVAILABLE FOR PURCHASE: March - April buy if available STRAWBERRY GROWING INFORMATION © Frances Michaels BOTANICAL NAME: Fragaria x ananassa FAMILY: Rosaceae, the rose family For the home gardener, being able to harvest bowlfuls of fresh, juicy, organic strawberries early in the morning for breakfast is a great motivator but keep in mind if there are kids involved, very few may actually make it back to the kitchen.
How to grow strawberries
words Jennifer Stackhouse Discover how to grow your own delicious strawberries. People swear strawberries don't taste as sweet as they used to, tomatoes have no flavour and roses lack perfume. While some people do lose their sense of taste and smell, for most of us growing our own is guaranteed to put the flavour back into fruit and the scent back into roses.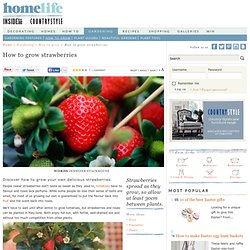 Knowledge Centre - Netafim
Lucerne, also known as alfalfa, is a perennial legume in the pea family cultivated as a forage crop.Lucerne has a high feed value, and is therefore a popular crop in dairying businesses, either as hay, silage or in a grazing situation. The lucerne plant has a deep root system, with tap roots extending as far as 4.5 meters below the surface.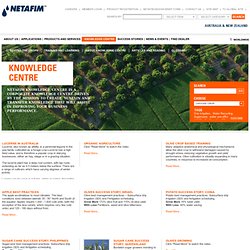 Plants_for_Shady_Areas
Gardening - Better Homes and Gardens
AAA Grade Sleepers Used AA Grade Sleepers Used
Hardwood Sleepers | Hardwood Garden Stakes | New Hardwood Sleepers
What's killing your Lemon Tree?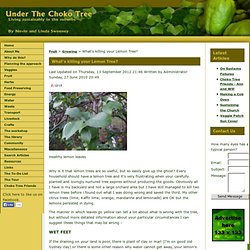 Last Updated on Thursday, 13 September 2012 21:46 Written by Administrator Sunday, 27 June 2010 20:49
Water Requirements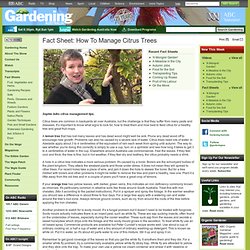 Sophie talks citrus management tips.
Gardening Australia - Fact Sheet: How To Manage Citrus Trees
fig-growing-nsw
How to grow: figs
Growing tips
Fabulous Figs, Information On What Varieties To Grow And Delicious
Daleys Fruit Tree Nursery Testimonials Shop News Specials Catalogue Contact Forum Blog Fabulous Figs A fresh fig is one of the most beautiful fruits of the Mediterranean.
Cymbidium orchid care, Growing hints, Care and repotting
Cymbidium Orchids Care, Growing Hints and Diseases, Repot and Fertilise
Jeanette insects chewing lillypily I have 15 small lilypily trees,they have been in the ground for about 2 years,they are not growing at all, and they are full of chewed leaves. Do you think it might be caterpillars? How do I fix it. Thanks
insects chewing lillypily - Yates
PestAndDisease
Lilly Pilly - The Best Australian Native Hedge Plant | The Australian Garden Hedge