Vegetable garden
Garden Planters - Buy planters for your garden | Creative Garden Ideas
Raised Veg Beds and Wooden Planter - Garden Planters
The No Dig Garden is built on top of the ground, so you can start building a vegetable garden anywhere. This is natural organic gardening at its simplest and best. Preparing a vegetable garden of this sort is extremely attractive for those sites that have poor soil or invasive weeds. It's also a great way to build a garden for those that can't, or don't want to, dig a good size vegetable garden! Follow the natural gardening no dig diagram below, but first thing of course is to choose the site. Make sure it is roughly level and ideally most of the area gets at least 5 hours of sun a day.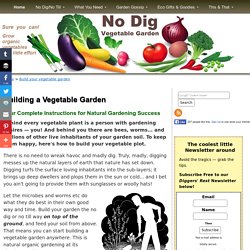 NATURES PRODUCE - Home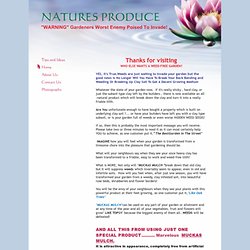 Thanks for visiting YES, It's True,Weeds are just waiting to invade your garden but the good news is No Longer Will You Have To Break Your Back Bending and Weeding Or Breaking Up Clay Soil To Get A Decent Growing Medium Whatever the state of your garden now, if it's really sticky , hard clay, or just the subsoil type clay left by the builders , there is now available an all -natural product which will break down the clay and turn it into a really friable tilth. Are You unfortunate enough to have bought a property which is built on underlying clay soil ?...
Over the 4 week course I will be presenting a series of lectures that will help you understand both the Big Issues – in other words – the philosophy behind organic gardening, and the Practicalities – in other words – how to do it. I will guide you through the steps you can take to adopt a chemical-free, sustainable and benevolent way of caring for the organic garden that will be good for your health and that of the environment – while keeping the organic garden looking great. This course is for those of you who really care about the bigger picture. You don't just want to grow a few veg; but want to change your lifestyle, care for our planet, and truly understand the philosophy and history behind the organic garden and sustainable living.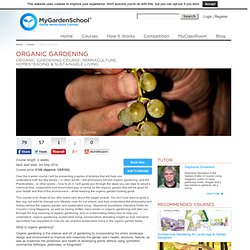 Organic Gardening Courses: Learn How to Go Green with Your Garden | MyGardenSchool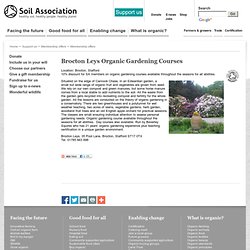 Location: Brocton, Stafford 10% discount for SA members on organic gardening courses available throughout the seasons for all abilities. Situated on the edge of Cannock Chase, in an Edwardian garden, a small but wide range of organic fruit and vegetables are grown from seed. We rely on our own compost and green manures, but some horse manure comes from a local stable to add nutrients to the soil. All the waste from the garden gets recycled into recreating compost and fertility for the whole garden. All the lessons are conducted on the theory of organic gardening in a conservatory. There are two greenhouses and a polytunnel for wet weather teaching, two acres of lawns, vegetable gardens, herb garden, woodland fruit trees and an old English apple orchard for practical sessions.
Soil Association membership offer: Brocton Leys Organic Gardening Courses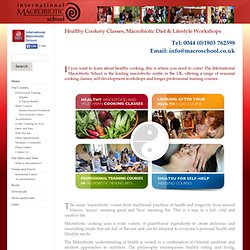 If you want to learn about healthy cooking, this is where you need to come! The International Macrobiotic School is the leading macrobiotic centre in the UK, offering a range of seasonal cooking classes, self-development workshops and longer professional training courses. The name 'macrobiotic' comes from traditional practices of health and longevity from ancient Greece, 'macro' meaning great and 'bios' meaning life. This is a way to a full, vital and creative life. Macrobiotic cooking uses a wide variety of plant-based ingredients to create delicious and nourishing meals that are full of flavour and can be adapted to everyone's personal health and lifestyle needs.
Short Courses
Sparsholt College Hampshire - Organic Gardening Certificate
Northop College - part of Deeside College, Flintshire, North Wales. Formerly the Welsh College of Horticulture.
Horticulture Wales | Developing Supply Chains
In a bid to encourage consumers to eat more fresh fruit and vegetables, the Grow to Love campaign held its summer food event at Haverfordwest Farmers' Market earlier this month. Attended by hundreds of families and shoppers from across the area. The Grow to Love event featured a branded demonstration kitchen where local chef, Guy Morris, expertly prepared a host of delicious, nutritious dishes using locally grown, seasonal fruit and vegetables, including Pembrokeshire paella with broad beans, courgettes and spinach, a refreshing fennel and kohlrabi slaw and mouth-watering berry tarts with locally grown blueberries.
RENEW
Schumacher College: Dartington Certificate in Sustainable Horticulture
www.charlesdowding.co.uk | No dig gardening
We have noticed an issue with registering and posting on the forum signified by a message questioning if you are a human! We hope these issues have been resolved. If you do still have an issue, please please contact us. We are in the process of updating the website to make it more user-friendly especially on mobile devices.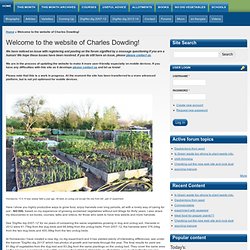 This well established Organic Horticulture course is ideal for those interested in a career change or for those who are already working in horticulture. The HNC in Organic Horticulture is a part-time course (one day per week over two years) validated by the University of Worcester and taught at Pershore College. Using our organically certified facilities, students develop a sound knowledge of organic principles and standards. The course is broad-based and covers both the growi Pershore College is the West Midlands' Regional Centre for the Royal Horticultural Society, the national headquarters of the Alpine Garden Society and holds the National Philadelphus and Penstemon collections for the National Council for the Conservation of Plants and Gardens.
Organic Horticulture HNC - University of Worcester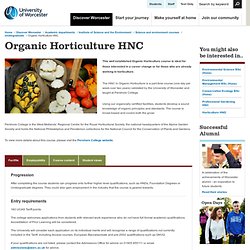 Permaculture Association | Course | Full Residential Permaculture Design and Forest Gardening Course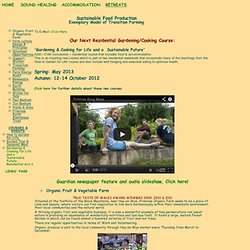 To E-Mail: Click Here Our Next Residential Gardening/Cooking Course: 'Gardening & Cooking for Life and a Sustainable Future' £200 / £180 concession – residential course that includes food & accommodation
Sustainablefoodproduction
Organic vegetable gardening.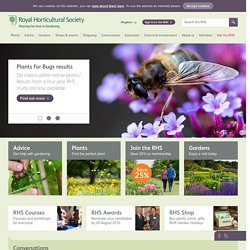 RHS Flower Show Cardiff highlights See all the gardens, awards and image highlights from the RHS Flower Show Cardiff, which proved popular as ever this year on account of the 10th anniversary celebrations and fine weather. See highlights See the RHS London Alpine Garden Show Come to the RHS London Alpine Garden Show on 27 April to browse the floral exhibits of enchanting alpines, watch handy demonstrations and get expert advice from the growers.
With the help of a bit of cover, and carefully selected varieties of seeds, it is possible to grow vegetables and herbs all year round in the United Kingdom, and presumably therefore in other temperate countries that have frosty winters.In my corner of Scotland, away from the sea and up in the hills, there is only one month of the year that can be guaranteed to be frost free and that is July. Most years we cannot grow courgettes or runner beans outside without cover. In our case, experimenting has paid off and we often have more produce in winter than in summer. Last year by the end of winter we were fed up with salad!