Vegetable garden
Garden Planters - Buy planters for your garden | Creative Garden Ideas
Raised Veg Beds and Wooden Planter - Garden Planters
The No Dig Garden is built on top of the ground, so you can start building a vegetable garden anywhere. This is natural organic gardening at its simplest and best.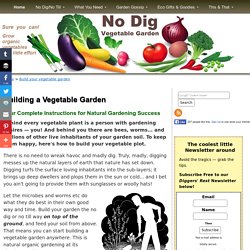 NATURES PRODUCE - Home
Over the 4 week course I will be presenting a series of lectures that will help you understand both the Big Issues – in other words – the philosophy behind organic gardening, and the Practicalities – in other words – how to do it.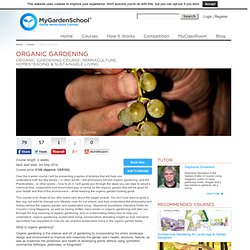 Organic Gardening Courses: Learn How to Go Green with Your Garden | MyGardenSchool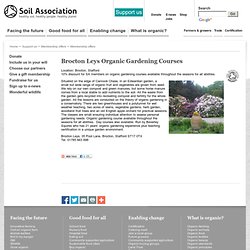 Location: Brocton, Stafford 10% discount for SA members on organic gardening courses available throughout the seasons for all abilities. Situated on the edge of Cannock Chase, in an Edwardian garden, a small but wide range of organic fruit and vegetables are grown from seed.
Soil Association membership offer: Brocton Leys Organic Gardening Courses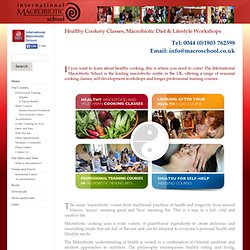 T he International Macrobiotic School offers exciting and innovative professional training courses and a public programme of shorter courses in macrobiotic healing arts.
Short Courses
Sparsholt College Hampshire - Organic Gardening Certificate
Posted on | Leave a comment
Northop College - part of Deeside College, Flintshire, North Wales. Formerly the Welsh College of Horticulture.
Horticulture Wales | Developing Supply Chains
Garden Skills | The National Botanic Garden of Wales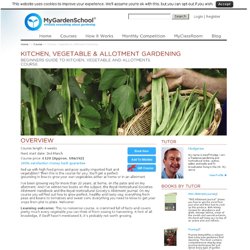 Grow Your Own Vegetables and Allotment Gardening Course | MyGardenSchool
Week 1: Fruiting Vegetables & Salads.
RENEW
The kitchen garden is for Arne the most rewarding part of the garden. Plants that are beautiful and delicious and quick to grow, must be worthy of special attention and on this course we look at designing areas for growing food.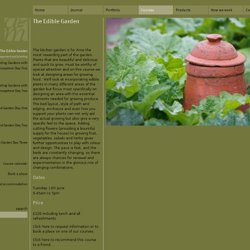 The Edible Garden - Arne Maynard Garden Design
We are very pleased to run our very successful Level 2 course and complement it with the provision of a Level 3 Diploma.
Schumacher College: Dartington Certificate in Sustainable Horticulture
Soil Association : Agricultural courses
www.charlesdowding.co.uk | No dig gardening
This well established Organic Horticulture course is ideal for those interested in a career change or for those who are already working in horticulture.
Organic Horticulture HNC - University of Worcester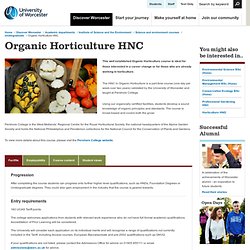 Permaculture Association | Course | Full Residential Permaculture Design and Forest Gardening Course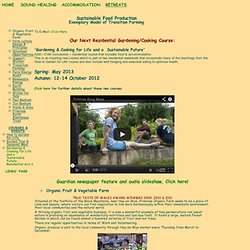 To E-Mail: Click Here
Sustainablefoodproduction
Organic vegetable gardening.
With the help of a bit of cover, and carefully selected varieties of seeds, it is possible to grow vegetables and herbs all year round in the United Kingdom, and presumably therefore in other temperate countries that have frosty winters.