Garden n Food
HOW TO: Store Fruit & Vegetables Without Plastic | Nature's Path Foods. You gotta love summer's abundant fruits and vegetables: Strawberries, juicy tomatoes, fresh carrots, dark leafy spinach, spicy arugula.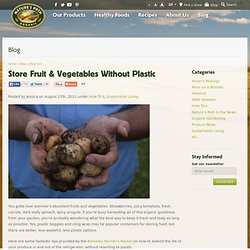 If you're busy harvesting all of this organic goodness from your garden, you're probably wondering what the best way to keep it fresh and tasty as long as possible. Yes, plastic baggies and cling wrap may be popular containers for storing food, but there are better, less-wasteful, less-plastic options. Here are some fantastic tips provided by the Berkeley Farmer's Market on how to extend the life of your produce in and out of the refrigerator, without resorting to plastic. Apples—Store on a cool counter or shelf for up to two weeks. 10 Benefits of Apple Cider Vinegar (Infographic) Spiced Chai Concentrate. I've had this recipe for homemade spiced chai concentrate bookmarked since January, but I finally got around to making up a batch this morning.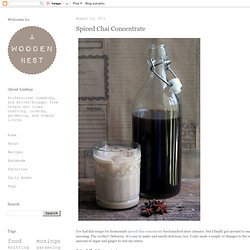 The verdict? Delicious. It's easy to make and smells delicious, too. I only made a couple of changes to the recipe, reducing the amount of sugar and ginger to suit my tastes. Benefits of Soaking Nuts and Seeds. If you've started reading raw cookbooks, you've probably noticed that soaking nuts and seeds is a pretty common practice!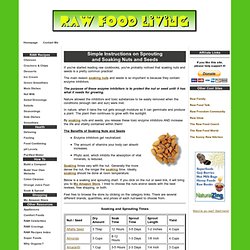 The main reason soaking nuts and seeds is so important is because they contain enzyme inhibitors. The purpose of these enzyme inhibitors is to protect the nut or seed until it has what it needs for growing. Nature allowed the inhibitors and toxic substances to be easily removed when the conditions (enough rain and sun) were met. In nature, when it rains the nut gets enough moisture so it can germinate and produce a plant. The plant then continues to grow with the sunlight. Attracting Bats to Your Garden. Bats have long been maligned by humans as a taboo or a creature to be shunned.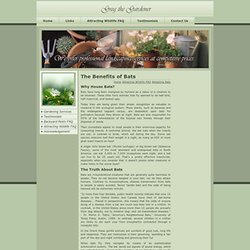 These little furry animals that fly seemed to be half-bird, half-mammal, and looked ugly. Today they are being given their proper recognition as valuable to mankind in the ecological system. Many plants, such as bananas and the endangered saguaro cactus, are dependent upon bats for pollination because they bloom at night.
Bats are also responsible for 95% of the reforestation of the tropical rain forests through their dispersal of seeds. Their immediate appeal to most people is their enormous capacity for consuming insects. BC's Best Community Gardens. Menu Search advertisement.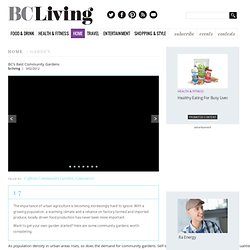 Of Diversity - Checkout. Please note that your membership fee only covers the cost of publications that you receive.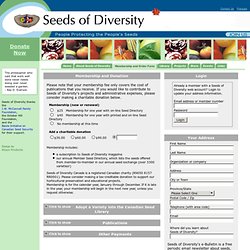 If you would like to contribute to Seeds of Diversity's projects and administrative expenses, please consider making a charitable donation below. Add a charitable donation Membership includes: a subscription to Seeds of Diversity magazineour annual Member Seed Directory, which lists the seeds offered from member-to-member in our annual seed exchange (over 3300 varieties!) Seeds of Diversity Canada is a registered Canadian charity (89650 8157 RR0001). 4 Simple Steps to Grow a Hundred Pounds of Potatoes in a Barrel. Container gardening isn't only for savvy urban gardeners and folks with limited space to grow, it can also be for folks who want to maximize their yields in a controlled environment.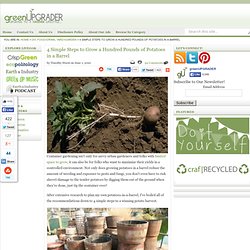 Not only does growing potatoes in a barrel reduce the amount of weeding and exposure to pests and fungi, you don't even have to risk shovel-damage to the tender potatoes by digging them out of the ground when they're done, just tip the container over! After extensive research to plan my own potatoes-in-a-barrel, I've boiled all of the recommendations down to 4 simple steps to a winning potato harvest. Elderberry flower syrup | Food in the Kootenays. Posted by Diana van Eyk on July 18th, 2011 This beautiful, and delicate syrup can be made from elderberry flowers which grow in the Kootenays this time of year.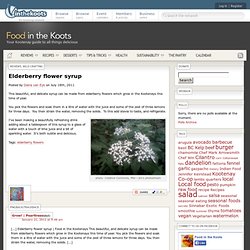 You pick the flowers and soak them in a litre of water with the juice and some of the zest of three lemons for three days. You then strain the water, removing the solids. Delicious idea: maple syrup made in Kimberley | News in the Kootenays. Posted on 13.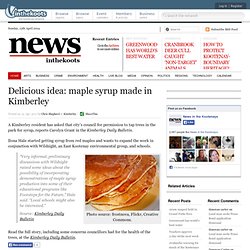 Apr, 2011 by Chris Shepherd in Kimberley | ShareThis A Kimberley resident has asked that city's council for permission to tap trees in the park for syrup, reports Carolyn Grant in the Kimberley Daily Bulletin. Ilona Hale started getting syrup from red maples and wants to expand the work in conjunction with Wildsight, an East Kootenay environmental group, and schools. Photo source: frostnova, Flickr, Creative Commons.
"Very informal, preliminary discussions with Wildsight raised some ideas about the possibility of incorporating demonstrations of maple syrup production into some of their educational programs like Footsteps for the Future," Hale said. My Potato Project; The Importance of "Organic"
---