Garden
Gardening. Vertical Gardening.
Vertical Garden
Hanging Pot — COOPERATIVA PANORÁMICA. Airplantman Webshop. Fox Fodder Farm x Farrah Sit - Light + Ladder. Farrah Sit and Taylor Patterson, Williamsburg neighbors and now studio mates, first met because of a shared love for gardening.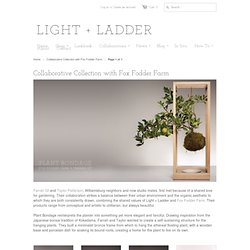 Their collaboration strikes a balance between their urban environment and the organic aesthetic to which they are both consistently drawn, combining the shared values of Light + Ladder and Fox Fodder Farm. Their products range from conceptual and artistic to utilitarian, but always beautiful. Plant Bondage reinterprets the planter into something yet more elegant and fanciful. Drawing inspiration from the Japanese bonsai tradition of Kokedama, Farrah and Taylor wanted to create a self-sustaining structure for the hanging plants.
They built a minimalist bronze frame from which to hang the ethereal floating plant, with a wooden base and porcelain dish for soaking its bound roots, creating a home for the plant to live on its own. iGNANT. The 'Urban Survival Pack' by Ryan Romanes with its tactility and playful shape invites the users to engage with the device while learning through play.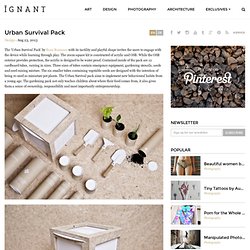 The 20cm square kit is constructed of acrylic and OSB. While the OSB exterior provides protection, the acrylic is designed to be water proof. 10¹² Terra. These clean geometric shapes are hydroponic terrariums, designed by Daisuke Tsumanuma and Kenichi Yamada of 10¹² TERRA.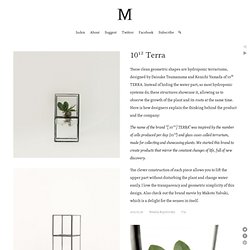 Instead of hiding the water part, as most hydroponic systems do, these structures showcase it, allowing us to observe the growth of the plant and its roots at the same time. Here is how designers explain the thinking behind the product and the company: The name of the brand "[ 10¹² ] TERRA" was inspired by the number of cells produced per day (10¹²) and glass cases called terrarium, made for collecting and showcasing plants.
We started this brand to create products that mirror the constant changes of life, full of new discovery. The clever construction of each piece allows you to lift the upper part without disturbing the plant and change water easily. How to Turn a Pallet into a Garden. Good news and bad news.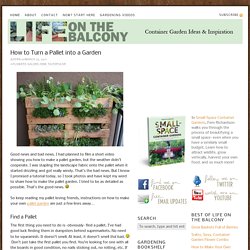 I had planned to film a short video showing you how to make a pallet garden, but the weather didn't cooperate. I was stapling the landscape fabric onto the pallet when it started drizzling and got really windy. That's the bad news. Green walls create new urban jungles. UK company Biotecture have created a green wall for the side of Edgware Road Underground station in London which sits near the busy, and very polluted, Marylebone Road.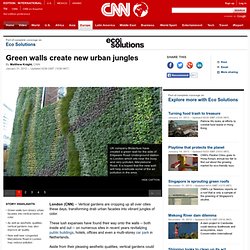 It is hoped that the new wall will help eradicate some of the air pollution in the area. Buildings with green walls are popping up all over the UK thanks to companies like Biotecture. This one is on a library in the town of Grimsby in northeast England. A Bridge to Nature: Barreau & Charbonnet's "Volet Vegetal" Urban Gardening Concept. Posted by Ray | 27 Aug 2012 | Comments (3) All images courtesy of Barreau & Carbonnet; 'gif' it a second to load We're always curious to see new developments in urban gardening trend as it grows parallel to broader interest in sustainable foodways, from reclaimed spaces to apartment-friendly planters to conceptual experiments.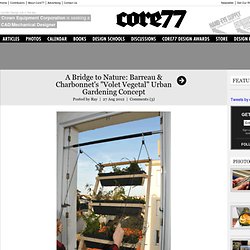 French designers Nicolas Barreau and Jules Charbonnet, based in Paris and Nantes respectively, recently created an innovative urban gardening apparatus that lies at the intersection of all three. Insect Hotels. Insect Hotels Provide a home to pollinators and pest controllers.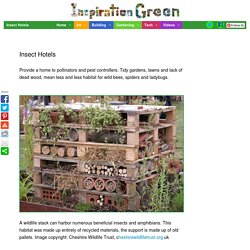 Tidy gardens, lawns and lack of dead wood, mean less and less habitat for wild bees, spiders and ladybugs. A wildlife stack can harbor numerous beneficial insects and amphibians. This habitat was made up entirely of recycled materials, the support is made up of old pallets. Farm in Tokyo / ON design partners. Architects: ON design partners Location: Tokyo, Japan Project area: 21 sqm Project year: 2010 Photographs: ON design partners An urban farm right in the middle of Roppongi which is the center part of Tokyo.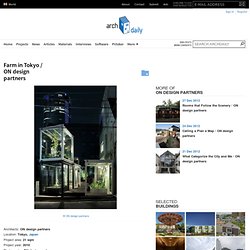 People who visit this place can see the process how vegetables grow and also eat the vegetables at the restaurant right next to this farm. This is a place where agriculture and people become close. Glass houses with inorganic iron frame and glass are arranged sterically on a wooden deck just like the surrounding city scape. A farm transported from the country side into the units. Inventare la Natura Urbana Competition. The competition is dedicated to the innovation of green in urban areas.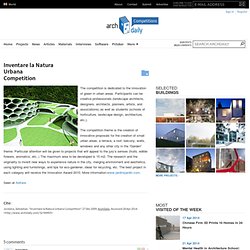 Participants can be creative professionals (landscape architects, designers, architects, planners, artists, and associations) as well as students (schools of horticulture, landscape design, architecture, etc.). The competition theme is the creation of innovative proposals for the creation of small urban areas, a terrace, a roof, balcony, walls, windows and any other city in the "Garden" theme. Particular attention will be given to projects that will appeal to the jury's senses (fruits, edible flowers, aromatics, etc..) Cages for Macaws / Enric Batlle & Joan Roig Architects. Architects: Enric Batlle & Joan Roig, arquitectos Location: Barcelona, Spain Collaborators: Francesc Puig, architect & Elena Mostazo, engineer Project year: 2007 Construction year: 2008 Client: Foment de Ciutat Vella, S.A. – Barcelona Serveis Municipals Contractor: COPISA Project Area: 1,375 sqm Budget: $343,239 Euro Project year: 2009 Photographs: Eva Serrats, Wenzel The palm grove in the Parc de la Ciutadella is a small 1,500 sqm garden made up of a wide collection of palm trees of different heights and a thick tropical bush vegetation.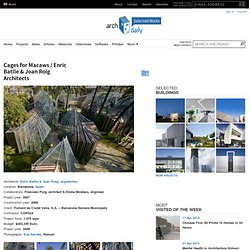 It has always been used as an habitat for the macaws. Its remote location and the noisy and colorful presence of the birds turn it into an exotic oasis inside the park and a unique place inside the city. The design of the cage was developed following the instructions of the Zoo's technicians. Planter Boxes Design, Pictures, Remodel, Decor and Ideas. Landscaping Planters Design, Pictures, Remodel, Decor and Ideas. Clément Briend. French photographer Clément Briend is playing with projections as a photographic exploration of his surroundings. He works with this medium in very unusual modalities, that propose another interpretation, another perception of pictures. Using homemade prototypes, he is able to project huge scaled pictures on trees, houses, walls and whatever suits him.
Create your own Vertical Garden - Living walls and Vertical Gardens. Vertical gardening is a fun, creative way to grow plants in urban spaces! Below is just a sample of what you can create with ready-to-go planters and kits. The first few images are of GroVert Vertical Gardening Systems by Bright Green. There are two different sized panels (10 and 45), and each are planted, then hung on the wall using their included mounting bracket. Plant-In City: Architecture and Technology for Plants. by Huy Bui, Carlos Gomez, Jon Schramm. We are creating a large-scale interactive art installation, a "Green City," where plants populate stackable structures inside a gallery space in Manhattan.
Our goal is to raise funds to buy materials and develop technology needed to complete this project. In our installation we envision a dense, lush skyline, where water flows from one terrarium to another. Visitors to the space enter an immersive environment. Planter. Score + Solder is selling these beautiful planter. They come in different shapes, such as diamond, quartz, cube or hanging. We just love the simple, graphical design as a mix of traditional fabrication techniques with contemporary forms.
It looks like your plants can grow peacefully, protected in their own space. The planters are handmade by Matthew Cleland who is also founder of the company and classifies himself as 'a traveling gypsy'. Each terrarium is made to order and comes with quartz, rocks, activated charcoal, soil for the moss, and instructions. Pendant Glass Light/ Terrarium. Green Roof Design: 10 Stunning, Sustainable Works of Architecture. Urban Vertical Garden Built From Hundreds of Recycled Soda Bottles.
AG&P Architettura dei giardini e del paesaggio. Copenhagen Adopts a Mandatory Green Roof Policy. Gardening. I Love Cob! Photo Gallery.
---