Basic Stamp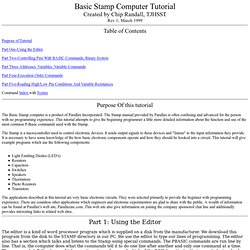 The Basic Stamp Computor Tutorial
Basic Stamp Computer Tutorial
Basic Stamp 2, Tutorial #10 - Serial Communication
Tutorial #10 - Serial Communication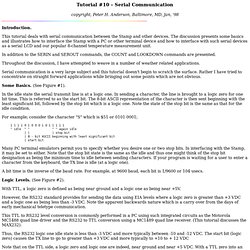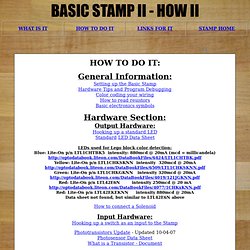 General Information: Setting up the Basic Stamp Hardware Tips and Program Debugging Color coding your wiring How to read resistors Basic electronics symbols Hardware Section: Output Hardware: Hooking up a standard LED Standard LED Data Sheet LEDs used for Lego block color detection: Blue: Lite-On p/n LTL1CHTBK5 intensity: 880mcd @ 20mA (mcd = millicandela) http://optodatabook.liteon.com/DataBookFiles/6424/LTL1CHTBK.pdf Yellow: Lite-On p/n LTL1CHKSKNN intensity 320mcd @ 20mA http://optodatabook.liteon.com/DataBookFiles/6509/LTL1CHKSKNN.pdf Green: Lite-On p/n LTL1CHKGKNN intensity 320mcd @ 20mA http://optodatabook.liteon.com/DataBookFiles/4019/121JGKNN.pdf Red: Lite-On p/n LTL42E6N intensity 250mcd @ 20 mA http://optodatabook.liteon.com/DataBookFiles/4077/1CHKxKNN.pdf Red: Lite-On p/n LTL42EKEKNN intensity 880mcd @ 20mA Data sheet not found, but similar to LTL42E6N above Input Hardware: Hooking up a switch as an input to the Stamp
MAE - Basic Stamp II How II - How to
Figure 2: BS1-IC & TWS-434 Connections. Connect Pin# 7 (P0) of the BS1-IC to the data-input pin of the TWS-434 RF transmitter module. Pin# 4 of the TWS-434 is the antenna connection, and requires only a 13-inch piece of insulated hobby wire for an effective antenna.
RF Remote Control For The BASIC Stamp
Basic Stamp 2 - Working with Basic Stamps and PICs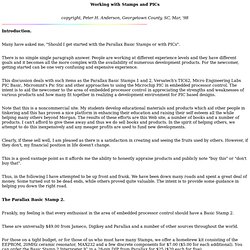 Working with Stamps and PICs
Mozilla Firefox
Electronically Monitored EcoSystems
StampWorks v2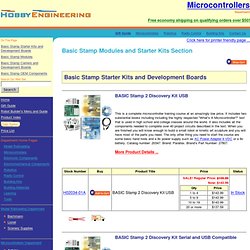 Hobby Engineering: Basic Stamp Modules and Starter Kits Section
BASIC Stamp Tools for Linux
HVW Technologies: Microcontrollers, Embedded Software, Development Tools and Robotics
Peter H. Anderson - Embedded Processor Control
BASIC Stamp RS232 serial notes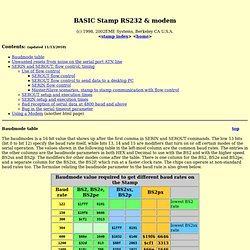 BASIC Stamp RS232 & modem (c) 1998, 2002EME Systems, Berkeley CA U.S.A.
Basic Stamp 2 - Tutorial and Applications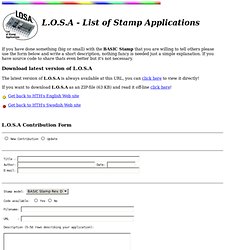 L.O.S.A - List of Stamp Applications
If you have done something (big or small) with the BASIC Stamp that you are willing to tell others pleaseuse the form below and write a short description, nothing fancy is needed just a simple explanation. If youhave source code to share thats even better but it's not necessary. Download latest version of L.O.S.A
Tracy Allen's BASIC Stamp app-notes index
BASIC Stamp Support Index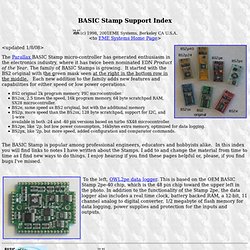 Forums
Basic Stamp® - Index
Home
Basic Stamp FAQ
Here are additional sites with information and support for BASIC Stamps.
Tracy Allen's BASIC Stamp Links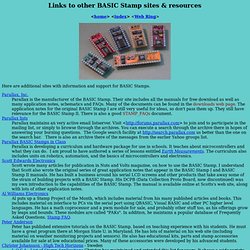 BasicX by NetMedia Inc.
Basic Stamp Projects
Diagram of a BASIC Stamp 2
BASIC Stamp