Basic quantities
Temperature
A map of global long term monthly average surface air temperatures in Mollweide projection.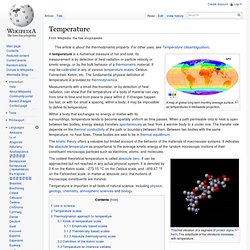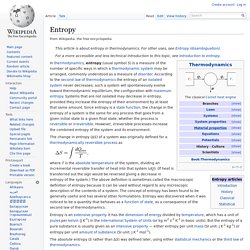 Entropy is a mathematically-defined thermodynamic quantity that helps to account for the flow of energy through a thermodynamic process. Entropy was originally defined for a thermodynamically reversible process as
Entropy
Acceleration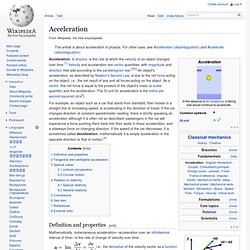 In physics , acceleration is the rate at which the velocity of a body changes with time. [ 1 ] In general, velocity and acceleration are vector quantities, with magnitude and direction , [ 2 ] [ 3 ] though in many cases only magnitude is considered (sometimes with negative values for deceleration, treating it as a one dimensional vector).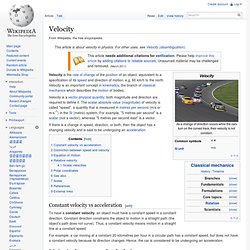 Velocity
In kinematics , velocity is the rate of change of the position of an object, equivalent to a specification of its speed and direction of motion.
Momentum
In classical mechanics , linear momentum or translational momentum ( pl. momenta; SI unit kg m/s , or equivalently, N s ) is the product of the mass and velocity of an object.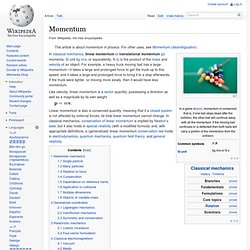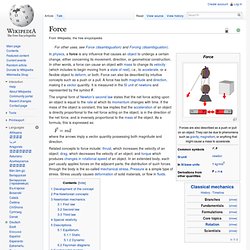 In physics , a force is any influence that causes an object to undergo a certain change, either concerning its movement, direction, or geometrical construction. It is measured with the SI unit of newtons and represented by the symbol F . In other words, a force is that which can cause an object with mass to change its velocity (which includes to begin moving from a state of rest ), i.e., to accelerate , or which can cause a flexible object to deform .
Force
Potential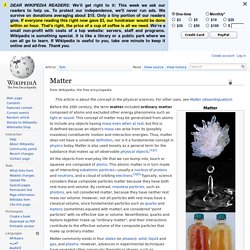 Matter , generally is a substance (often a particle) that has rest mass and (usually) also volume .
In physics, energy is an indirectly observed quantity which comes in many forms, such as kinetic energy , potential energy , radiant energy , and many others; which are listed in this summary article. This is a major topic in science and technology and this article gives an overview of its major aspects, and provides links to the many specific articles about energy in its different forms and contexts. The question "what is energy?"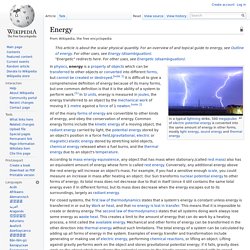 Electric charge
Electric charge is a physical property of matter that causes it to experience a force when near other electrically charged matter.
In physics , mass (from Greek μᾶζα "barley cake, lump (of dough)") refers to the quantity of matter in an object. More specifically, inertial mass is a quantitative measure of an object's resistance to acceleration .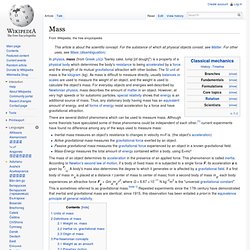 Mass
The flow of sand in an hourglass can be used to keep track of elapsed time.
In geometric measurements, length is the longest dimension of an object. [ 1 ] In other contexts "length" is the measured dimension of an object. For example it is possible to cut a length of a wire which is shorter than wire thickness . Length may be distinguished from height , which is vertical extent, and width or breadth, which are the distance from side to side, measuring across the object at right angles to the length.
Length
Space is the boundless three-dimensional extent in which objects exist and events occur and have relative position and direction. [ 1 ] Physical space is often conceived in three linear dimensions , although modern physicists usually consider it, with time , to be part of a boundless four-dimensional continuum known as spacetime .