YouTube
8 Overlooked Useful YouTube Tools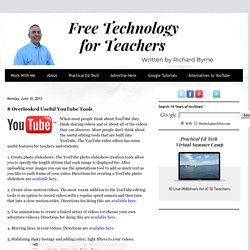 When most people think about YouTube they think sharing videos and or about all of the videos they can discover. Most people don't think about the useful editing tools that are built into YouTube. The YouTube video editor has some useful features for teachers and students. 1. Create photo slideshows. The YouTube photo slideshow creation tools allow you to specify the length of time that each image is displayed for.
77,933 views UNC-Chapel Hill student journalism student Kristi Uffman walks newsrooms and non-profits how to create a YouTube channel to boost conversation.... UNC-Chapel Hill student journalism student Kristi Uffman walks newsrooms and non-profits how to create a YouTube channel to boost conversation. By Kristi Uffman, UNC-Chapel Hill studentSchool of Journalism and Mass CommunicationAPPLES Ueltschi Course Development Grant Statistics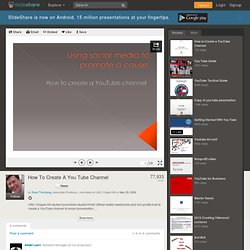 How To Create A You Tube Channel
YouPoint - MMacfadden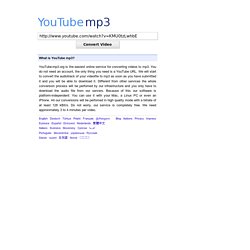 YouTube-mp3.org is the easiest online service for converting videos to mp3. You do not need an account, the only thing you need is a YouTube URL. We will start to convert the audiotrack of your videofile to mp3 as soon as you have submitted it and you will be able to download it. Different from other services the whole conversion process will be perfomed by our infrastructure and you only have to download the audio file from our servers. Because of this our software is platform-independent: You can use it with your Mac, a Linux PC or even an iPhone. All our conversions will be perfomed in high quality mode with a bitrate of at least 128 kBit/s.
Create Slowmotion Videos Using the YouTube Video Editor
Want to understand why my dogs make such a mess when they drink water? Watch a slow motion video of the process and you'll see why right away. This week YouTube made it possible for anyone to create a slow motion video. The enhancements tool in the YouTube video editor now includes the option to apply slow motion effects to your videos. You can slow the action to 50%, 25%, or 12.5% of the original speed. I made a slow motion video of my dogs running in the snow.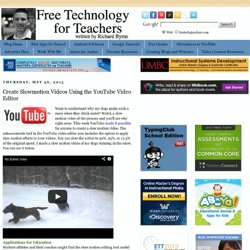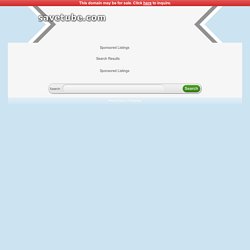 SaveTube - Save YouTube Videos
Help Section Note to all users of the new SaveTube 1 - It is very important that you download the latest Java or update your current installed version. Download Java (Free)
Blubbr - Create Interactive Quizzes Using YouTube Clips
Blubbr is a neat quiz creation service that I recently learned about on Danny Nicholson's blog. Using Blubbr you can create interactive quizzes that are based on YouTube clips. Your quizzes can be about anything of your choosing. The structure of the quizzes has a viewer watch a short clip then answer a multiple choice question about the clip.
I asked my students to create a YouTube video and create annotations (like sticky notes on the video) by editing their video within YouTube. Problem is, apparently on their GAFE (Google Apps for Education) account the option to add annotations was not working. This necessitated that we copy the videos to personal YouTube account. Go to http://YouTube.com and go to the video manager Check the checkbox next to the video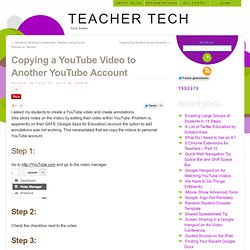 Copying a YouTube Video to Another YouTube Account
Free YouTube Downloader
Post a Video to YouTube - Teacher Professional Development
Search YouTube for Videos - Teacher Professional Development
Examine YouTube - Teacher Professional Development
Some Handy Tools For YouTube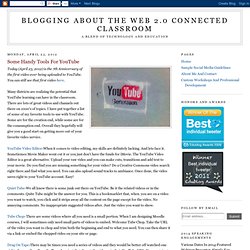 Today (April 23, 2012) is the 7th Anniversary of the first video ever being uploaded to YouTube. You can still see that first video here. Many districts are realizing the potential that YouTube learning can have in the classroom. There are lots of great videos and channels out there on 1000's of topics. I have put together a list of some of my favorite tools to use with YouTube. Some are for the creation end, while some are for the consumption end.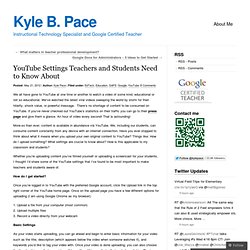 We all have gone to YouTube at one time or another to watch a video of some kind; educational or not so educational. We've watched the latest viral videos sweeping the world by storm for their hilarity, shock value, or powerful message. There's no shortage of content to be consumed on YouTube. If you've never checked out YouTube's statistics on their traffic you can go to their press page and give them a glance. An hour of video every second!
YouTube Settings Teachers and Students Need to Know About
If you can access it in your school, YouTube has a ton of useful educational content. Here are ten tools that can make using YouTube in your classroom a better experience for everyone. Removing Related Content and Banner Advertisements. A Cleaner YouTube is a browser extension for Chrome, Firefox, and Safari. Once installed A Cleaner YouTube allows you to display YouTube videos without any of the "related videos," comments, or display advertising. There are other tools that do the same thing, but what makes A Cleaner YouTube different is that not only can you display videos without the related materials, but you can also search YouTube without viewing any of the "related videos," comments, suggested videos, or advertisements.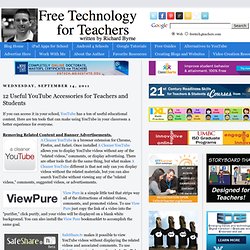 Customized YouTube embeds with the extra row of features require Flash support. For devices that do not currently support Flash (e.g. iPhone/iPad, Android phones without a Flash browser), these customized embeds will gracefully emulate standard YouTube embeds. We do have a cool tool to checkout if you want to embed standard YouTube videos in WordPress. Check out our YouTube-WordPress Plugin »
Pure video viewing. Watch YouTube videos without comments, suggestions, or the 'other' things. Click here for an example. Use it anywhere. Simply drag the button below into your bookmarks toolbar (or right click and favorite it in IE) to use it. Next time you see a video you want to purify, click the button when on the YouTube page.
Although YouTube has been blocked from many/most schools, for obvious reasons and not so obvious ones. YouTube does provide great resources and content for teachers and students. View the list of the Top 100 Videos for Teachers.