YouTube
8 Overlooked Useful YouTube Tools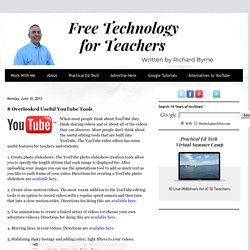 When most people think about YouTube they think sharing videos and or about all of the videos they can discover. Most people don't think about the useful editing tools that are built into YouTube.
How To Create A You Tube Channel
YouPoint - MMacfadden
Create Slowmotion Videos Using the YouTube Video Editor
Want to understand why my dogs make such a mess when they drink water? Watch a slow motion video of the process and you'll see why right away.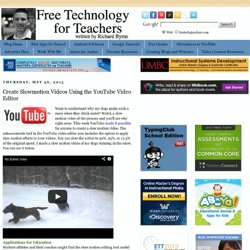 SaveTube - Save YouTube Videos
Blubbr - Create Interactive Quizzes Using YouTube Clips
Blubbr is a neat quiz creation service that I recently learned about on Danny Nicholson's blog. Using Blubbr you can create interactive quizzes that are based on YouTube clips. Your quizzes can be about anything of your choosing.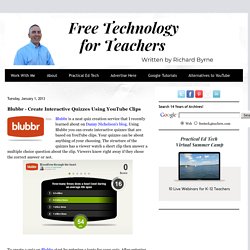 I asked my students to create a YouTube video and create annotations (like sticky notes on the video) by editing their video within YouTube.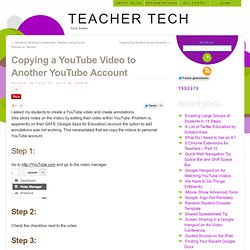 Copying a YouTube Video to Another YouTube Account
Free YouTube Downloader
Post a Video to YouTube - Teacher Professional Development
Search YouTube for Videos - Teacher Professional Development
Examine YouTube - Teacher Professional Development
Some Handy Tools For YouTube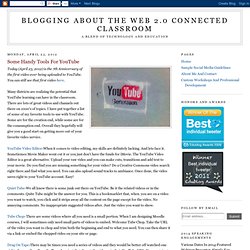 Today (April 23, 2012) is the 7th Anniversary of the first video ever being uploaded to YouTube. You can still see that first video here. Many districts are realizing the potential that YouTube learning can have in the classroom. There are lots of great videos and channels out there on 1000's of topics. I have put together a list of some of my favorite tools to use with YouTube. Some are for the creation end, while some are for the consumption end.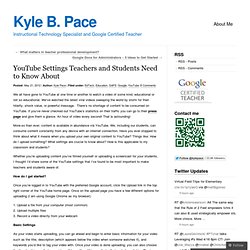 We all have gone to YouTube at one time or another to watch a video of some kind; educational or not so educational. We've watched the latest viral videos sweeping the world by storm for their hilarity, shock value, or powerful message. There's no shortage of content to be consumed on YouTube. If you've never checked out YouTube's statistics on their traffic you can go to their press page and give them a glance. An hour of video every second!
YouTube Settings Teachers and Students Need to Know About
If you can access it in your school, YouTube has a ton of useful educational content. Here are ten tools that can make using YouTube in your classroom a better experience for everyone. Removing Related Content and Banner Advertisements.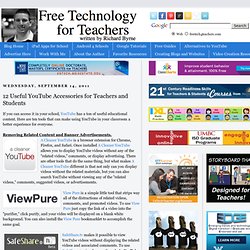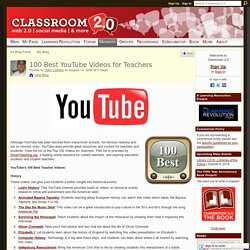 Although YouTube has been blocked from many/most schools, for obvious reasons and not so obvious ones. YouTube does provide great resources and content for teachers and students. View the list of the Top 100 Videos for Teachers.