Classe renversée
Classe Inversée - Libérons l'éducation. Flipped Classroom. How flipping works for you Save time; stop repeating yourself Record re-usable video lessons, so you don't have to do it again next year.
It's easy to make minor updates to perfect lessons over time once the initial recording is done. Understanding the Flipped Classroom: Part 2. October 24, 2012 By: Pamela Kachka in Teaching with Technology Editor's Note: Part 1 of this article looked at the history of the flipped classroom.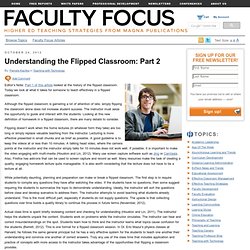 Today we look at what it takes for someone to teach effectively in a flipped classroom. Five Best Practices for the Flipped Classroom. Ok, I'll be honest.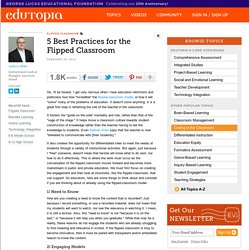 I get very nervous when I hear education reformists and politicians tout how "incredible" the flipped classroom model, or how it will "solve" many of the problems of education. It doesn't solve anything. It is a great first step in reframing the role of the teacher in the classroom. It fosters the "guide on the side" mentality and role, rather than that of the "sage of the stage. " It helps move a classroom culture towards student construction of knowledge rather than the teacher having to tell the knowledge to students. Flipping The Classroom… A Goldmine of Research and Resources To Keep You On Your Feet.
Greetings from Boston and BLC12 (Alan November's Building Learning Communities Conference ).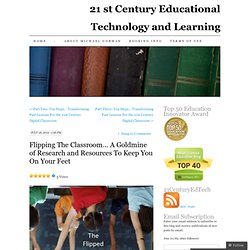 If you wish to follow the happenings at BLC12 check out the hashtag #BLC12 on Twitter. Welcome to another post rich in resources on the Flipped Classroom. If you have come here looking for links that will guide you to videos and multimedia to use in a Flipped Classroom you will find that in the second half of this post. L'apprentissage inversé : avancée ou régression ? Si vous fréquentez les sites américains de pédagogie, vous aurez sans doute été surpris de constater l'engouement des enseignants pour le « flipped learning », que l'on traduit par "apprentissage inversé".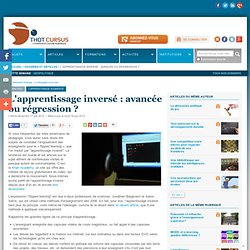 La tendance est lourde et les articles sur le sujet attirent de nombreuses visites et presque autant de commentaires. C'est la Khan Academy, un site qui offre des milliers de leçons gratuitement en vidéo, qui a déclenché le mouvement. Nous-mêmes avons parlé de l'apprentissage inversé depuis plus d'un an, et encore tout récemment. À l'école du coenseignement | Pascale Breton.
Le projet est né d'un rêve, celui de deux enseignantes qui souhaitaient travailler ensemble, dans une seule et même grande classe, convaincues des bénéfices pour les élèves.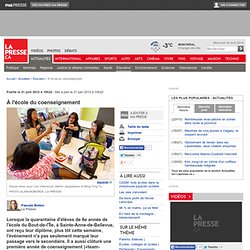 La route a été longue pour y parvenir. Anne-Marie Roberge et Émilie Leblanc-Goulet ont profité de l'agrandissement de leur école pour soumettre le projet à leur directrice.
A Model for the Flipped Classroom. Sophia upgrades its website with 25,000 free academic tutorials and more. Sophia.org has enhanced its social teaching and learning platform to include more than 25,000 free tutorials on math, science, English, and more—all in an ad-free environment.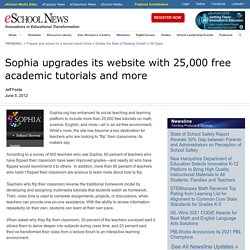 What's more, the site has become a key destination for teachers who are looking to "flip" their classrooms, its makers say. According to a survey of 400 teachers who use Sophia, 85 percent of teachers who have flipped their classroom have seen improved grades—and nearly all who have flipped would recommend it to others.
In addition, more than 80 percent of teachers who hadn't flipped their classroom are anxious to learn more about how to flip. Teachers who flip their classroom reverse the traditional homework model by developing and assigning multimedia tutorials that students watch as homework. Then, class time is used to complete assignments, projects, or discussions, when teachers can provide one-on-one assistance. BYOD in Schools Pros and Cons. 1.
Students MORE likely to have remembered devices than pencils etc 2. Can use the device THEY have chosen to complete set tasks. 3. Brain Rules: Brain development for parents, teachers and business leaders | Brain Rules | The Flipped Classroom: Turning the Traditional Classroom on its Head. Le QuoTICdien. 7 Things You Should Know About Flipped Classrooms | EDUCAUSE. Flipped - Jacques Cool on Diigo. The MOOC as it exists today, with millions of dollars being poured into figuring out how, when, and where to use it, needs a quick overhaul.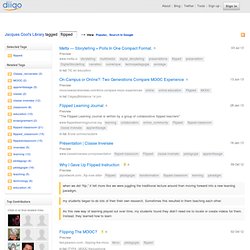 I am hopeful that it will happen sooner rather than later as (hopefully) it hasn't become an "institution" to anyone yet. Hopefully nobody is so tied to the notion of something that didn't really even exist until less than a year ago that they can retool, reconfigure, and rethink the MOOC. Because a MOOC has tremendous possibility. Dispositif Hybride, flipped classroom ... suite. Dans un précédent billet, je définissais la notion d'hybridation … pour être bref, un mélange fertile d'enseignement et d'apprentissage traditionnels et d'enseignement et d'apprentissage à distance.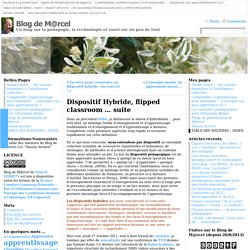 Complétons cette première approche trop rapide et revenons rapidement sur cette définition : En ce qui nous concerne, nous entendons par dispositif un ensemble cohérent constitué de ressources (matérielles et humaines), de stratégies, de méthodes et d'acteurs interagissant dans un contexte donné pour atteindre un but. Causerie avec Marcel Lebrun : Flippons nos cours - AIPU2012. Gallery and Case Studies :: Dry Erase Surfaces @ School. There are no little ideas, only little places to put them. IdeaPaint transforms virtually any classroom surface into a boundless dry erase canvas, giving teachers and students the space they need to collaborate, connect and accelerate learning. Turn walls, desks and even old chalkboards into more functional and fun spaces. No matter where you use it, minds will open up and fill with big ideas. La classe renversée. The Flipped Class Manifest. Photo: Document with Red Line by Dukeii (Editor's Note: The conversation and interest in the flipped class continues . . .
From our very first post about this topic in January 2011 to date (3/30/13), The Daily Riff has received 250,000+ views to related posts which are linked below - extending to over 100 countries. Today's post is authored by eight notable advocates for the flipped classroom. Thanks goes to our guest post contributors, and of course, our avid readers. Disclosure: The Daily Riff is not financially affiliated in any way with the flipped class. - C.J.
Teachers love the flipped classroom | Sophia Blog. SOPHIA, an online social education platform, is celebrating the culmination of its "Get Schooled with Bill Nye" campaign with the nation's largest flipped classroom demonstration with teachers, students and parents. Flipped classrooms are a growing approach to integrating technology into education, and use a blended form of learning that provides instruction both in and out of the classroom to enhance individual student learning. Event participants are invited to review a tutorial from Bill Nye in advance of the event, and then join Bill Nye at the Mall of America for a review of the lesson and take a quiz that demonstrates the bridge between learning in and out of the classroom. Flipping Blooms Taxonomy. Teacher Shelley Wright is on leave from her classroom, working with teachers in a half-dozen high schools to promote inquiry and connected learning.
I think the revised Bloom's Taxonomy is wrong. Hear me out. I know this statement sounds heretical in the realms of education, but I think this is something we should rethink, especially since it is so widely taught to pre-service teachers. I agree that the taxonomy accurately classifies various types of cognitive thinking skills. It certainly identifies the different levels of complexity. Réseau social éducatif sécuritaire pour enseignants et étudiants. The Art of a Flipped Classroom – Turning Learning on its Head. Read more by smurik March 19th, 2012 Date: Thursday, May 3, 2012Time: 3:00pm ET / 12:00 noon PTDuration: 1 hourSponsors: TechSmith & EduVision by JDL Horizons The Flipped-Mastery Classroom Sign up for this free webinar to learn more about Flipped Learning and how to reach all of your students in every class every day. Whether you attended Part I or not, this webinar will discuss the Flipped-Mastery Classroom.
Friday Institute for Educational Innovation - FIZZ. Why Flip The Classroom When We Can Make It Do Cartwheels? Teacher Vodcasting and Flipped Classroom Network - A professional learning community for teachers using vodcasting in the classroom. Khan Academy. Faire la classe mais à l'envers : la «flipped classroom»: Service de soutien à la formation. Moving the Flipped Class « Educator. Pédagogie inversée : des résultats scolaires nettement supérieurs. //Cybercarnet du ProfNoël. À la découverte de la pédagogie inversée: le pourquoi « Annick Arsenault Carter. Pédagogie inversée (Flipped classroom)
Annickcarter1. #flipclass. À la découverte de la pédagogie inversée: le pourquoi « Annick Arsenault Carter. Pédagogie inversée by Annick Arsenault on Prezi.
---