Things to look at
Shopping Cart. Famous Cave Paintings Might Not Be From Humans. Hide captionThe Panel of Hands in the Cave of El Castillo in Spain.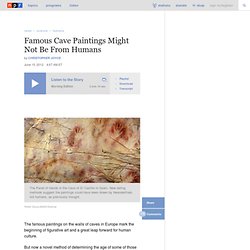 New dating methods suggest the paintings could have been drawn by Neanderthals, not humans, as previously thought. Pedro Saura/AAAS/Science. The Famous Artists | The Famous Artists. Lascaux Caves, France. The Lascaux Caves (or Lascaux Grottoes) in southwest France contain some of the oldest and finest prehistoric art in the world.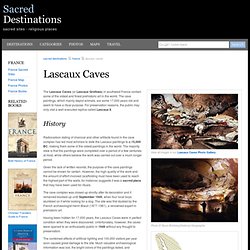 The cave paintings, which mainly depict animals, are some 17,000 years old and seem to have a ritual purpose. For preservation reasons, the public may only visit a well-executed replica called Lascaux II. History Radiocarbon dating of charcoal and other artifacts found in the cave complex has led most scholars to date the Lascaux paintings to c.15,000 BC, making them some of the oldest paintings in the world. 3D Warehouse. 3D Warehouse Advanced Search Sign In Lego Ultralight Airplane Model #6529 by: Matthew Walker.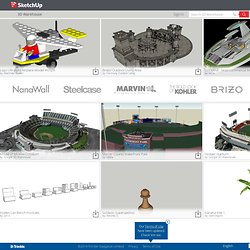 Art History Images Library. Public domain image resources. Public domain image resources is a copy of the master Wikipedia page at Meta, which lists a number of sources of public domain images on the Web.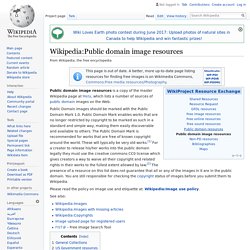 The presence of a resource on this list does not guarantee that all or any of the images in it are in the public domain. You are still responsible for checking the copyright status of images before you submit them to Wikipedia. Famous Artworks exhibition. RIS Image Gallery Welcome - Photographs, postcards, stereographs, sculptures, paintings, drawings. Mandala, Name: Wilson, Jay, Used: United States: Alabama, Date: 1812 Jane Evans Tevis, Artist:Jacob Eichholtz 1776-1842, Date:1827 Duke Ellington's hands playing piano : black-and-white photoprint.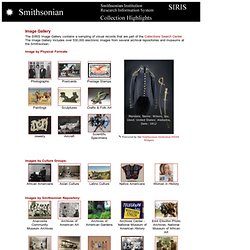 Photographer: Schreirer, Bernard. Collections Search Center, Smithsonian Institution. What interests you at the Smithsonian?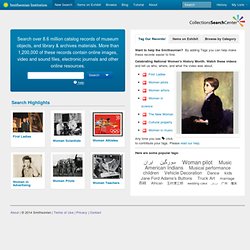 Find items in the exhibits now. For example: Civil War, Buddhism, African Masks, or Amelia Earhart. Art Renewal Center Mission Statement. Educational Technology Clearinghouse. Diane Arbus & William Eggleston | Cheim & Read - Art Hag. Cheim & Read has two great photo exhibits happening concurrently - Diane Arbus' In the Absence of Others and William Eggleston's 21st Century.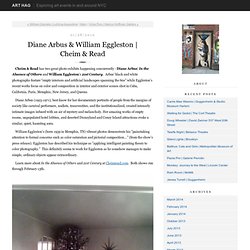 Arbus' black and white photographs feature "empty interiors and artificial landscapes spanning the 60s" while Eggleston's recent works focus on color and composition in interior and exterior scenes shot in Cuba, California, Paris, Memphis, New Jersey, and Queens. Diane Arbus (1923-1971), best know for her documentary portraits of people from the margins of society like carnival performers, nudists, transvestites, and the institutionalized, created intensely intimate images infused with an air of mystery and melancholy. Her amazing works of empty rooms, unpopulated hotel lobbies, and deserted Disneyland and Coney Island attractions evoke a similar, quiet, haunting aura.
The St. Cuthbert Gospel: 1,300 Years Old, And Looking Pretty Good. Hide captionThe Gospel, buried with St.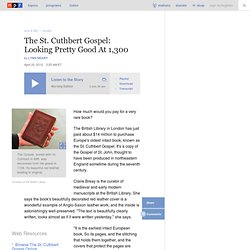 Cuthbert in 698, was recovered from his grave in 1104. Its beautiful red leather binding is original. Courtesy of the British Library The Gospel, buried with St. The Ultimate Guide To Using iPads In The Classroom. How Students Benefit From Using Social Media 14.60K Views 0 Likes A lot of criticism has been leveled at social media and the effect it has on the way students process and retain information, as well as how distracting it can be.
However, social media offers plenty of opportunities for learning and interactivity, and if you take a moment to think about it, it's not too hard to see how students benefit from using social media. Want to Build a New App? There's an App for That, Too. Competition in Apple's App Store is so tough that even strong concepts must be planned to perfection before any development should start.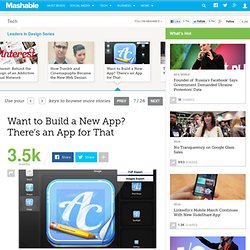 So enter App Cooker: A hot new iPad app that makes sure other apps have the right ingredients in place before any development begins. App Cooker ($19.99) from Sophia-Antipolis, France-based Hot Apps Factory helps aspiring designers organize, plan and get app projects ready for production. 30-year-old Xavier Veyrat — the designer of App Cooker — spoke to Mashable about the development of the platform and the steps that go into creating a masterpiece app recipe. Have you always been into design? TCEA-Recommended iPad Apps. Blooms Taxonomy with Apps. After seeing the chart on of Bloom's Taxonomy on bloomsapps, I thought I could make a more thorough table.
I like the headings that were used in the chart. Creating Compile information together in a different way by combining elements in a new pattern or proposing alternative solutions.CreatePredictImage Evaluating Present and defend opinions by making judgments about information, validity of ideas or quality of work based on a set of criteriaJudgments in terms of internal evidenceJudgments in terms of external criteria. Château de Vincennes. La maison rouge - fondation antoine de galbert. Foundation Yves Saint-Laurent & Pierre Bergé.
Art culture musée expositions cinémas conférences débats spectacles concerts. Fondation Cartier pour l'art contemporain. Fondation Henri Cartier-Bresson. Fondation HCB : 10th Anniversary For its Tenth' Anniversary, Fondation HCB is publishing a book with Editions Xavier Barral. It will be sold at the foundation from September 11th . Next Exhibition. Les Arts Décoratifs - Site officiel. Maison européenne de la photographie / ville de Paris. La maison Européenne de la Photographie 5/7 Rue de Fourcy - 75004 Paris Metro Ligne 1 | Saint Paul Ligne 7 | Point Marie Ligne 11 | Hotel de Ville Vélib Station n°4010 | 105-109 Terre plein Saint Paul Station n°4011 | 18 rue de l'Hôtel de Ville Station n°4012 | 2 rue Tiron Station n°4015 | 25 rue du Pont Louis-Philippe Bus Rue de Jouy | Bus n° 69 - 79 - 96 - Bb - N11 - N16 Rue Vieille du temple Mairie du 4e | Bus n° 96 Saint Paul | Bus n° 69 - 76 - 96 - Bb - N11 - N16 Parking Parc Baudoyer | Parc Pont Marie | Parc Lobau.
Disabled parking available at 2 rue de Jouy. Musée national du Moyen Age. Les clés pour le Moyen-Âge Art et nature au Moyen Âge La nature est omniprésente dans l'art du Moyen Âge, comme elle l'est dans la vie des hommes et des femmes de cette époque, où une forte majorité de la population vit à la campagne et où les villes abritent des jardins et même des portions de vignes et de champs. Pièces luxueuses ou plus modestes, objets religieux ou profanes, éléments du décor ou objets de la vie quotidienne, témoignent tous de l... Le louvre. Home. Sketchpad - Online Paint/Drawing application. Sosense | Your Social Impact. The National Endowment for the Humanities. Carter Center Charitable Donations - Support Our Work.
National Endowment for the Arts Home Page. Charity: water. The Earth Institute at Columbia University. Sosense | Your Social Impact. The Forbes Impact 30 List. Basilica of St. Peter - Apse. Basilica of St. John Lateran - Nave, Location 1. Basilica di San Paolo fuori le Mura - Navata Centrale. Sistine Chapel. Aesthetic Puzzles Assignments. Abstract critical Newcomer Awards 2011 Newcomers announced. VisCultureConf_proceedings.
---