Make Me Smarter
Las Mejores Matematicas De Los Mayas - Video
A Singular Creation Art Community & Tutorial: Painting Realistic Eyes - StumbleUpon
We get a lot of emails asking how to use brushes correctly so I hope this helps you out a little! A brow brush is designed to be stiff and angled for a reason. And we use the slanted edge to shade and the tip of the edge to outline. Put those components together and a brow brush is quite frankly a thing of perfection! Here's how to use it properly: READ MORE…
makeup - thebeautydepartment.com - page 12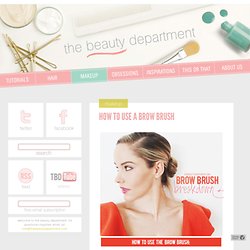 Most Amazing Sand Sculptures Anyone who has ever been to the beach has probably tried to sculpt a simple sand structure of some sort.Well leave it to the pros, because we have some great sand sculpture pictures listed below. 36 Comments: rachael said... I've tried making sandcastles before.. I suck.
Most Amazing Sand Sculptures | Golberz.Com - StumbleUpon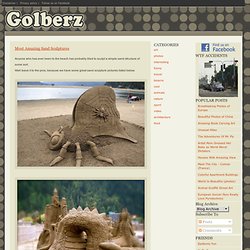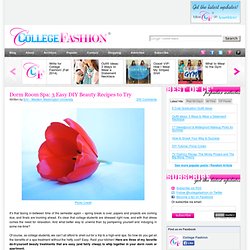 Dorm Room Spa: 3 Easy DIY Beauty Recipes to Try - College Fashion - StumbleUpon
Photo Credit It's that taxing in-between time of the semester again – spring break is over, papers and projects are coming due, and finals are looming ahead. It's clear that college students are stressed right now, and with that stress comes the need for relaxation.
Reduce Your Chances of Dying in a Plane Crash
MOVE on Vimeo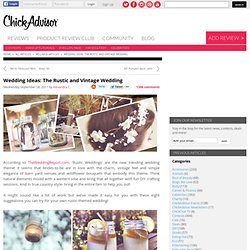 According to TheWeddingReport.com, 'Rustic Weddings' are the new trending wedding theme! It seems that brides-to-be are in love with the charm, vintage feel and simple elegance of barn yard venues and wildflower bouquets that embody this theme. Think natural elements mixed with a western vibe and bring that all together with fun DIY crafting sessions.
Wedding Ideas: The Rustic and Vintage Wedding
30 Funny Illustrations about Simple Truths of Life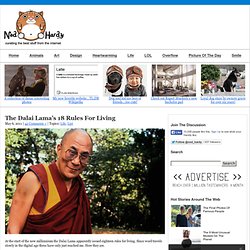 May 6, 2011 | 42 Comments » | Topics: Life, List At the start of the new millennium the Dalai Lama apparently issued eighteen rules for living. Since word travels slowly in the digital age these have only just reached me. Here they are.
The Dalai Lama's 18 Rules For Living
Jake Shimabukuro plays &Bohemian Rhapsody& | Video on TED.com
Street Acrobats - Union Square, New York City
The Perfect Massage - Q by Equinox
Find out about Braids: Our Top 7 Picks | Family Style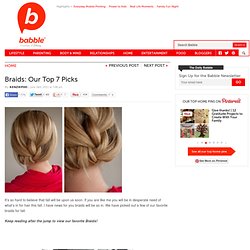 By kenziepoo | It's so hard to believe that fall will be upon us soon. If you are like me you will be in desperate need of what's in for hair this fall. I have news for you braids will be so in. We have picked out a few of our favorite braids for fall. Keep reading after the jump to view our favorite Braids!
By Sheila Arkee So, you have a favorite eyeshadow, pressed powder, or blush you absolutely cannot live without. Life happens, and sometimes before you even realize it, you find yourself the owner of your favorite product, smashed into 5 million little pieces. When your powder cosmetics are broken into 5 million pieces, you can always put them in a small container and use as a loose shadow, but you DO have the option of fixing the products so it's almost as good as new.
Breaking Down Beauty: Fixing Broken Powder Cosmetics & Painted Ladies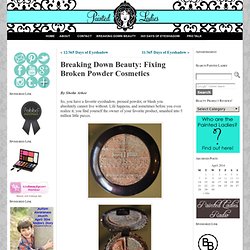 this is not new
These little rope braids are a fun way to add a little style with your own hair, creating a sort-of headband of sorts. Your hair doesn't need to be extremely long, but you do need some length to cover the top of your head with. If you have layers, you could instead create a tiny French Braid where the hair is shorter and closer to your head, if that makes sense. But it's a fun and cute braided hair style that's just a little different. I originally wore this style last Summer with two slightly larger braids Watch and Enjoy…
...love Maegan: Messy Rope Braids and Low Bun Hair Tutorial...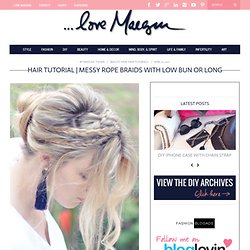 How to Clean Your Hair Without Shampoo — Simple Mom how to: pore strips | Petit Elefant
You know those Biore pore strips you buy at the drugstore for about $12 a pop? Yeah, those. Today I'm going to teach you how to make your own homemade pore strips.
eyes make up 2 - Polyvore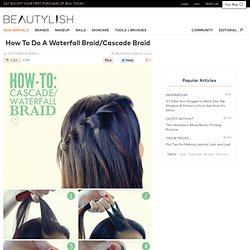 The waterfall braid also known as the cascade braid recently exploded as the new "trend braid" of the season. The waterfall effect looks cool and complex, but it's easier to style than you think. Give this beautiful braid a try when Beautylish takes you through the how-to! Section Off The waterfall braid works best on straight or loose waves.
How-To: The Cascade/Waterfall Braid
How To Style Maiden Braids - A Beautiful Mess
Last month I did a makeover story with Kelsie and had many requests for a maiden braid tutorial. Yesterday she came in and we photographed these simple step by steps. Kelsie has extremely long and thick hair, but anyone with shoulder length or longer can do these braids (see my photo below for an example). Steps 1-2: Braid two strands on each side of a center part.
oct 06, 2010 dentsu: paint sound sculptures the creative studio dentsu, teamed up with photographer linden gledhill to create this series of paint sculptures using sound vibrations. the series was part of a campaign for canon's pixma ink printer brand. the photographs and videos begin by wrapping a membrane around a small speaker. ink drops were placed on this membrane and the speaker was turned on. once it began to vibrate the ink begins to jump up and down. high-speed video cameras and still cameras were used to capture this including circling around the sculptures to see them from all angles. experimenting with different sounds and frequencies created the various pieces. http://www.dentsu.com
dentsu: paint sound sculptures
7 Basic Things You Wont Believe Youre All Doing Wrong | Cracked.com
SUPAKITCH &KORALIE - VÄRLDSKULTUR MUSEET GÖTEBORG on Vimeo
Get Yo' Nails Did
Video: 100 years of East London style in 100 seconds
Water Marble Tutorial. Supplies: orange stick or...
20 awesomely untranslatable words from around the world | Matador Network -...
How to curl your hair with a sock! No heat
Palette.com
Online
make music together
The Best 100 Opening Lines From Books / Life / Stylist Magazine
Reese Witherspoon's Retro Waves: How to Get the Look!
Song Lyric Wall Art / D.I.Y. Project - A Beautiful Mess
Whichbook | A new way of choosing what to read next
Ten Words