Foodies
Gooey Caramel Popcorn Recipe : Tyler Florence
Many raw food recipes call for cashew milk or another "nut milk" such as raw almond milk. Raw cashew milk is also delicious on its own, with a breakfast cereal or spiced with a bit of cinnamon and nutmeg. If you'd like to try cashew milk as a non-dairy milk substitute, here's how to make a raw cashew milk, suitable for vegans and also those on a raw food diet. Ingredients: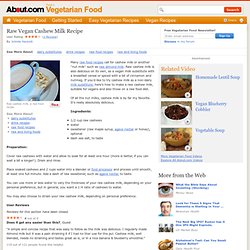 Raw Vegan Cashew Milk Recipe - How to Make Cashew Milk - Nut Milk - Cashew Milk Recipe - Raw Food Cashew Milk
Best Fried Green Tomatoes Recipe
Fried Green Tomatoes III Recipe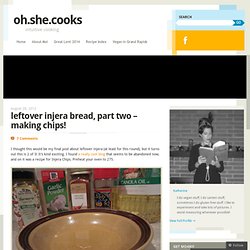 leftover injera bread, part two – making chips! | oh.she.cooks
I thought this would be my final post about leftover injera (at least for this round), but it turns out this is 2 of 3! It's kind exciting.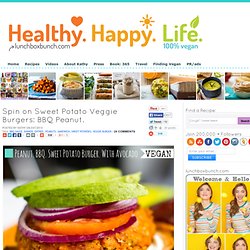 Spin on Sweet Potato Veggie Burgers: BBQ Peanut.
These BBQ Peanut Sweet Potato Burgers are a spin on one of my fave veggie burger recipes.
The Best of Vegan and Vegetarian Burgers
French Bread Recipe
BoreMe: Topical, intelligent fun. Videos, pictures and games - updated daily.
The best new recipes from Smitten Kitchen | punchfork.com
This, friends, is where procrastination gets me. I was staring at the computer, mired in writers' block. I clicked on that Stumble button I installed in my toolbar but never use. Oh look! A new webpage has popped up! On it, a recipe for single-serving peanut butter cake you mix and microwave in a minute.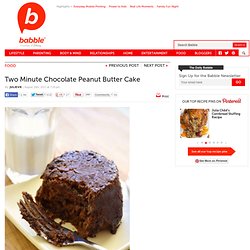 Two Minute Chocolate Peanut Butter Cake
All the flavors you love about pumpkin pie, only frozen! It may be October, but we've been having some hot weather the past few days here in New York. I'm not quite ready to put my ice cream maker away just yet. I recently tried the pumpkin ice cream from Trader Joe's and it was so delightful I wanted to see if I could recreate it, without all the fat. This sherbet is creamy and perfectly spiced, made with milk, pumpkin puree, and spices. If you live in an area with warm weather, this frozen treat will at least give you a little taste of fall.
Pumpkin Sherbet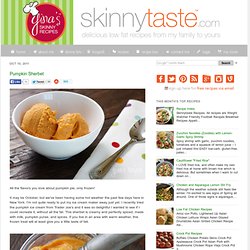 This is Noise., Tempeh, Lettuce, and Tomato Sandwhich (or…TLT for...
Bananaramas Recipe
Red Lentil Curry Recipe
The Infamous Jacques Torres Chocolate Chip Cookies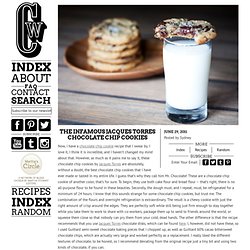 Now, I have a chocolate chip cookie recipe that I swear by. I love it, I think it is incredible, and I haven't changed my mind about that. However, as much as it pains me to say it, these chocolate chip cookies by Jacques Torres are absolutely, without a doubt, the best chocolate chip cookies that I have ever made or tasted in my entire life.
Flourless Chocolate-Kahlua Cake with Cajeta Recipe :
Ingredients 16 tablespoons (2 sticks) unsalted butter 8 ounces semisweet chocolate 7 egg yolks 1/2 cup sugar 1 1/2 ounces coffee liqueur (recommended: Kahlua) Whites from 5 eggs 1 cup sliced almonds, toasted Cajeta, recipe follows Strawberry-lime salsa, recipe follows Cajeta: 1/2 cup water 1 cup sugar Approximately 1/2 cup heavy cream 2 tablespoons butter Strawberry-Lime Salsa: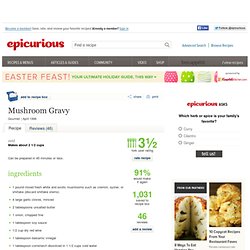 Mushroom Gravy Recipe at Epicurious
yield Makes about 2 1/2 cups Can be prepared in 45 minutes or less. Preparation Slice mushrooms.
If I ask my kids what they want for dinner, there's a ninety percent chance they will say pizza. They love it, as most kids do. I guess I have an affection for it too, but we don't indulge too often.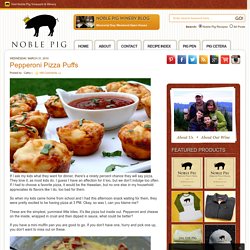 Pepperoni Pizza Puffs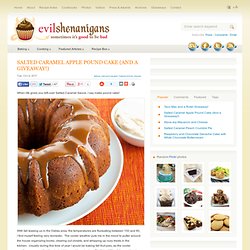 Salted Caramel Apple Pound Cake (And a Giveaway!) | Evil Shenanigans - Baking & Cooking Blog
When life gives you left-over Salted Caramel Sauce, I say make pound cake! With fall teasing us in the Dallas area, the temperatures are fluctuating between 100 and 80, I find myself feeling very domestic. The cooler weather puts me in the mood to putter around the house organizing books, clearing out closets, and whipping up cozy treats in the kitchen. Usually during this time of year I would be baking fall fruit pies, as the cooler weather seems perfect for pie, but this year I have had my fill of pie. With all the cookbook frenzy behind me I have turned my attention to cakes. While clearing out the refrigerator, which I am sad to admit needed some particular attention, I found a jar of homemade Salted Caramel Sauce that I had photographed for the next cookbook.
Chocolate Bunny on Vimeo
Nutella Shot Recipe
Picture this scene: it's 8:30 in the evening. The sky is just starting to get dark outside your living room window. You ate a delicious, healthy and veggie-filled dinner a few hours ago and now you are ready to sit down to the most recent episode of So You Think You Can Dance and dive into a decadent plate of dessert. Oh wait, you have no dessert. No chocolate, no cookies, no ice cream, no cake, no pie, not even a Jordan almond. What's a girl to do?
sweet saturday: one minute peanut butter cake
10 Jello Shots Worth the Hangover
Kitchen Window: Corn, East Indian Style
This recipe is adapted from Modern Spice by Monica Bhide (Simon & Schuster 2009). These small patties take practice to make perfect. Make sure the peanuts are not ground too fine. There should be small pieces in the mix. Fry on medium heat to make them perfectly crunchy on the outside and moist on the inside.
Purposely Randomed Raleigh : fattymcdougal: p00p4u: lalondes: ...
Cookies & Cream Cheesecake Cupcakes | Handle the Heat
Coca-Cola Cupcakes
I don't drink coca-cola. But I do eat it. Weird. Yeah, I dunno.
Research Triangle Restaurants
I use Urbanspoon to keep track of my most and least favorite restaurants. If you use Urbanspoon too we can compare notes on the best places to eat.

http://www.urbanspoon.com/e/accept_friend/712384/700

Urbanspoon is a website where you can find everything there is to know about local restaurants -- with menus and maps, as well as reviews from newspaper critics and food blogs.

http://www.urbanspoon.com by guttsu Jul 26
Mocha-Glazed Pumpkin Chocolate Chip Bread recipe from Betty Crocker