Foodies
Peanut Butter Pie XCVI Recipe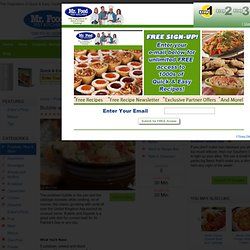 Bubble and Squeak
[ Close Privacy Policy ] Privacy Policy / Your California Privacy Rights Revised and posted as of March 4, 2013 Prime Publishing, LLC and Ginsburg Enterprises Incorporated ("Company," "we" or "us") reserves the right to revise this Privacy Policy at any time simply by posting such revision, so we encourage you to review it periodically.
Curried Black Beans with Tomatoes and Spices
Smoky and hearty, this robust concoction goes especially well with a side grain dish and salad. Though black beans are not native to Indian cooking, they sure do go well with Indian spicing. You may also want to consider serving this dish with your favorite Indian flatbread. Easy to prepare if you have all of the staples on hand that are necessary for Indian legume dishes. My craving for black beans certainly was met with a reward with this dish. Spicy, nourishing and just tasty and good for you.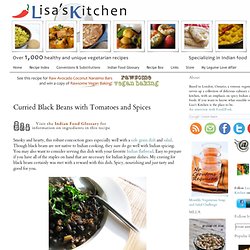 The Commonly Used Indian Spices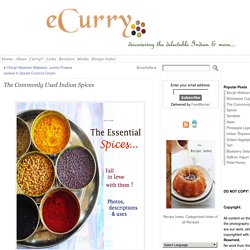 Indian cuisine is characterized by the extensive use of numerous spices. Spices or Masala as it is called in Hindi, may be called the "heartbeat" of an Indian kitchen. By extensive use of spices I do not mean that spices are used to make the food fiery hot. The spices are used to flavor the food, making each dish distinct and wonderfully aromatic.
Gooey Caramel Popcorn Recipe : Tyler Florence
Many raw food recipes call for cashew milk or another "nut milk" such as raw almond milk. Raw cashew milk is also delicious on its own, as a vegan milk substitute with a breakfast cereal or spiced with a bit of cinnamon and nutmeg. If you'd like to try cashew milk as a non-dairy milk substitute, here's how to make a raw cashew milk, suitable for vegans and also those on a raw food diet. Of all the nut milks, cashew milk is by far my favorite.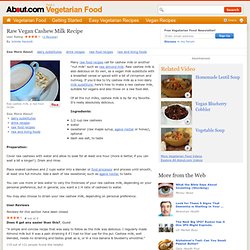 Raw Vegan Cashew Milk Recipe - How to Make Cashew Milk - Nut Milk - Cashew Milk Recipe - Raw Food Cashew Milk
Best Fried Green Tomatoes Recipe
Fried Green Tomatoes III Recipe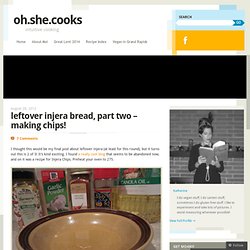 leftover injera bread, part two – making chips! | oh.she.cooks
I thought this would be my final post about leftover injera (at least for this round), but it turns out this is 2 of 3! It's kind exciting. I found a really cool blog that seems to be abandoned now, and on it was a recipe for Injera Chips. Preheat your oven to 275. Start with vegetable or canola oil and spices: berbere, turmeric, garlic and cayenne. And maybe a little pinch of salt.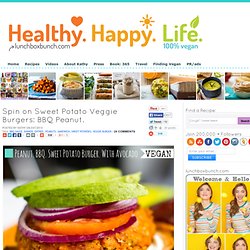 Spin on Sweet Potato Veggie Burgers: BBQ Peanut.
These BBQ Peanut Sweet Potato Burgers are a spin on one of my fave veggie burger recipes. This time around, I added in some bold BBQ flavors via dry BBQ spices and smoky sweet BBQ sauce. Plus some nutty, amazing crushed roasted peanuts to pump up the burger texture. Crushed nuts in general, taste amazing in veggie burgers. Cashew, walnut and almond burgers are quite delicious - but I had never tried peanut burgers - so this was my peanut burger success recipe!
The Best of Vegan and Vegetarian Burgers
French Bread Recipe
BoreMe: Topical, intelligent fun. Videos, pictures and games - updated daily.
Wednesday, April 16, 2014 baked eggs with spinach and mushrooms My brunch arsenal, the dishes I've made enough times that they no longer cause any furrowed brows — a core entertaining principle here at House Smitten Kitchen (sigil: cast-iron skillet) — is as follows: bacon (always roasted in the oven, I mean, unless you were hoping to mist yourself with eau de pork belly*); some sort of fruit salad (either mixed berries and vanilla bean-scented yogurt or mixed citrus segments, sometimes with mint and feta); buttermilk biscuits; a pitcher of Bloody Marys, a bottle of champagne and a couple carafes of freshly-squeezed grapefruit or orange juice, blood orange whenever available; something sweet (our current favorite) and eggs.
The best new recipes from Smitten Kitchen | punchfork.com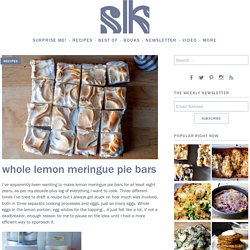 This, friends, is where procrastination gets me. I was staring at the computer, mired in writers' block. I clicked on that Stumble button I installed in my toolbar but never use. Oh look! A new webpage has popped up! On it, a recipe for single-serving peanut butter cake you mix and microwave in a minute.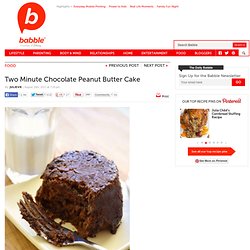 Two Minute Chocolate Peanut Butter Cake
All the flavors you love about pumpkin pie, only frozen! It may be October, but we've been having some hot weather the past few days here in New York. I'm not quite ready to put my ice cream maker away just yet. I recently tried the pumpkin ice cream from Trader Joe's and it was so delightful I wanted to see if I could recreate it, without all the fat. This sherbet is creamy and perfectly spiced, made with milk, pumpkin puree, and spices. If you live in an area with warm weather, this frozen treat will at least give you a little taste of fall.
Pumpkin Sherbet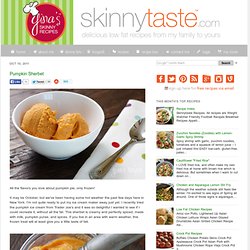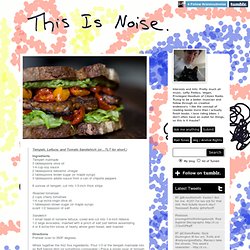 Tempeh, Lettuce, and Tomato Sandwhich (or…TLT for short.)IngredientsTempeh marinade3 tablespoons olive oil 1/4 cup soy sauce 2 tablespoons balsamic vinegar 2 tablespoons brown sugar (or maple syrup) 3 tablespoons adobo sauce from a can of chipotle peppers8 ounces of tempeh, cut into 1/3-inch thick stripsRoasted tomatoes2 cups cherry tomatoes 1/4 cup extra-virgin olive oil 1 tablespoon brown sugar (or maple syrup) scant 1/2 teaspoon of saltSandwich1 small head of romaine lettuce, cored and cut into 1/4-inch ribbons 1-2 large avocados, mashed with a pinch of salt just before assembling 4 or 8 extra-thin slices of hearty whole grain bread, well toastedDirectionsPreheat oven to 350F degrees.Whisk together the first five ingredients. Pour 1/3 of the tempeh marinade into an 8x8 baking dish (or something comparable.) Place a single layer of tempeh in the marinade and pour the remaining marinade over the top of the tempeh to coat.
This is Noise., Tempeh, Lettuce, and Tomato Sandwhich (or…TLT for...
Bananaramas Recipe
Red Lentil Curry Recipe
The Infamous Jacques Torres Chocolate Chip Cookies
Now, I have a chocolate chip cookie recipe that I swear by. I love it, I think it is incredible, and I haven't changed my mind about that. However, as much as it pains me to say it, these chocolate chip cookies by Jacques Torres are absolutely, without a doubt, the best chocolate chip cookies that I have ever made or tasted in my entire life.
Flourless Chocolate-Kahlua Cake with Cajeta Recipe :
Directions Preheat oven to 350 degrees and grease a 9-inch round pie pan. Line pan with greased parchment or waxed paper. In the top of a double boiler, melt the butter and chocolate and stir until smooth. Whip the egg yolks and the sugar until fluffy and pale in color. Fold butter and chocolate mixture into the egg yolk and sugar mixture, adding the coffee liqueur.
Mushroom Gravy Recipe at Epicurious
yield Makes about 2 1/2 cups Can be prepared in 45 minutes or less. Preparation Slice mushrooms.
If I ask my kids what they want for dinner, there's a ninety percent chance they will say pizza. They love it, as most kids do. I guess I have an affection for it too, but we don't indulge too often.
Pepperoni Pizza Puffs
Salted Caramel Apple Pound Cake (And a Giveaway!) | Evil Shenanigans - Baking & Cooking Blog
Chocolate Bunny on Vimeo
Nutella Shot Recipe
sweet saturday: one minute peanut butter cake
10 Jello Shots Worth the Hangover
Kitchen Window: Corn, East Indian Style
Purposely Randomed Raleigh : fattymcdougal: p00p4u: lalondes: ...
Cookies & Cream Cheesecake Cupcakes | Handle the Heat
Coca-Cola Cupcakes
Research Triangle Restaurants
Mocha-Glazed Pumpkin Chocolate Chip Bread recipe from Betty Crocker