Share this Shit!
Bumper Stickers #4. Send us your contribution!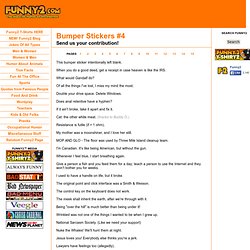 This bumper sticker intentionally left blank. When you do a good deed, get a receipt in case heaven is like the IRS. What would Gandalf do? Of all the things I've lost, I miss my mind the most. Double your drive space. Philip Howard: Four ways to fix a broken legal system. Le Royaume. Thinkers Anonymous : Do you think to much? Do You Think To Much?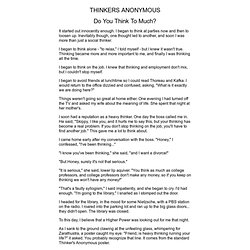 It started out innocently enough. I began to think at parties now and then to loosen up. Inevitably though, one thought led to another, and soon I was more than just a social thinker. Words on Pictures | SadAndUseless.com. Kos-26-teaser.jpg (JPEG Image, 550×458 pixels) Dynamic images. 8 Stories Buried By the Corporate Media That You Need to Know About | Media. December 15, 2011 | Like this article?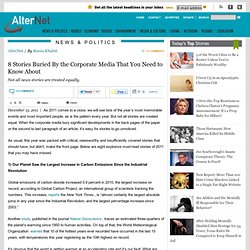 Join our email list: Stay up to date with the latest headlines via email. As 2011 comes to a close, we will see lists of the year's most memorable events and most important people, as is the pattern every year. Food For Thought. Government is actually the worst failure of civilized man.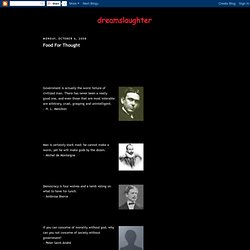 There has never been a really good one, and even those that are most tolerable are arbitrary, cruel, grasping and unintelligent. ~ H. L. Mencken Man is certainly stark mad: he cannot make a worm, yet he will make gods by the dozen. ~ Michel de Montaigne. Gender Ads Project.
---