Para Empresas
Culture Code: Building A Company YOU Love
Trading Up The Chain: How To Make National News in 3 Easy Steps (Ex...
[ Ed note : For more on Jonah Berger's mission to map virality, pick up the April issue of Fast Company .
Why Ideas And Products Become Contagious: The Jonah Berger Formula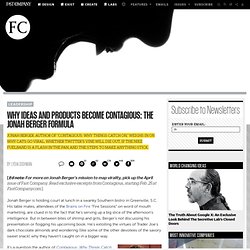 13 Content Marketing Mistakes you Cannot Afford to Make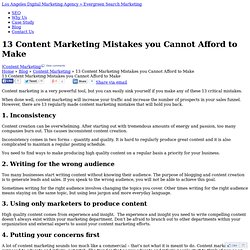 Content marketing is a very powerful tool, but you can easily sink yourself if you make any of these 13 critical mistakes. When done well, content marketing will increase your traffic and increase the number of prospects in your sales funnel.
Dropshipping: Is drop-shipping the best way to bootstrap an e-commerce company
50 Guerrilla Marketing Tactics You Should Be Using Friday, 13 February 2009 17:44 If you've been following this website for a while, you've seen our two articles on Guerrilla Marketing Tactics You Should Be Using. There was 24, and then another 26. For the sake of keeping things organized, we've put together all 50 in this one post.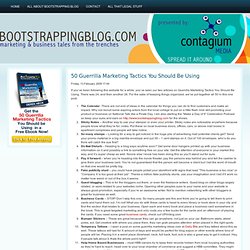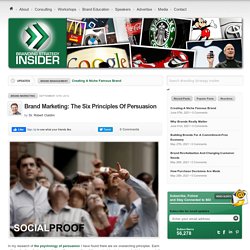 Brand Marketing: The Six Principles Of Persuasion
In my research of the psychology of persuasion I have found there are six overarching principles. Each with implications for brand marketers. If one or another of these principles is incorporated into a request, it significantly increases the probability of getting a yes to that request.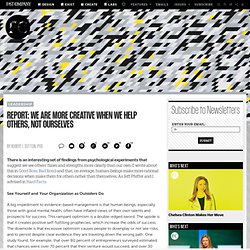 Report: We Are More Creative When We Help Others, Not Ourselves
There is an interesting set of findings from psychological experiments that suggest we see others' flaws and strengths more clearly than our own (I wrote about this in Good Boss, Bad Boss ) and that, on average, human-beings make more rational decisions when make them for others rather than themselves. As Jeff Pfeffer and I advised in Hard Facts : See Yourself and Your Organization as Outsiders Do A big impediment to evidence-based management is that human beings, especially those with good mental health, often have inflated views of their own talents and prospects for success. This rampant optimism is a double-edged sword. The upside is that it creates positive self-fulfilling prophecies, which increase the odds of success.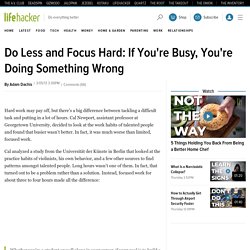 Hard work may pay off, but there's a big difference between tackling a difficult task and putting in a lot of hours. Cal Newport, assistant professor at Georgetown University, decided to look at the work habits of talented people and found that busier wasn't better. In fact, it was much worse than limited, focused work.
Do Less and Focus Hard: If You're Busy, You're Doing Something Wrong
In 2010, a small California-based company opened its doors for business. They didn't have much capital but, with a staff of only four, they did have a singular vision--to outdo Kodak. Even through the rosiest of glasses, this would not appear a feasible proposition.
The Truth About Being "Done" Versus Being "Perfect"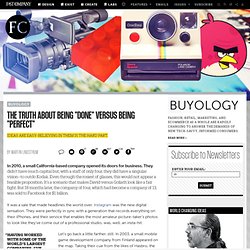 SMB-Branding-Infographic-Clives-Car.png (imagen PNG, 600 × 1920 píxeles)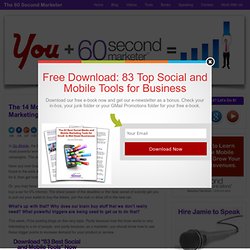 In Go Mobile , the book I've written with Jeanne Hopkins from HubSpot, we review a list of the 14 most powerful words in marketing so that readers can use them in their mobile marketing campaigns. This post gives you a sneak peak at the list that's included in the book. Enjoy. Have you ever bought a product that you didn't really need?
Subject: 5 MINUTE MANAGEMENT COURSE Lesson 1: A man is getting into the shower just as his wife is finishing up her shower, when the doorbell rings. The wife quickly wraps herself in a towel and runs downstairs. When she opens the door, there stands Bob, the next-door neighbor. Before she says a word, Bob says, "I'll give you $800 to drop that towel."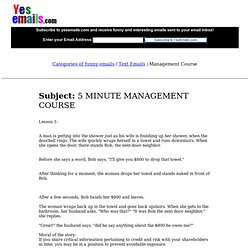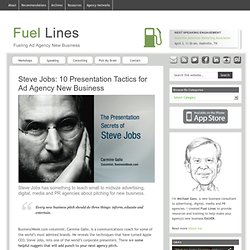 Steve Jobs has something to teach small to midsize advertising, digital, media and PR agencies about pitching for new business. Every new business pitch should do three things: inform, educate and entertain. BusinessWeek.com columnist, Carmine Gallo, is a communications coach for some of the world's most admired brands. He reveals the techniques that have turned Apple CEO, Steve Jobs, into one of the world's corporate presenters. There are some helpful nuggets that will add punch to your next agency pitch.
Anna Wintour's influence over the fashion universe is a snip less formidable today. StyleOwner , an e-commerce site that heavily features social selling, just launched in open beta. Like Google's Boutiques.com , StyleOwner gives bloggers, fashionistas and Rachel Zoe -wannabes the ability to create their own virtual storefront (for free) and stock it with items from over 2,000 brands carried by retail partners such as Nordstrom and Saks Fifth Avenue.
StyleOwner, A Fashion 2.0 Site, Helps Rachel Zoe Wannabes Make Bank On Their Good Taste
Help Me Lead – Employee Motivation and Leadership Tips
8 Surprising Ways To Delight Customers
As a 16-year yoga practitioner, I often wish that I could find a place to practice while I travel. Most of the time, I have to traipse halfway across a city. But recently, I was surprised and delighted to learn that San Francisco Airport--which offers harried travelers a room specifically set aside for yoga practice--may be my next yoga destination. If an airport--the bastion of sterile, boring holding places for weary travelers--can delight a yogini, then you can surprise and delight the toughest of B2B clients. Look across the universe of possible ways you could delight your clients this month.
In this talk from PSFK CONFERENCE NYC , Abe Burmeister explains how a punk-rock ethos helped him create a business building a new niche in a market he had no experience in. Abe just wanted a pair of pants he could both ride his bike in and go to work in — and all his partner Tyler needed was a shirt that stayed fresh despite his pedal-powered commute. The Outlier co-founder describes how the duo paired intensive research in New York's garment district with the connectivity of the web to create Outlier — a performance fashion business that only sells over the web. Outlier
Abe Burmeister: How I Built A Fashion Brand With No Experience, Just Punk Rock Spirit (And The Web)
7 Wise Lessons For Magical Facebook Pages | Mirror Yourself
Social Media Published on April 8th, 2010 | by Janine Popick Many social media programs are goaled on the amount of friends or followers as well as the engagement levels of those friends and followers. Contests, give-a-ways and polls are all great ways to build your followings and increase your engagement. Here is a list of some of the great ideas I have seen work for small businesses: Offer a gift card to your store to a randomly picked Facebook Fan every month.
Social Media Campaign Ideas to Build Fans & Increase Engagement
Establecer legalmente tu negocio en Perú no es tan complicado como parece
Cómo abrir un negocio en Perú