Metadata Standards
Metadata Object Description Schema: MODS. Metadata Encoding and Transmission Standard (METS) Official Web Site. NNew METS Schema Version 1.10 Available:This and all future METS revisions are being released under the Creative Commons CC0 1.0 Universal Public Domain license.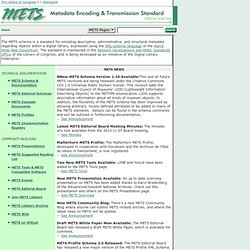 This revision adds the International Council of Museums' LIDO (Lightweight Information Describing Objects) to the MDTYPE enumeration. LIDO supports descriptive information about all kinds of museum objects. DCMI Home: Dublin Core® Metadata Initiative (DCMI) Web - View NewsCodes - View any of them ... The IPTC groups the NewsCodes by their purpose: Descriptive NewsCodes ... to categorize news content (text, photos, video, audio, ...).Administrative NewsCodes ... to administrate news items.NewsML-G2 NewsCodes ... to support common functionalities of NewsML-G2, EventsML-G2, SportsML-G2EventsML-G2 specific NewsCodes ... to support specific functionalities of EventsML-G2NewsML 1.x NewsCodes ... to support specific functionalities of IPTC NewsML 1.x.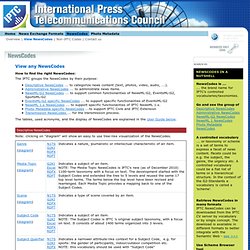 Photo Metadata specific NewsCodes ...to support IPTC Core and IPTC ExtensionTransmission NewsCodes ... for the transmission process.The tables, used acronyms, and the display of NewsCodes are explained in the User Guide below. Note: clicking on "diagram" will show an easy to use tree-like visualization of the NewsCodes. Deprecated taxonomies (= do not assign these NewsCodes anymore) For G2-Standards a mapping of Scheme-URIs to aliases is required - a so called Catalog.
Web - Photo Metadata - Metadata are critical to photo business. The IPTC Photo Metadata Working Group tested about 15 social media networks which support the sharing of photos how they support the persistence of embedded metadata, in particular the fields which are relevant for claiming rights.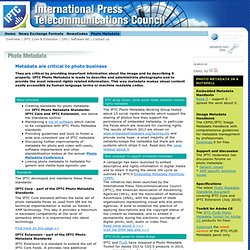 The results of March 2013 are shown on www.embeddedmetadata.org/testresults and provide some hope: a small majority of the networks keeps the metadata but there are also systems which strips it out. Read also the news release about it. A campaign has been launched to embed descriptive and rights information in digital media and to retain it during the whole life cycle as outlined by IPTC's Embedded Metadata Manifesto (EMM).The initiative has been launched by the International Press Telecommunications Council (IPTC), the American Association of Advertising Agencies (4A's), and the Association of National Advertisers (ANA), with the support of trade organisations representing visual arts and photo agencies. IPTC Web - IPTC Core & Extension - IPTC Core & Extension = the IPTC Photo Metadata standard.
The IPTC Extension schema is a supplemental schema to the IPTC Core.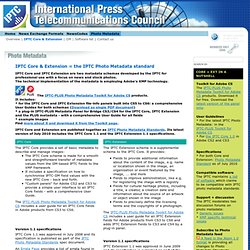 It provides: Fields to provide additional information about the content of the image, e.g. name or locatation shown in the image, an organisation or event featured by the image, ... and moreFields to improve administration, like e.g. for registering the image with a registryFields for cultural heritage photos, including a title, a creator, a creation date and information about the source of an artwork or object shown in the imageFields to precisely define the licensing terms and the copyrights of a photograph. The IPTC-PLUS Photo Metadata Toolkit for Adobe CS includes a user guide for all IPTC Extension fields for Adobe products from CS3 to CS6 and adds IPTC Extension fields to CS3 and CS4 by a plug-in panel.
IPTC Extension 1.1 was approved in June 2009 and its specification is published as part of the IPTC Photo Metadata Standards specification document. 2000.
---