Human Mod
Get flash to fully experience Pearltrees
http://www.fastcompany.com/1514543/bionic-legs-i-limbs-and-other
Real Life Iron Man Suits As the old saying goes: the suit makes the man; never will this maxim resonate so well, than when referring to bionic exoskeleton suits.
Amanda Kitts is mobbed by four- and five-year-olds as she enters the classroom at the Kiddie Kottage Learning Center near Knoxville, Tennessee.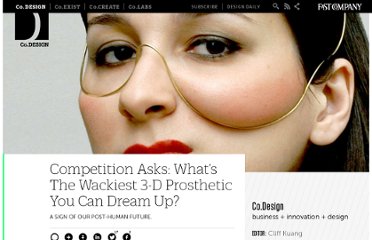 Rapid-prototyping powerhouse i.materialise has announced what might be the world's biggest geekfest since the last Gen Con convention : a design competition to gadgetify the human body.
We live in in the post-human world augured by William Gibson. Need proof? Look at all the freakish examples of plastic surgery on TV.
If "Real Steel" is to be believed, the era of robot boxing will soon be upon us. In last fall's Hugh Jackman film, machines replace human boxers in 2020, with the latter controlling their motions. While the reality of such a spectacle may be more than a decade away, the advent of supplemental technologies in sports is very much a possibility.