Plastic Arts
Redes sociales para artistas | InsICC - InsICCblog. Dribbble: es sin duda alguna una de las redes sociales referentes del arte.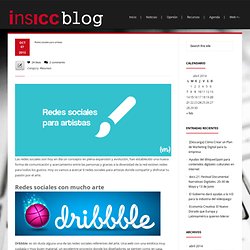 Una web con una estética muy cuidada y muy buen material, un excelentre proyecto donde los diseñadores se sienten como en casa. Kompoz: es un espacio de colaboración online para músicos. Sabrina Amrani Gallery - Contact. Free Images | Watercolors Painting. ArtDiscover • Fabian Oefner is a curious investigator,... SINGULAR ART MAGAZINE - THE SUN ISSUE by Singular zine. Arte y Redes: Agentes y Contenidos | Arte y Redes. 27 y 28 de septiembre, 2013Lugar: ETOPIA_ (Zaragoza).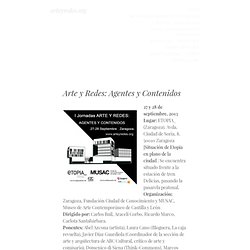 Avda. Silk – Interactive Generative Art. Social Networking for Gallerists and Art Professionals | Node. Social Networking for Gallerists and Art Professionals Lecturer: James Michael Shaeffer, Jr.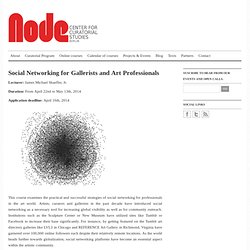 Duration: From April 22nd to May 13th, 2014 Application deadline: April 16th, 2014 This course examines the practical and successful strategies of social networking for professionals in the art world. Absolut Art Collection llega a Madrid. 23 de septiembre de 2011 | > Haz clic en la imagen para visitar el blog de Absolut Art Collection – Madrid.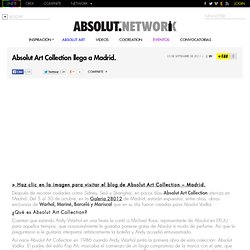 Después de recorrer ciudades como Sídney, Seúl y Shanghai, en pocos días Absolut Art Collection aterriza en Madrid. Del 5 al 30 de octubre, en la Galería 28012 de Madrid, estarán expuestas, entre otras, obras exclusivas de Warhol, Mariné, Barceló y Mariscal que en su día fueron creadas para Absolut Vodka. ¿Qué es Absolut Art Collection? Art. El arte en un blog. Contemporary Art Magazine | Artwall zine. Todos los museos en tu móvil. En esta "industrialización digital"que estamos viviendo hoy en día, los museos tienen mucho que decir (y aportar).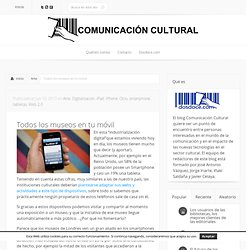 Actualmente, por ejemplo en el Reino Unido, un 58% de la población posee un Smartphone y casi un 19% una tableta. Teniendo en cuenta estas cifras, muy similares a las de nuestro país, las instituciones culturales deberían plantearse adaptar sus webs y actividades a este tipo de dispositivos, sobre todo si sabemos que prácticamente ningún propietario de estos teléfonos sale de casa sin él. Si gracias a estos dispositivos podemos visitar y compartir al momento una exposición o un museo, y que la iniciativa de ese museo llegue automáticamente a más público…¿Por qué no fomentarlo? Parece que los museos de Londres ven un gran aliado en los smartphones de los visitantes. The English Group - Portfolio. Miami River | Art Fair 2012 | International Contemporary Art Fair. FROELICK GALLERY - Home.
Número 1 en información sobre el mercado del arte - Subastas. Every fortnight Artprice presents a theme-based auction ranking.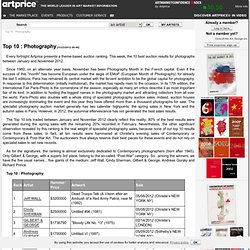 This week, the 10 best auction results for photographs between January and November 2012. Since 1980, on an alternate year basis, November has been Photography Month in the French capital. Even if the success of this "month" has become European under the aegis of EMoP (European Month of Photography) for already the last 5 editions, Paris has remained its central market with the fervent ambition to be the global capital for photography. Art Moscow. Un nuevo concepto de galería » Descubrir el Arte, la revista líder de arte en español. La NEW Gallery se suma a la oferta cultural madrileña con una revisión del concepto tradicional de sala de exposiciones, enfocado a la creación joven en España, a la democratización creativa y a la participación Mientras los centros neurálgicos del arte contemporáneo se retraen para capear la crisis, de vez en cuando brotan, contra todo pronóstico, pequeñas iniciativas independientes alimentadas casi exclusivamente por el entusiasmo y la valentía.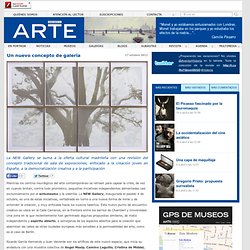 La NEW Gallery, inaugurada el pasado 4 de octubre, es una de estas iniciativas, vertebrada en torno a una nueva forma de mirar y de entender la creación, y muy enfocada hacia los nuevos talentos. Artists. PledgeMusic. Journal of Cultural Economics, Volume 0, Issue 0. Animation projects on Behance. Contemporary Art Network. New York, Apr. 2014: Xaviera Simmons is a New York-based artist whose practice manifests in performance, photography, sculpture, installation, sound, video, and more.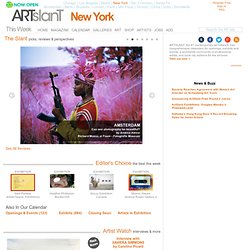 That dynamic interdisciplinary material is fueled by research, contemplation, and feeling, three modes that enable Simmons to not only reflect the complexity of the human condition but also empathize with it. No subject would seem unconquerable: she tackles history, the landscape, and the human figure within it; she plays with cultural narratives as well as stereotypes, and her work is somehow capable of reflecting problems while facilitating a transformative, aestheti. Los mejores blogs de arte según Artsmediacontacts. Los mejores blogs de Arte en español. El otro día posteamos una lista con los mejores blogs de Diseño en español, hoy le ha tocado el turno al Arte, y es que en Inicios tienen elaborada una lista con una gran cantidad de blogs sobre Arte en español, os dejo con la lista A desgana es el blog de Carlos el Rojo sobre fotografía e ilustraciones, con una interesante tendencia a las campañas de concienciación más artísticas. 10 Pixeles Es un blog Chileno Con Una combinacion creativa de arte y fotografia.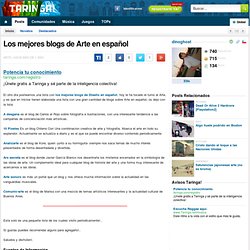 Abarca el arte en todo su esplendor. Actualmente se actualiza a diario y es el que se puede encontrar diverso contenido periodicamente. Analizarte es el blog de Kore, quien -junto a su hormiguita- siempre nos saca temas de mucho interés presentados de forma desenfadada y divertida. Los mejores blogs de Arte en español - lovecolors. ART13 London | London's new modern and contemporary art fair. ❖ARTS❖ Medialab-Prado Madrid. DEPALUARTE created by yaretsalamanca based on The Artist Lair. Touch Effects. Acrylic Painting Techniques. If you have read my first page about acrylic painting techniques you have learned about the basic techniques.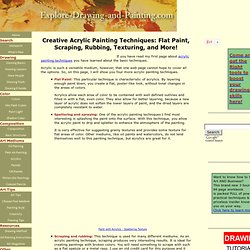 Acrylic is such a versatile medium, however, that one web page cannot hope to cover all the options. So, on this page, I will show you four more acrylic painting techniques. Flat Paint: This particular technique is characteristic of acrylics. By layering enough paint down, you create a flat, poster-like look, without tonal changes in the areas of colors. Art contemporain poésie Lili-oto - Lili-oto artiste Art Contemporain. Nous ne sommes pas à l'extrémité de notre existence mais au bord de son existence. Artistes, notre univers des possibles se heurte et est confronté à de vieux arrière-mondes politiques plongés dans la corruption et le renoncement. Nous vies sont sacrifiées pour assouvir la violence des riches, la barbarie et la cupidité de ces richissimes fortunés.
Depaluarte. The Korean art galleries that add eye-popping optical tricks to tourists' holiday snaps. By Chris Parsons Published: 13:20 GMT, 2 July 2012 | Updated: 15:23 GMT, 2 July 2012 Propping up the Leaning Tower of Pisa or hanging from a cliff face are not what most most would expect when visiting the average art gallery or museum. But not content with simply looking at works of art, visitors to this bizarre museum in Busan, South Korea are able to 'interact' with the pieces thanks to mind-bending optical illusions. Sketch Swap. Strobe Illusion - Stare into the Strobe and begin to hallucinate!
Art's great nudes have gone skinny | Art and design. Art. Art. Sketch of Voronoi. Gallery. Optical Illusions funny, scary and amazing optical illusion magic to fool your eyes. ART. Inside the Sketchbooks of Famous Artists. Whether you're an artist or an aficionado of the arts, there's no question that peering into the sketchbooks of lauded virtuosos is a valuable experience. They serve variously as illustrated diaries or catalogs of casual drawings, paintings, and musings — lending a behind-the-scenes glimpse into the inner thoughts of beloved artists.
From a reprint of Frida Kahlo's diary full of vibrant drawings and writings to the silkscreened lips of Andy Warhol's portrait subjects to Tim Burton's sketches, our roundup of adored artists' sketchbooks is sure to give you some insight into the creative process. Andy Warhol. [via] Teacher creates works of art during lunch break | Photo Gallery. Gregory Euclide is an artist and teacher living in the Minnesota River Valley. During his twenty-five minute lunch periods at school, Euclide began creating temporary paintings on whiteboard as a demonstration to his students of the impermanence of nature.
He relates this concept to society's impact on the natural world by stating, "When people get to know nature and spend time in it, they start to realize how their actions affect it." Draw a Vermeer with just one line. 40 Free Tutorials on Advanced Drawing Techniques. Digital art international: the international portal & community dedicated to digital art. 30 Amazing Large Scale Street Art Murals From Around The World. The Colour Clock. Grant Kot. Liquid Particles - spielzeugz.de canvas experiment.
Seaquence. DeviantART muro. MAV mujeres en las artes visuales/ women in the visual arts. Zach Lieberman: Interactive Art. Draw a Stickman. Drawings. Art. CONSORCIO DE GALERÍAS DE ARTE CONTEMPORÁNEO. Pixalated Magazine Sculptures - The Yun-Woo Choi Art Pieces are Phenomenal 3D Installations. HOME - DATABASE OF VIRTUAL ART - DATABASE OF VIRTUAL ART - DATABASE OF VIRTUAL ART. :: Consejo de Críticos de Artes Visuales :: American International Fine Art Fair 2013. Jason Edward Kaufman, art reviews, news and opinion. :: Arte Madrid :: Art. INTERFACE. Comunidad Abierta Arte y Tecnologia | Generando espacios para compartir información, conocimiento y experiencia. ArtNumerica.net - arte y tecnologías.
Artists pearls & Lists. Primitive Art. To curate. Flash, Interactive, Generative & Online Art. Sculptors & Sculptures, Installations. Paintings & Painters. Primer Festival Internacional de grabado. FIG Bilbao - figbilbao.
Art Magazines, Webs & Blogs. Art Pearlers. Grants. Art Fairs & Biennals. History, Museums & Galleries. Street & Urban Art. Online Art Tools. Video Art. Art Therapy & Outsider Art.
Drawing & Sketching. Land Art. Antiquities.
---