Curiousities
The Moses Bridge is Invisible to The Eye. A series of moats and fortresses were built over the West Brabant Water Line region of the Netherlands during the 17th century in order to provide protection from invasion by France and Spain.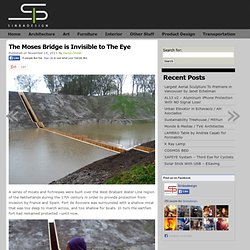 Fort de Roovere was surrounded with a shallow moat that was too deep to march across, and too shallow for boats. In turn the earthen fort had remained protected –until now. From afar, the Moses Bridge is invisible to the eye. The Italian Hotel built inside Abandoned Medieval Grottos | Messy Nessy ChicMessy Nessy Chic. Okay come with me, we're going to explore every inch of this hotel built inside the deserted grottos of an Italian mountain village from the Middle Ages.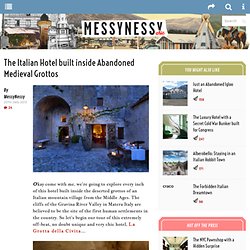 The cliffs of the Gravina River Valley in Matera Italy are believed to be the site of the first human settlements in the country. So let's begin our tour of this extremely off-beat, no doubt unique and very chic hotel, La Grotta della Civita… Top 100 Hillman Wonders of the World - Rankings you can trust. Thanksgiving: a guide to New York City's Thanksgiving parade. 248 by digitizedchaos.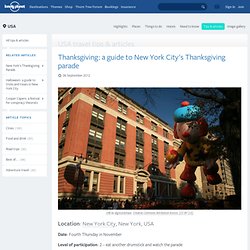 Creative Commons Attribution licence (CC BY 2.0) Location: New York City, New York, USA Date: Fourth Thursday in November. Perang Topat (Rice Cake War): tips for Lombok's multicultural food fight. DSC_3835.JPG.jpg by Nicolas Lannuzel.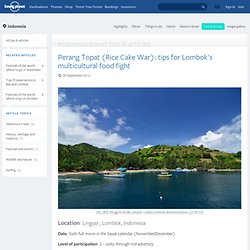 Creative Commons Attribution licence (CC BY 2.0) Location: Lingsar, Lombok, Indonesia Date: Sixth full moon in the Sasak calendar (November/December) Level of participation: 2 – unity through rice adversity. Surin Elephant Round-up: an unforgettable sight in Thailand. Elephant festival in Surin, Nov 15, 03 (26) by ryuw.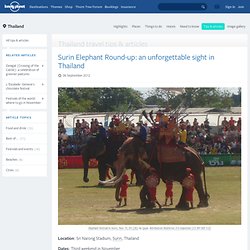 Attribution-NoDerivs 3.0 Unported (CC BY-ND 3.0) Location: Sri Narong Stadium, Surin, Thailand Dates: Third weekend in November. Pirate Festival: how to celebrate buccaneers in the Cayman Islands. A Nice View On A Cruise by Jacrews7.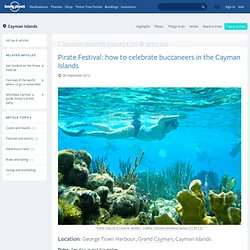 Creative Commons Attribution licence (CC BY 2.0) Location: George Town Harbour, Grand Cayman, Cayman Islands. Festa del Cornuto (Festival Of The Horned One): a guide to Rome's celebration of love lost. Piazza Navona by Zach Dischner.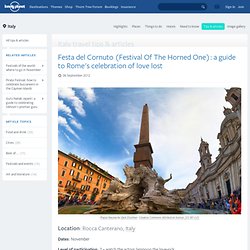 Creative Commons Attribution licence (CC BY 2.0) Location: Rocca Canterano, Italy Dates: November. Five Towns of Cinque Terre. Located on the Italian Riviera, Cinque Terre is a rugged coastline, made up of "The Five Lands" or the five villages: Vernazza, Corniglia, Monterosso al Mare, Riomaggiore, and Manarola.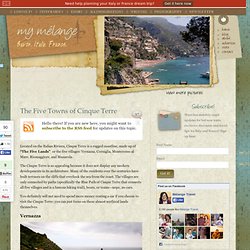 The Cinque Terre is so appealing because it does not display any modern developments in its architecture. Many of the residents over the centuries have built terraces on the cliffs that overlook the sea from the coast. The villages are only connected by paths (specifically the Blue Path of Cinque Terre that connects all five villages and is a famous hiking trail), boats, or trains—nope, no cars. You definitely will not need to spend more money renting a car if you choose to visit the Cinque Terre; you can just focus on these almost mythical lands themselves. Vernazza. New York City's Hidden Subway Station. Deep in the belly of New York's subway system, a beautiful untouched station resides that has been forgotten for years with only a limited few knowing of its existence.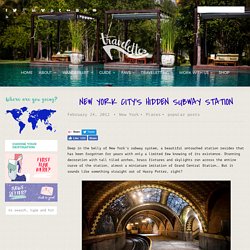 Stunning decoration with tall tiled arches, brass fixtures and skylights run across the entire curve of the station, almost a miniature imitation of Grand Central Station… But it sounds like something straight out of Harry Potter, right? It was opened in 1904, with the hope of making it the crowning glory of the New York subway system in elegant architecture and a place for commemorative plaques to honour the work that had resulted in such a successful underground mass transit system. It was to be the original southern terminus of the first 'Manhattan Main Line'; however the station was closed and boarded up in 1945.
Five of the World's Best-Kept Secret Destinations. So you are a world traveler, you've visited four or five continents, you've even run out of fingers and toes to add up all of the countries you've seen … now what do you do?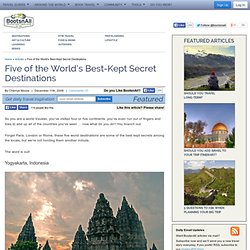 You branch out. Forget Paris, London or Rome, these five world destinations are some of the best kept secrets among the locals, but we're not hording them another minute. The 12 Most Beautiful Castles in Europe. For centuries, people have been fascinated with castles. Whether they were home to cruel leaders (such as Count Dracula) or the settings of love stories, the castles always played an important part in European history. Nowadays, they make "guest appearances" in movies or are the perfect place to spend an interesting vacation. There are actually thousands of castles throughout Europe, though many of them are in surprising states of disrepair if they are even recognizable as castles at all.
But there are also hundreds of well preserved castles you can tour yourself, and the dozen below just might be the most beautiful of all of them. Top 20 free attractions in Paris - travel tips and articles. City of love, fashion capital, literary paradise…Paris has many different guises. And while museum entry can be steep and fine dining comes at a premium, the French capital can also be a very cheap date.
Whether you go weak at the knees for soaring church spires or want to rub elbows at an authentic French market, let yourself be seduced by our top 20 must-sees. They are all are completely gratuit, letting you save the euros for the really important stuff: wine, cheese and a flashing Eiffel Tower keyring you'll regret the minute you return home. 1. 9 of the Coolest Secret Subway Stations in the World. If you're anything like us, you're fascinated by the secret worlds of underground transportation. What goes on in abandoned subway stations? Do mole people exist? Have we been approaching Platform 9¾ at the wrong angle? A couple months ago, we brought you a collection of beautiful abandoned train stations from all over the world. Now, we're going underground to bring you the bizarre stories behind some of the world's coolest and eeriest abandoned subways. Travel Guides - Top 10 Lists.
Almost Untouched Nature - Waterfall Restaurant, Philippines. Image credit Visiting this interesting Waterfall Restaurant located in San Pablo City, Philippines at the Villa Escudero Plantations and Resort can be a truly unique and memorable experience. Visitors can enjoy in lunch served on bamboo dining tables while the crystalline running water flows under their feet. Besides enjoying the authentic local cuisine, you can enjoy the almost untouched nature of the region formerly occupied by a farm and coconut plantations.
If you need to spend calories after lunch then you have opportunity to do some sports activities like Bamboo rafts . Luxury Resort Ayada, Maldives & Luxury Furniture, Property, Travel & Interior Design. Luxury Resort Ayada, Maldives Ayada Maldives is a brand new awe-inspiring destination comprising an opulent 112 villa resort located on the 150,000 square meter paradise island of Maguhdhuvaa in the stunning Gaafu Dhaalu Atoll.
From the moment you arrive on the luxury resort's delicate, powder white sands you will be immersed in a fantasy of luxury, quality and style unique only to Ayada Maldives. Delight in the impeccable service and superb amenities of the seven indulgent restaurants, bars and cafes offering world-class cuisine to tantalise taste buds, the extensive 3,500 square meter AySpa Spa & Health Club by ESPA will take you to a blissful level of relaxation. Melissani Undercover Cave and Lake | Explore Dream Vacations.
The world's best secret islands. ► The Jackson Pit by Xaphoon Jones | Music to Clean By | aracingmind | 8tracks. The High Line. Backpack and Gear, Best Backpack Locations And Equipment.
The Seven Wonders of the World. 66 Beautiful Small Cities & Towns In Europe. 15 Amazing Castles from Around the Globe. Disney. Sliding Rock in North Carolina.
---