Associations & Initiatives & Forums
UNEP (United Nations Environment Programme)
Solar Cookers International. Collaborative Consumption Hub. Biomimicry Institute. Biomimicry 3.8. Ask Nature. Wiser Earth. ZERI. WBCSD (World Business Council for Sustainable Development) WWF. United Nations Global Compact. U.S. Green Building Council. TURI (Toxics Use Reduction Institute) Making Massachusetts a Safer Place to Live and Work Greg Morose, Rachel Massey and Liz Harriman The Toxics Use Reduction Institute (TURI) at the University of Massachusetts Lowell provides resources and tools to help make the Commonwealth a safer and more sustainable place to live and work.Established by the Massachusetts Toxics Use Reduction Act (TURA) of 1989, TURI collaborates with businesses, community organizations and government agencies to reduce the use of toxic chemicals, protect public health and the environment, and increase competitiveness of Massachusetts businesses.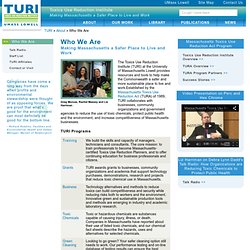 TURI Programs. BALLE ( Business Alliance for Local Living Economies) SFI (Sustainable Forestry Initiative) Stockholm Convention (POPs) Schedule and registration Objectives Increasing Parties' knowledge on existing guidance to update NIPs, Parties' understanding of HBCD and other POP-PBDEs listed, and Parties' capacity to make inventories of POP-PBDEs, as part of the NIP update.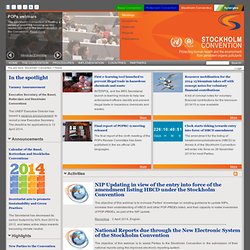 Contents Introduction - 5 min Presentations Understanding HBCD and POPs-PBDEs - 10 min. (by Secretariat of the Basel, Rotterdam and Stockholm Conventions) Establishing inventory of HBCD and POPs-PBDEs - 10 min. Social Venture Network.
SIRAN
US SIF. Social Enterprise Alliance (SEA) (SAI) Social Accountability International. SoL Sustainability Consortium. Rainforest Alliance. Natural Capitalism Solutions. No Dirty Gold. NWF (National Wildlife Federation) MSC (Marine Stewardship Council) LOHAS (Lifestyle of Health and Sustainability) INCR (Investor Network on Climate Risk (Ceres)) The Investor Network on Climate Risk (INCR) is a network of 100 institutional investors representing more than $11 trillion in assets committed to addressing the risks and seizing the opportunities resulting from climate change and other sustainability challenges.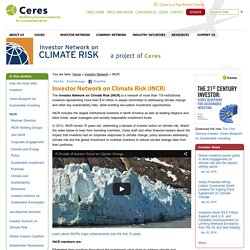 In 2013, INCR turned 10 years old, celebrating a decade of investor action on climate risk. Watch the video below to hear from founding members, Ceres staff and other financial leaders about the impact that investors have had over the past 10 years on corporate responses to climate change, policy advances addressing climate risk and the global movement to mobilize investors to reduce climate change risks from their portfolios. INCR's mission is to mobilize investor leaders to address climate and other key sustainability risks, while building low-carbon investment opportunities. IHRB (Institute for Human Rights and Business) IEA (International Energy Agency)
GEF (Global Environment Facility) WMO (World Meteorological Organization) IPCC (Intergovernmental Panel on Climate Change) ILO (International Labour Organization) IIGCC (Institutional Investor Group on Climate Change) IGCC (Investor Group on Climate Change) GRI (Global Reporting Initiative) Eurosif. Ceres. CDP (Carbon Disclosure Project) Non Financial Reporting Reinforced in EU The European Parliament voted in favour of a new law governing corporate reporting of non-financial information.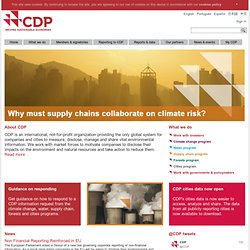 As a result large listed companies in the EU will be asked to disclose their environmental and social impacts as part of their mainstream reporting to investors. Climate change means business change Climate change will affect European businesses in critical ways, making adaptation efforts instrumental for their prosperity. According to the CDP snapshot report major companies across Europe already experience climate impacts and are taking the issue seriously. ASrIA.
---