Cooking
Braided Spaghetti Bread & The official blog of Americas favorite frozen dough. We are carb lovers at our house, so when I saw the Braided Spaghetti Bread recipe in the Rhodes Home Baked Family Favorites with frozen dough cookbook I knew we would love it.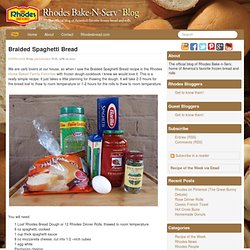 This is a really simple recipe; it just takes a little planning for thawing the dough. It will take 2-3 hours for the bread loaf to thaw to room temperature or 1-2 hours for the rolls to thaw to room temperature. You will need: Watermelon Lime Sorbet Slices. A sweet and tangy watermelon lime sorbet is a great way to cool off in the summer.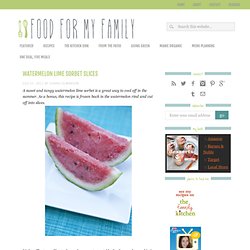 As a bonus, this recipe is frozen back in the watermelon rind and cut off into slices. It's hot. The type of heat where when you step outside the door and your skin is wet before the door swings shut behind you. It's a hot that hangs in the air, letting you breathe it in, that is cured only by two things: being completely immersed in water or hiding indoors, the air conditioning cranked as far as it will go.I find that the heat makes me very unmotivated to do things like take a walk, water and weed the garden (though I have forced that one on myself) and prepare food and eat it. How To Make Perfect Brownies | How To Cook Like Your Grandmother. I've tried lots of brownie recipes: Boxes, scratch, frosted, plain, nuts, chips, fudge … Each of them has something to like, but depending on my mood I might want a change of pace.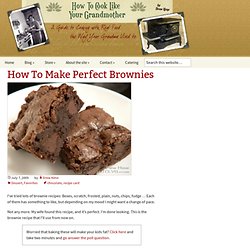 Not any more. My wife found this recipe, and it's perfect. I'm done looking. How To Make Banana Cake | How To Cook Like Your Grandmother. I've had plenty of banana bread in my day.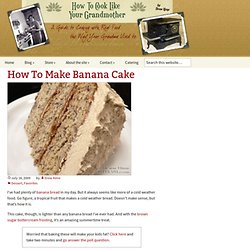 But it always seems like more of a cold weather food. Go figure, a tropical fruit that makes a cold weather bread. Doesn't make sense, but that's how it is. This cake, though, is lighter than any banana bread I've ever had. The Londoner: Slutty Brownies. Now I don't want to over sell this, so I'm going to be conservative and simply say, that these are...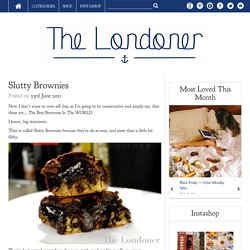 The Best Brownies In The WORLD. I know, big statement. They're called Slutty Brownies because they're oh so easy, and more than a little bit filthy. They're best served warm from the oven, with good quality vanilla ice cream (devastatingly I didn't have any in the freezer this time, so I guess I'll just have to make them again). They take about 45mins to make, including baking time. Apple Pies & Jo In the Kitchen. I know, I've made a few pies lately.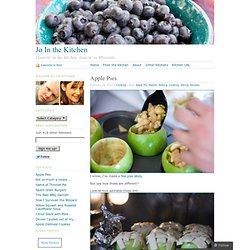 But see how these are different? Look at how adorable these are! I mean, come on. Could you resist? I sure couldn't. Spaghetti and Meatball Pot Pie. Remember those meatballs I made for a "special idea" on Friday?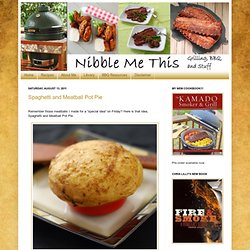 Here is that idea, Spaghetti and Meatball Pot Pie. I took the concept and figured if pizza was a good pot pie, then spaghetti and meat balls would be too. This isn't as much a recipe as it is a process. The Splendid Table with Lynne Rossetto Kasper | American Public Media. Sugar and Charm: italian sodas. June 30, 2011 | Sweet Recipes | Comments Growing up, these Italian sodas were my favorite!!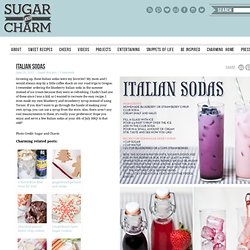 My mom and I would always stop by a little coffee shack on our road trips to Oregon. I remember ordering the blueberry Italian soda in the summer instead of ice cream because they were so refreshing. I hadn't had one of these since I was a kid, so I wanted to recreate the easy recipe. I even made my own blueberry and strawberry syrup instead of using Torani. Design Crush & Popsicles! - StumbleUpon. Jun29 Not to sound full of myself, but I'm pretty sure this is the be all, end all of popsicle roundups.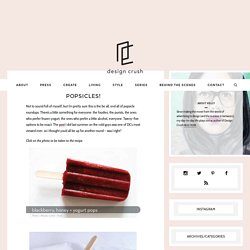 There's a little something for everyone: the foodies, the purists, the ones who prefer frozen yogurt, the ones who prefer a little alcohol, everyone. Tweny-five options to be exact. General Tso's Chicken Recipe | Free Online Recipes | Free Recipes - StumbleUpon. At nearly any buffet or take-out place you can find General Tso's Chicken.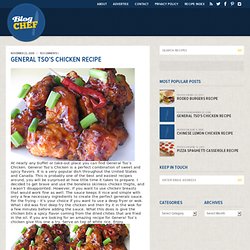 General Tso's Chicken is a perfect combination of sweet and spicy flavors. It is a very popular dish throughout the United States and Canada. This is probably one of the best and easiest recipes around, you will be surprised at how little time it takes to prepare. I decided to get brave and use the boneless skinless chicken thighs, and I wasn't disappointed.
However, If you want to use chicken breasts that would work fine as well. Foodbuzz 24, 24, 24: Chinese Buffet at Home | Free Online Recipes | Free Recipes - StumbleUpon. It is no secret that I have an obsession with Chinese cuisine. The place that started it all was a local Chinese buffet here in Michigan. After frequent visits to the buffet over the years, I finally decided to take a stab at cooking my own Chinese dishes at home. One Bowl Vanilla Cupcakes For Two | How Sweet It Is - StumbleUpon. Let's face it: sometimes we all need a dessert that only makes two servings. Sometimes we just can't handle 12 servings. Sometimes we eat them all by ourselves. Sometimes we eat them all by ourselves in two hours. Sometimes we eat them all by ourselves in a matter of minutes. Sometimes it's the best thing ever.
Better-Than-Crack-Brownies. I'm sorry for doing this to you. I really am. But see, last Friday while I was on a 10-hour road trip heading for vacation, I received this recipe from a reader named Liz. Liz, I love you. That's all I have to say. I was tortured by this recipe for a full 8 days before I could make it. Good Morning Muffins. Yummy muffins. Yum. I've made these several times—usually using all shortening, but a couple of times (today included) using half butter, half shortening. Mocha and cream cheese brownie & Cooking Blog - Find the best recipes, cooking and food tips at Our Kitchen. - StumbleUpon. 28th October 2010By GuestPhotography by Adam Much to the delight of the blog team we have a new member, Genevieve. Genevieve has just started in product development for cooking products as a product evaluator. She hails from Samoa where her mother owns her own catering business and with a food science background we're expecting big things!
Anyway over to Genevieve and her heirloom recipe: "There is something about brownies that makes me go gaga over them and lose all my willpower. StumbleUpon. Supercook: recipe search by ingredients you have at home. Punchfork - The best new recipes from top food sites. Get your cook on. Foodgawker | feed your eyes - StumbleUpon.
---