International Food
Aujourd'hui, je vous propose un petit plat simple , très facile a faire, pas cher et bon... Une cuisse de dinde au four...
Cuisse de dinde au four : RIPAILLES et TRADITIONS
Recettes de cuisine et spécialités culinaires
Cuisine AZ, Recettes de cuisine de A à Z
Lemon-Basil Ricotta Stuffed Shells in a Champagne Cream Sauce: - StumbleUpon
Can you EVEN believe I almost forgot to share with you this delicious baked pasta recipe? It was back in November when I made this pasta… and I remember the day perfectly…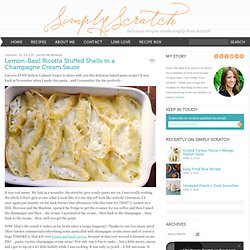 Food.com - Thousands Of Free Recipes From Home Chefs With Recipe Ratings, Reviews And Tips
50 After-School Snacks : Recipes and Cooking
How to Eat Healthy - Superfoods and Healthy Recipes
Grilled Cheese Academy
Tasty Kitchen: A Happy Recipe Community!
100 Ways to Cook…
Food & Cooking
Menu Food & Cooking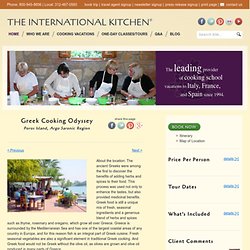 About the location: The ancient Greeks were among the first to discover the benefits of adding herbs and spices to their food. This process was used not only to enhance the tastes, but also provided medicinal benefits. Greek food is still a unique mix of fresh, seasonal ingredients and a generous blend of herbs and spices such as thyme, rosemary and oregano, which grow all over Greece.
Cooking Holiday in Greece: Cooking Vacations Poros, Greece
Bon Appetit Magazine
Dinner Recipes, Grocery Lists, Meal Planner - Dinner Tool
Cooks.com - Recipe Search and More
Easy Simple Recipes
Swap Recipes & Self Publish Your Own Cookbooks | BakeSpace.com
CHOW - Recipes, cooking tips, resources, and stories for people who love food
Cooking l Cooking Recipes l Cooking Club Magazine l Cooking Club of America
Food.com - Thousands Of Free Recipes From Home Chefs With Recipe Ratings, Reviews And Tips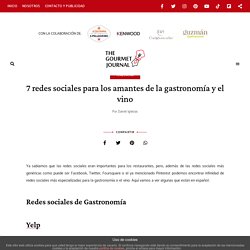 7 redes sociales para los amantes de la gastronomía y el vino | The Gourmet Journal
Ya sabíamos que las redes sociales eran importantes para los restaurantes, pero, además de las redes sociales más genéricas como puede ser Facebook, Twitter, Foursquare o el ya mencionado Pinterest podemos encontrar infinidad de redes sociales más especializadas para la gastronomía o el vino. Aquí vamos a ver algunas que están en español: Redes sociales de Gastronomía Yelp
[#productName] Recipes
foodgawker | feed your eyes
Allrecipes.com - recipes, menus, meal ideas, food, and cooking tips.
10 Best Gastronomy Websites
Food
Epicurious.com: Recipes, Menus, Cooking Articles & Food Guides
Gourmet Magazine
SAVEUR.com - Authentic Recipes, Food, Drinks and Travel
Gastronomia - profissionalizando uma Arte
Food Network - Easy Recipes, Healthy Eating Ideas and Chef Recip