Furniture/DIY Accents
I am a meal planner. I refuse to go grocery shopping without my week's worth of meals planned out and list made. (It's either that or wander aimlessly around the grocery store for two hours and then make ten more trips back during the week to get things I forgot.) Once I get the groceries unloaded, I usually forget what I planned for, so I put together this super easy wipe-off menu board to keep track of what's for dinner each night! Wipe-Off Menu Board Tutorial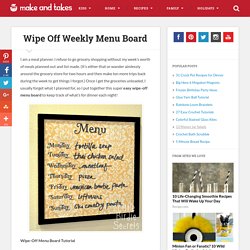 Hi friends! I can't tell you how excited I am to be a creative guest on Ucreate today! I've been bubbling with excitement for weeks and have been scheming over what project would be Ucreate-worthy. I hope this one fits the bill...! First of all, I'm Autie and my friend Jen and I blog over at iCandy handmade. I'm a busy mom of 2 cute little kids and during nap time and bed time, I love to work on projects!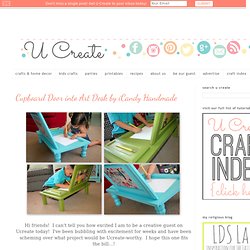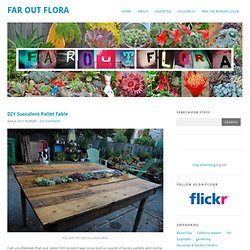 Max with the new Succulent Table. Can you believe that our latest DIY project was once just a couple of junky pallets and some scrappy table legs? Crazy…if I didn't have photos, I wouldn't believe it myself.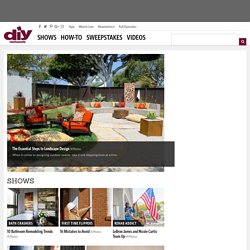 Cork Tile Accent Wall (00:01:14) To dress up her living room, a homeowner installs a cork tile accent wall. Power-Outage Light Kit (00:01:15) Installing a power-outage light kit helps homeowners in emergencies. Under-Rug Heating Pad (00:01:06) A rug heating pad helps warm a drafty bedroom and keeps toes toasty. Slide Lid Shed Adds Storage (00:01:11) A homeowner adds extra storage to the backyard with a sturdy slid lid shed. Waterproof Speaker for Shower (00:01:15) Shower singing just got easier with these wireless waterproof speakers. Soft Baby-Bath Pillow (00:01:09) A new mother bathes her baby in flower-petal softness with safety in mind.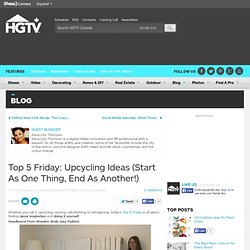 Whether you call it upcycling, reusing, refurbishing or reimagining, today's Top 5 Friday is all about finding decor inspiration and doing it yourself. Headboard From Wooden Skids (aka Pallets) This idea came courtesy of Julia Black from Pure Design, who hosted a video series for us called The Green Geek. Watch how she transformed three skids and some salvaged wood into a beachy white headboard for a queen size bed (three skids are the perfect size!).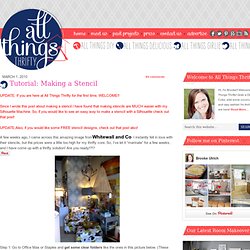 UPDATE: If you are here at All Things Thrifty for the first time, WELCOME!! Since I wrote this post about making a stencil I have found that making stencils are MUCH easier with my Silhouette Machine. So, if you would like to see an easy way to make a stencil with a Silhouette check out that post!
as seen last week on sytyc...here are my wheat pillows and the easy steps on how to make them! you will need:spray paint ( i had ivy leaf, and brown)freezer paper.muslinscissorspencil first cut some muslin. next trace your own drawn pattern (or you can download my pdf here)make as many of your stencil as you need next you are going to cut out your wheat.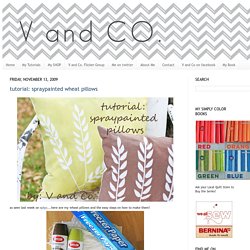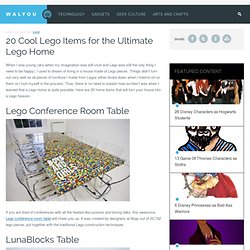 20 Cool Lego Items for the Ultimate Lego Home
20 Cool Lego Items for the Ultimate Lego Home When I was young (aka when my imagination was still vivid and Lego was still the only thing I need to be happy), I used to dream of living in a house made of Lego pieces. Things didn't turn out very well as all pieces of furniture I made from Legos either broke down when I tried to sit on them or I hurt myself in the process.