Listening Skills
Get flash to fully experience Pearltrees
by: Abegail Doruthy Though public speaking is one of the most common greatest fears of men and women, it is possible to calm a nervous voice that plagues you during a speech or business presentation. A nervous voice is a common problem for even experienced speakers as they too are always a bit nervous just before speaking to a group.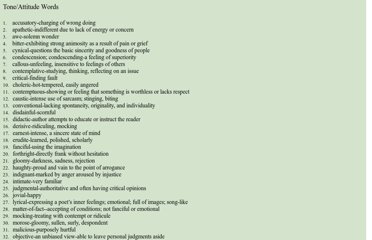 Tone/Attitude Words 1. accusatory-charging of wrong doing 2. apathetic-indifferent due to lack of energy or concern 3. awe-solemn wonder 4. bitter-exhibiting strong animosity as a result of pain or grief 5. cynical-questions the basic sincerity and goodness of people
Mind & Brain :: Mind Matters :: June 26, 2012 :: :: Email :: Print
Will you please just listen ? When I ask you to listen and you start giving advice, you have not done what I have asked.
To become an effective communicator, you need to learn to listen just as much as you need to learn to speak. Unfortunately, most people focus more on the speaking than they do on the listening. Whether in a one-on-one conversation or a group meeting or classroom, focusing on what others are saying allows you to present yourself more effectively. When you listen correctly, you also learn more. Look around the room during a lecture, presentation, or lunchroom.The tell-tale signs of people not listening are everywhere. Some individuals put on a blank stare that can only be described as their "screen-saver face" (in the words of one of my colleagues).
Listening is the ability to accurately receive messages in the communication process. Listening is key to all effective communication, without the ability to listen effectively messages are easily misunderstood – communication breaks down and the sender of the message can easily become frustrated or irritated. Listening is so important that many top employers give regular listening skills training for their employees.
Content What are three types of effective listening? Roadblocks to Effective Listening Reasons to Improve Listening Skills Feelings for Which You Can be Listening Listening Role-Play Activity What are three types of effective listening? 1.
Written by Susie Michelle Cortright Do you ever need someone to listen to you? Our mentors are available.