Flashcards
BrainFlips | Home of the world's smartest flashcards | Flashcards | Online Flashcard | Online Flashcards. Flashcard Machine - Create, Study and Share Online Flash Cards. Flashcards for Valentine's Day. Today's Flashcard Friday post is all about Valentine's Day!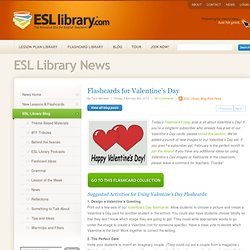 If you're a longterm subscriber who already has a set of our Valentine's Day cards, please revisit this section. We've added a bunch of new images to our Valentine's Day set. If you aren't a subscriber yet, February is the perfect month to join the library! If you have any additional ideas for using Valentine's Day images or flashcards in the classroom, please leave a comment for teachers. Thanks! GRE Word List Prep, Learn Word List, GRE Vocabulary, Barrons, Download, for GRE, TOEFL, SAT Test- LearnWordList.com. GRE Premium Online Course - Join FREE Free Vocabulary Building with LearnWordList.comWe provide free help for students who are applying for GRE, TOEFL, SAT and other competitive examinations.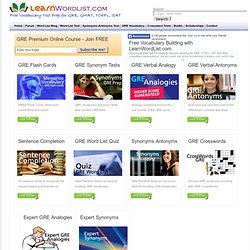 We are sister site of the Scholarship-Positions.com, which has over 4,00,000 members and provide help to students to apply in international universities. GRE Flash Cards GRE® Flash Cards- Best word memorizing technique! GRE Synonym Tests. Study flashcards online - Ediscio. StudyDroid: FlashCards on the web, and in your hand! Flashcards: The world's largest online library of printable flash cards. Flashcards - Home. Create Flash Cards Online for Free - Fauxflash. Create Gap-Filling Exercises. StudyShuffle - Flashcard are old school. Memorize Now - Home. Create Free Flashcards, Quizzes and Study Teams on FunnelBrain. Headmagnet | Get stuff in your head and keep it there! Eye-Fi memory cards: wireless photo and video uploads straight from your camera to your computer & the web. Flash cards by cueFlash. Brainscape: Learn Faster. STUDYBLUE | Make online flashcards & notes. Study anywhere, anytime. Flashcards - Animals.
Yappr! Make Your Images Interactive. Anki - friendly, intelligent flashcards. StudyEgg | learning personalized. Liste de Verbes en Passé Composé | flashcard games. Online and Mobile Test Prep. Printable Flash Cards for Vocabulary Words-with Photographs. Retract Retract audio/easy/retract.mp3 verb to draw back or in.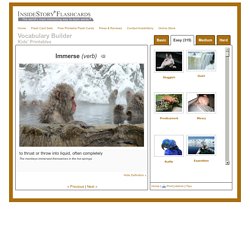 Dictionary.com Flashcards - Aplicações no Android Market. Master the 1000 most important GRE words with the highest-rated free flashcards for your Android phone.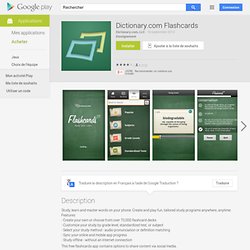 Practice every day to improve your vocab knowledge. Study to rectify your benightedness and prepare to trounce the GRE verbal section! ☞ 1000 vocab words picked by an expert GRE tutor☞ Definitions and example sentences for every word☞ Decks for every difficulty level☞ Track your progress as you study☞ Smart algorithm focuses your practice for efficient learning This app gives you free access to all of Magoosh's GRE flash cards.
SwipeStudy Flashcard study tool | Prepare for Exams | Language Vocab. Free Flashcards Maker: Create Free Online Flash Cards. Flash Cards Maker Pro - Aplicações no Android Market. Andriod division winner of 2011 Best App Ever Awards in the Educational Category.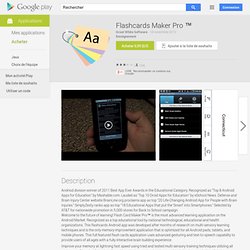 Recognized as "Top 8 Android Apps for Education" by Mashable.com. Lauded as "Top 10 Droid Apps for Education" by eSchool News. Math Practice - Aplicações no Android Market. ★ Math for kids is either a big task or a milestone.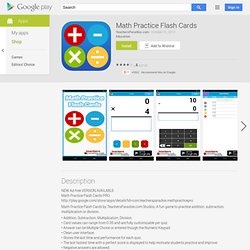 Teaching your child math isn't something that happens overnight. Cramberry ~ flash cards for iPad. Description ★★★ Studying doesn't have to be painful.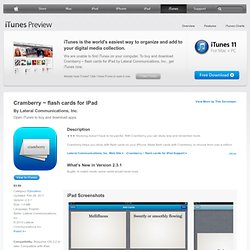 With Cramberry, you can study less and remember more. Cramberry helps you study with flash cards on your iPhone. Flashcards+ Description The world's most popular and best app for learning and studying new information.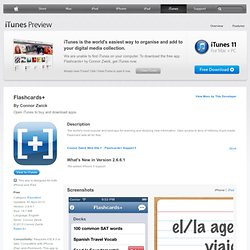 Gain access to tens of millions of pre-made Flashcard sets all for free. Lexicon. Description Get ready to learn a new language.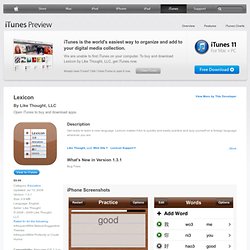 Lexicon makes it fun to quickly and easily practice and quiz yourself on a foreign language wherever you are. First enter the words you want to study or add them from the Dictionary. Then practice your words as flash cards or a quiz to quickly review them. Fluid animations and an intuitive interface make it a joy to learn a language on the go with Lexicon! Superflashcard – Online Memory Management System. Cramberry: Create & study flash cards online. Word Dynamo - Free Study Guides, Quizzes, Games, and Flashcards. Flashcards. Cartões, memorização de vocabulário, e jogos para estudo. Online Flashcards with Spaced Repetition: FlashcardDB. Flashcard Search.
---