Herbs Spices
Fenugreek. Fenugreek (/ˈfɛnjʉɡriːk/; Trigonella foenum-graecum) is an annual plant in the family Fabaceae with leaves consisting of three small obovate to oblong leaflets.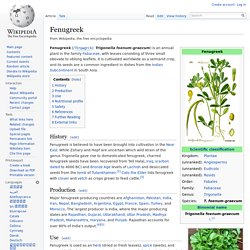 It is cultivated worldwide as a semi-arid crop, and its seeds are a common ingredient in dishes from the Indian Subcontinent. Regional names[edit] Fenugreek is known as methi in Marathi (मेथी), Oriya (Metthi), Punjabi (ਮੇਥੀ) or (میتھی), Hindi (मेथी), Urdu(میتھی), Bengali (মেথি) and Nepali (मेथी), as menthiyam, and venthayam (வெந்தயம்) in Tamil, "uluhaal" (උළුහාල්) in Sinhala, ShOoT (שוט) in Hebrew, (çemen tozu) in Turkish, Malkhoza (ملخوزه) in Pashto, Helba (حلبة) in Arabic and Dari, Alholva in Spanish, Shanbelileh (شنبلیله) in Persian, menthya (ಮೆಂಥ್ಯ) in Kannada, uluwa (ഉലുവ) in Malayalam, moshoseitaro (μοσχοσίταρο) or (τριγωνέλλα) or (τήλις) in Greek and menthulu (మెంతులు) in Telugu. [citation needed] Fenugreek. Herbs at a Glance [NCCAM Health Information] Dill Seed — Seeds — Cooking & Baking — NutsOnline. Carom Seeds - Ajwain - Bishop's Weed - Indian Spices - Guide to Indian Spices.
Indian name and pronounciation: Ajwain, pronounced as uj-wine Appearance, taste and smell: Ajwain seeds are pale khaki colored and look like a smaller version of cumin seeds.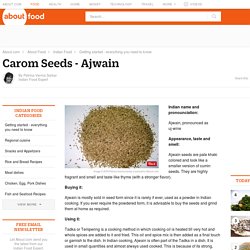 They are highly fragrant and smell and taste like thyme (with a stronger flavor). Buying it: Sumac. Sumac What is Sumac?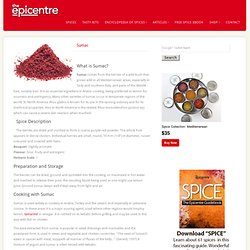 Sumac comes from the berries of a wild bush that grows wild in all Mediterranean areas, especially in Sicily and southern Italy, and parts of the Middle East, notably Iran. It is an essential ingredient in Arabic cooking, being preferred to lemon for sourness and astringency.
---